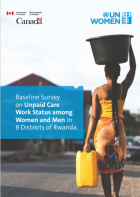 The baseline survey on unpaid care work status among women and men in eight districts of Rwanda seeks to understand the care-related dynamics in households, this study utilized both quantitative and qualitative research methodologies. Drawing on Oxfam's Household Care Survey (HCS) and the Harvard Analytical Framework (also referred to as the Gender Roles Framework). The survey helps to understand how women, men and children spend their time, how care activities are distributed in the household and the access that households have to basic public services and infrastructure that facilitate their everyday survival. The study also explored the social norms that shape power relations and gender division of care labor.
This factsheet offers some insights into migrant women's experiences in Niger, based on the limited data that is available on this topic. It was prouced as part of the Making Migration Safe for Women programme which aims to ensure that migration is safe for women migrating from, into and through Niger and that international norms and standards for protecting and promoting migrant women's rights are strengthened. Read/Download : EN
This publication highlights findings from the Zanzibar SDGs Gender Indicators Study in the form of infographics. The infographics showcase findings from each of the sectors covered in the report namely: Poverty and Hunger, Health, Decent Work, Quality Education, Gender Equality, Key Messages and the COVID-19 Context, and Recommendations.