This publication describes the UN Women Rwanda Office's effort in dealing with Gender-Based Violence (GBV) victims using different approaches in both GBV prevention and response. It also provides success stories from different beneficiaries in relation to legal assistance which showed that in most cases it requires strong courage from the victims to bring the perpetrators to justice especially in the context of negative cultural beliefs, women's economic dependence, fear of discrimination and stigmatization among other challenges. The document also highlights the role of mobile legal clinic in increasing the proximity of legal services to the community including awareness-raising and legal literacy.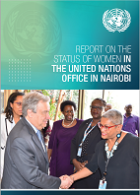 The 2017 Status of Women in the UN Duty Station in Nairobi report was commissioned by UN Women's Regional Office for East and Southern Africa (UN Women ESARO), at the request of the Network of Women Leaders in the UN Nairobi Duty Station to inform efforts to support the realisation of the System-wide Strategy on Gender Parity which was launched by the UN Secretary-General António Guterres on 13 September 2017.
Rural women play a critical role in the agricultural sector. Securing their livelihoods and rights is the pathway to achieve the Sustainable Development Goals and the Growth and Transformation Plan (GTP II) in Ethiopia. Therefore, the enhancement of rural women's food security and nutrition is a key outcome of the Joint Programme on Rural Women Economic Empowerment. Under this outcome, the programme aims to ensure that rural women have increased access to and control over resources, assets and services critical to their food and nutrition security. The programme also supports rural women to gain greater capacity to enhance and control local food security reserves.