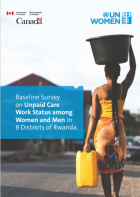 The baseline survey on unpaid care work status among women and men in eight districts of Rwanda seeks to understand the care-related dynamics in households, this study utilized both quantitative and qualitative research methodologies. Drawing on Oxfam's Household Care Survey (HCS) and the Harvard Analytical Framework (also referred to as the Gender Roles Framework). The survey helps to understand how women, men and children spend their time, how care activities are distributed in the household and the access that households have to basic public services and infrastructure that facilitate their everyday survival. The study also explored the social norms that shape power relations and gender division of care labor.
UN Women amplified women's role in the COVID-19 response highlighting the significant leadership roles women played in leading the response efforts in materials on COVID-19 prevention disseminated in local languages and hand washing facilities were constructed in 6 elementary schools. 528 returnee migrant women workers from the Middle East and domestic workers across Addis Ababa have been provided with basic sanitation and hygiene training and raising awareness on the disproportionate impact of COVID-19 on women, girls, and vulnerable and marginalized groups.
The review indicated that Ethiopia has not only ratified many of the conventions and treaties related to refugees and asylum seekers, but also formalized these laws into its Constitution and in the national Refugee Proclamation. However, a closer analysis of the health sector focusing on sexual, reproductive, maternal, newborn, child and adolescent health (SRMNCAH) services to women and girls in the humanitarian settings, the laws, policies, strategies, guidelines, programs, and plans of the sector indicated a clear gap.