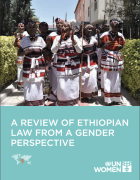 The assessment offers a series of measures for re forming Ethiopian law to ensure that laws are gender sensitive and more effective at ensuring gender equal ity and non-discrimination. Most notable is that a total of 5 laws or provisions must be repealed in whole or in part; 26 laws must be revised or amended and two (2) new laws must be enacted to bring Ethiopia's legislative framework in line with its regional and international obligations on gender equality and women's empowerment. The report also emphasizes the need to prioritize the implementation of national laws that comply with gender equality standards, and in this context, recommends one policy measure to ensure that laws fully deliver on women's rights
This New Generation of the NAP on WPS focuses on five pillars for implementation (1) Prevention, (2) Protection, (3) Participation, (4) Relief and Recovery (5) Coordination and Accountability.
UN Women, with the support of the government of Finland and the participating countries, launched the project on "Women's Land Rights and Tenure Security in the Context of the SDGs" in 2016. The project is currently implemented in Ethiopia, Kenya and Tanzania with the aim of upscaling in the three countries and expanding to more countries.