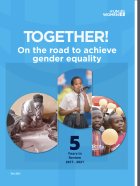 The five years in review publication captures the progress made from 2017 to 2021 across its different focus areas: Leadership and Political Participation, Women's Economic Empowerment, Ending Violence Against Women, Data and Statistics, HIV/AIDS and the response to the unfolding crisis caused by the COVID-19 pandemic.
The working paper and accompanying policy brief provide an analysis of the progress and gaps across the continent in promoting young women's role in decision-making and political processes across Africa. The paper further proposes recommendations for consideration by AU and AU Member States including for gender-responsive COVID 19 response and recovery plans that guarantee the participation and integration of the voices of young women.
The policy paper assesses the state of Gender Based Violence (GBV) in Africa in the context of the COVID-19 pandemic. Informed by evidence from the five African Union (AU) regions, it outlines some of the initiatives implemented in AU Member States. The paper also proposes recommendations towards multi-sectoral response and recovery efforts that address GBV as well as the related needs of women and girls in Africa.