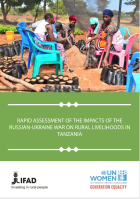 The Russia-Ukraine war has continued to cause major disruptions in global supply value chains. This has translated into increased commodity prices and cost of living, with disproportionate adverse impacts on the wellbeing of women and girls worldwide. This rapid assessment provides an analysis of the impacts of the Russia-Ukraine crisis on rural livelihoods in Tanzania with a focus on various vulnerable groups, particularly women and girls.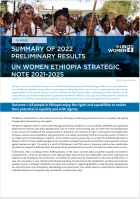 UN Women together with the Government through the Ministry of Women and Social Affairs (MoWSA) have significant advancements towards new policy developments and /or revision of the existing ones to match with the developments in the country.

Drawing on an assessment of the needs of rural women in Senegal, Mali, Liberia, Malawi and Haiti, and on an ecosystem mapping and market dialogue process, these infographics illustrate the challenges that rural women face to access resilience-building services that are tailored to their needs, and provide insights into gender-responsive policy measures and innovative solutions to respond to the women's needs and build their resilience to climate change and disasters.