UN and Government renew commitment to Women Peace & Security in Nigeria
Date: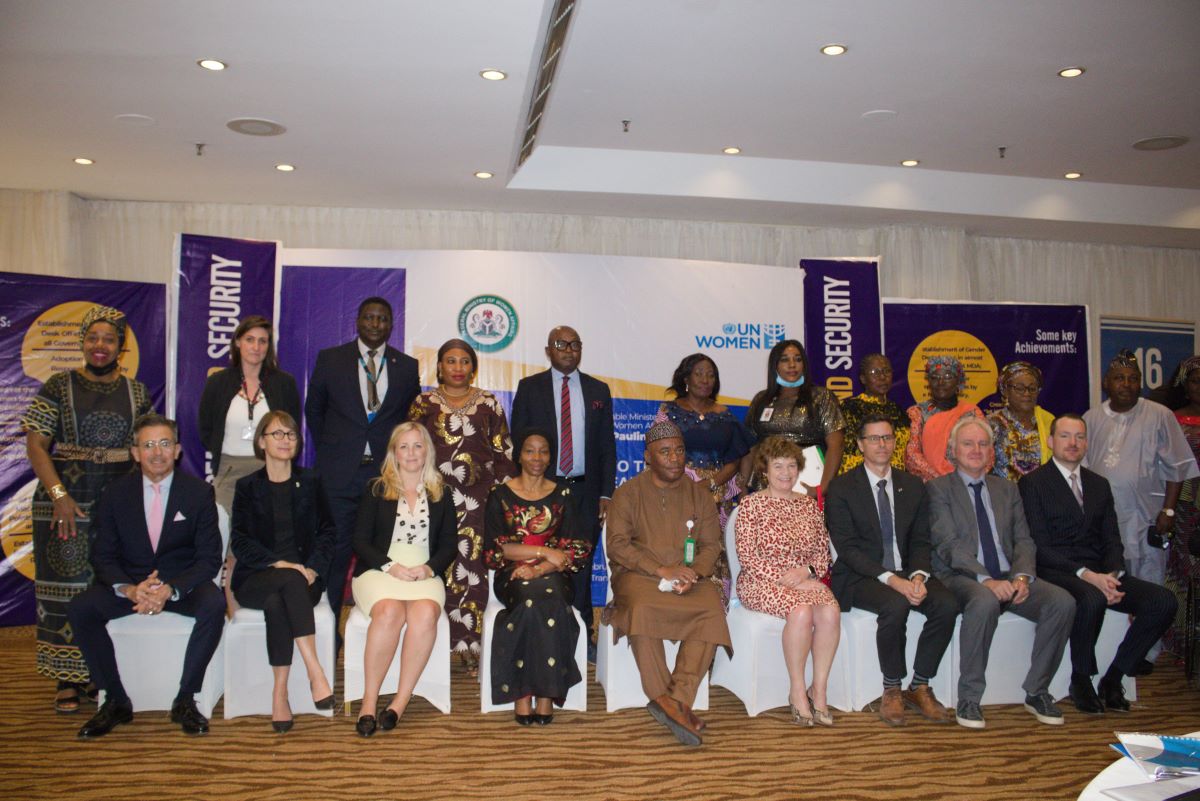 The United Nations, Development Partners and other stakeholders renewed commitment to support women's participation in peace and security and other provisions of the United Nations Security Council Resolution (UNSCR) 1325.
The commitment was made during at a high-level Stakeholders Breakfast Meeting with donors and development partners on the review of the implementation of Nigeria's first and second National Action Plans (NAPs) on Women Peace and Security, held on February 15, 2022, in Abuja.
Convened by the Federal Ministry of Women Affairs (FMWA) and UN Women, the meeting aimed at building on past and ongoing interventions on women peace and security (WPS), and further showcase the key outcomes and results in its implementation since the adoption of the first and second National Action Plans by the government of Nigeria in August 2013 and May 2017, respectively.
The meeting also created a platform for stakeholders to reflect on how existing resources and opportunities could be better harnessed to address protracted conflict and insecurity in Nigeria, especially as the country commences the process of developing its third NAP.
In a welcome remark on behalf of Honourable Minister Dame Pauline Tallen of FMWA, Engineer Adebiyi Olufunso, Permanent Secretary of Ministry of Women Affairs recounted that since Nigeria became the first African country to domesticate the UNSCR 123 on WPS Agenda in line with UN recommendations, there has been commendable gender mainstreaming in all sectors including conflict resolution, security, and peacebuilding processes.
"We have experienced massive inclusion of women in traditional cabinets in most of the states where the NAP on UNSCR has been domesticated, thereby breaking the conventional discriminatory culture against women in peacebuilding processes" he noted.
Ms. Comfort Lamptey, UN Women Country Representative to Nigeria and ECOWAS, stated that UN Women supported the Government of Nigeria in meeting its commitments to the WPS agenda through the design and implementation of several strategic and result-oriented programmes in partnerships with federal and state government institutions, development partners (including Norway, Japan, Germany, UK Government Foreign Commonwealth, Development Organizations, and the European Union), academia and civil society organizations.
"Through support initiatives from UN Women, government and other actors, Nigeria developed and implemented its 1st and 2nd National Action Plan on WPS. With 14 out of the 36 states in the country having State Action Plans on WPS with Local Action Plans in at least 16 local government areas women participation in conflict prevention and resolution has increased" she said. 
She cited that through empowering the existing national mediation and dialogues networks, women's participation in peace processes contributed to creating greater social cohesion, conflict prevention, and enhanced response to emerging conflict and security threats in their communities.
"Moving forward, these capacities should be consolidated and reorganized to better respond to emerging issues. I urge us all to a role in facilitating joint ownership and commitment to the development, implementation, monitoring, and reporting of the 3rd National Action Plan for the country", Ms. Lamptey noted.
UN Women's Programme Specialist for WPS, Mr. Peter Mancha further emphasized harnessing existing resources and opportunities to address the prolonged conflict and insecurity in Nigeria, especially as the country commences the process of developing the 3rd NAP on WPS agenda.
Also in attendance was Senator Betty Apiafi, Chairperson, of Senate Committee on Women Affairs, His Excellency Prince Clem Agba, Minister of State for Budget and National Planning, UN Resident Coordinator & Humanitarian Coordinator, UK High Commissioner, Acting High Commissioner Canada, Ambassador of Finland, Head EU Delegation, Rep Ambassador of Germany and civil society organizations expressed recommendations and renewed commitment to support the WPS Agenda, including the development and implementation of the 3rd  NAP. 
---
Over the years, UN Women Country Office in Nigeria in close collaboration with the Federal Ministry of Women Affairs and other partners have spurred efforts to promote and implement the Women Peace and Security (WPS) Agenda through supporting women peacebuilders, assisting survivors of conflict-related sexual violence in their demands for justice, advocating for women's meaningful participation in peace processes, and supporting women and girls affected by conflict rebuild their lives and communities.