Nineteen private and public institutions in Rwanda recognized for implementing the Women's Empowerment Principles in their workplace, marketplace, and community
Date: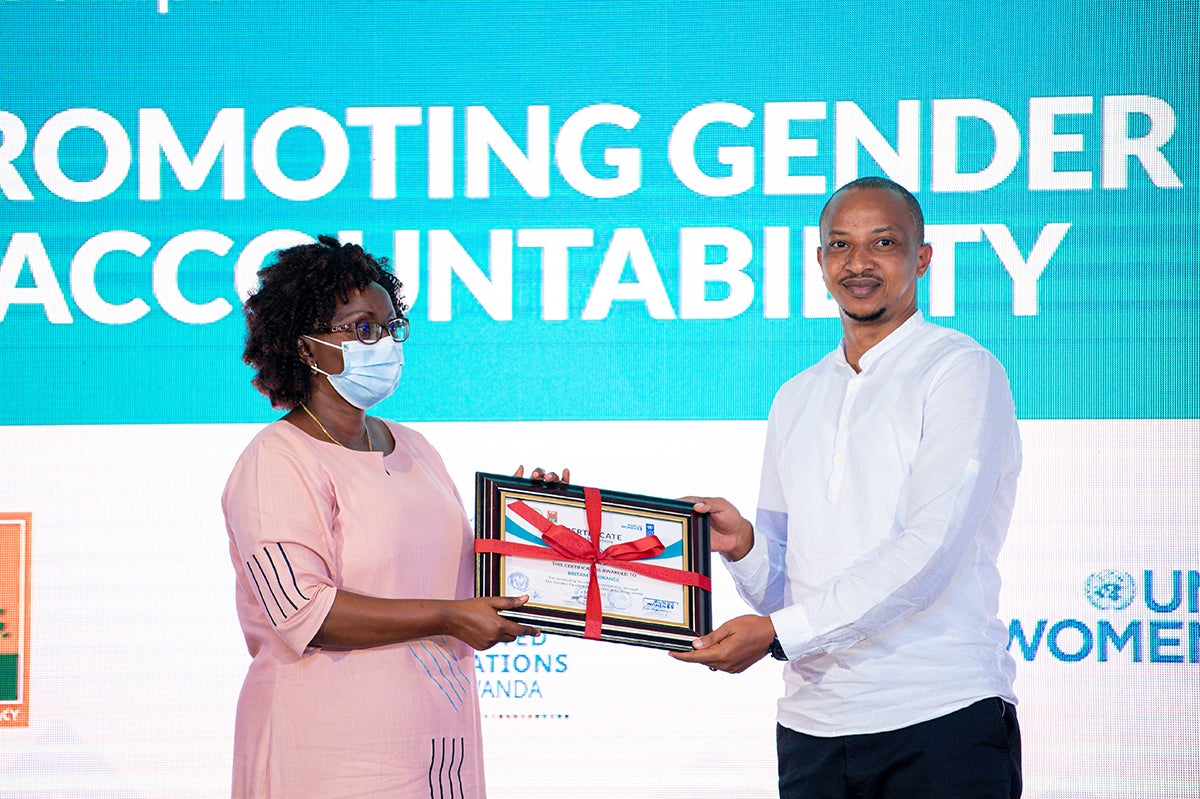 As part of International Women's Day celebrations, UN Women Rwanda, Rwanda's Gender Monitoring Office (GMO), Private Sector Federation (PSF) and UNDP recognized 19 private companies and government agencies that have instituted gender accountability by promoting a gender-responsive work environment.
This comes after a joint "Gender Equality Seal Program" initiated in 2017 by GMO with the support of UN Women and UNDP Rwanda aimed at supporting private sector companies to promote gender equality and accountability in their businesses.
The institutions awarded registered key achievements in three years of implementation of gender plans and strategies. These include setting up policies promoting a gender-responsive work environment, setting up gender equality committees in their offices, scaling up the percentage of women in managerial roles to reduce gender pay gaps, establishing breastfeeding rooms at the workplace, increasing the number of women in decision making positions as a key performance indicator, establishing childcare facilities and putting in place sexual harassment policies.
 Among the nineteen institutions, nine of them were private companies awarded with a golden seal and one silver seal as they adopted the gender equality action plan and implemented it. The private companies include MTN Rwanda, Wolfram Mining and Processing Ltd., Development Bank of Rwanda, ECOBANK, Safari Centre, I&M Bank, SORWATHE, Marriott Hotel and Bank of Kigali. 
The Golden Gender Equality Seal is valid for only three years after which they will be evaluated to assess progress.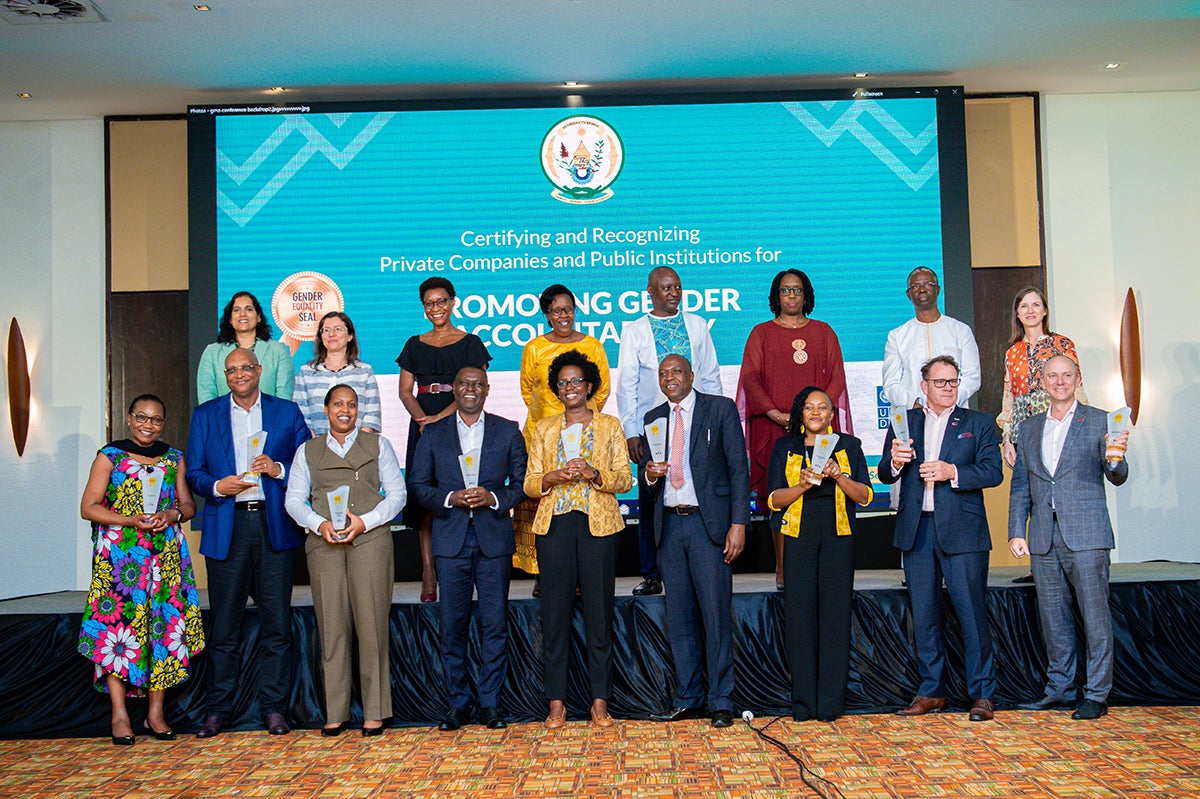 Nine public institutions and private companies were recognized: Ministry of Trade and Industry (MINICOM), the National Industrial Research Development Agency (NIRDA), the Rwanda Utilities Regulatory Authority (RURA), the Rwanda Cooperative Agency (RCA) and six private companies including Dubai Port World, Garda World (KK Security), Sanlam General Insurance Company, Sina Gerard-Entreprise Urwibutso, Inkomoko Entrepreneur Development and BRITAM Insurance.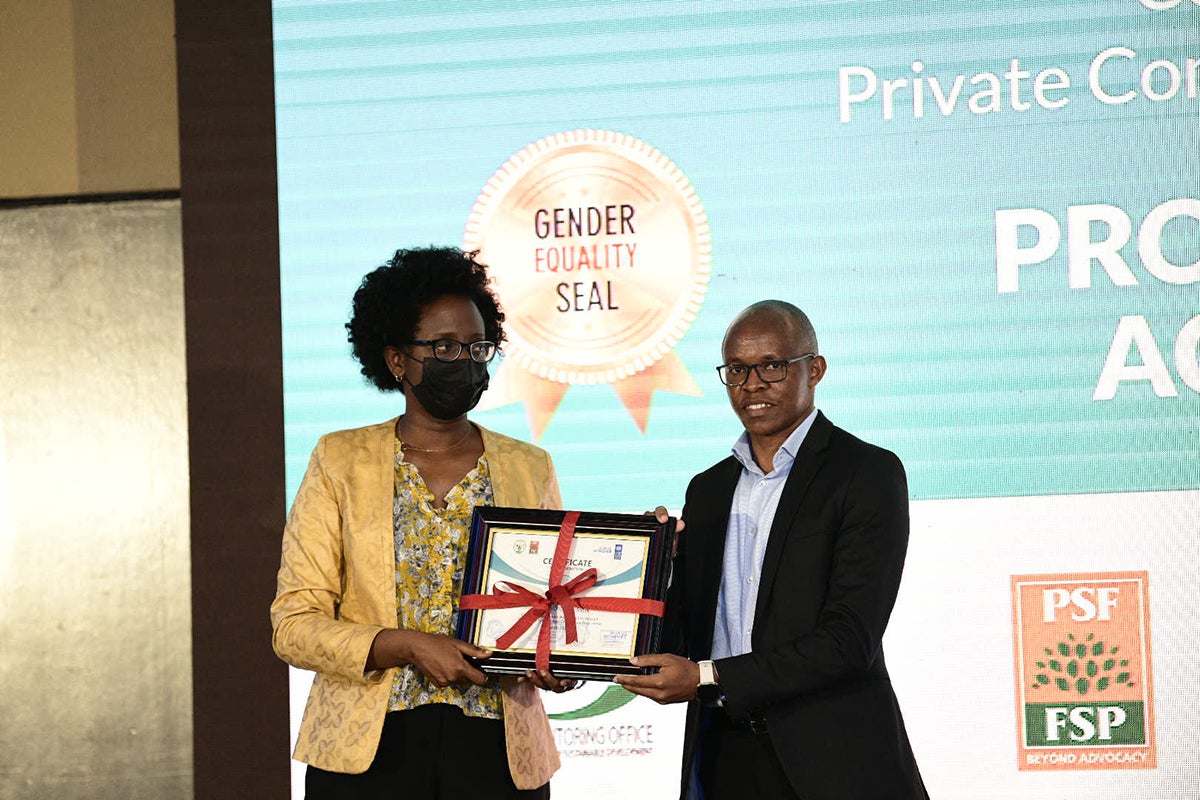 These companies and institutions have voluntarily enrolled in the program and gone through gender self-assessments, developed action plans, and started implementing them to address identified gender gaps.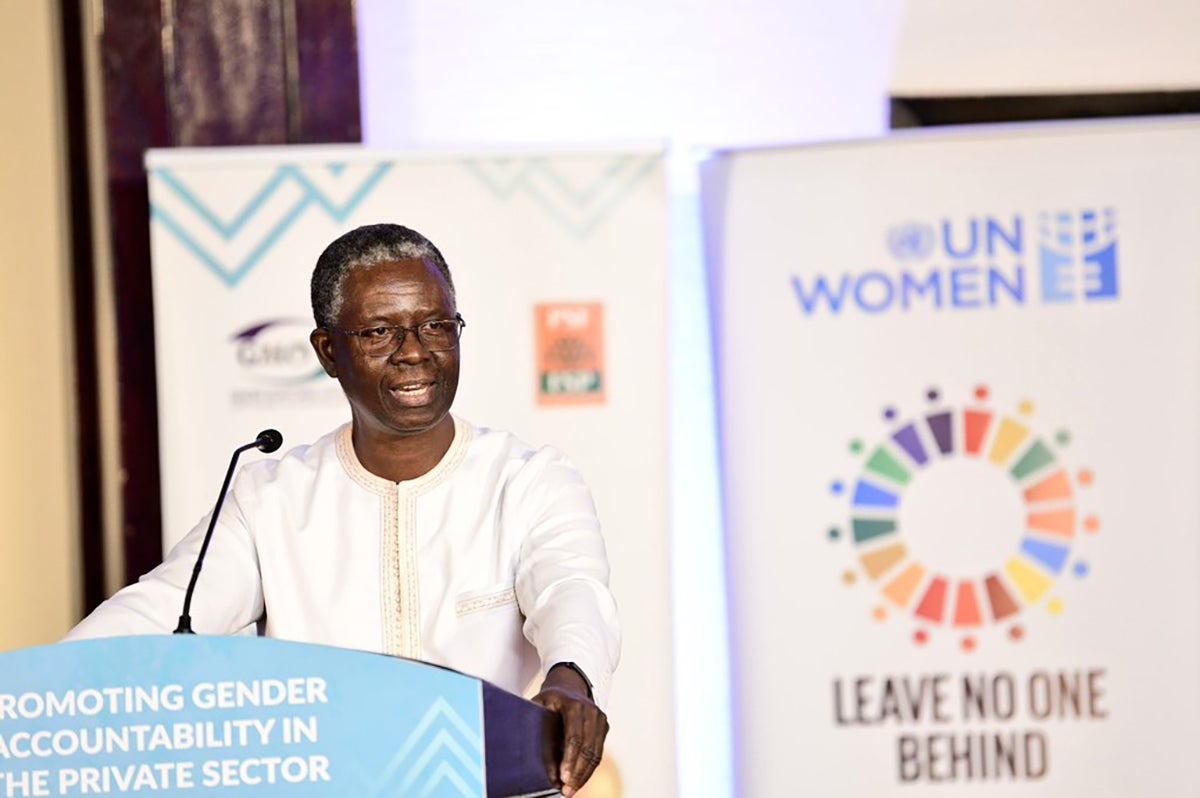 In opening remarks at the gender equality seal dinner, the UN Rwanda Resident Coordinator, Fode Ndiaye emphasized gender is essential in all sectors for economic growth and applauded the private sector and public institutions for taking the mantle.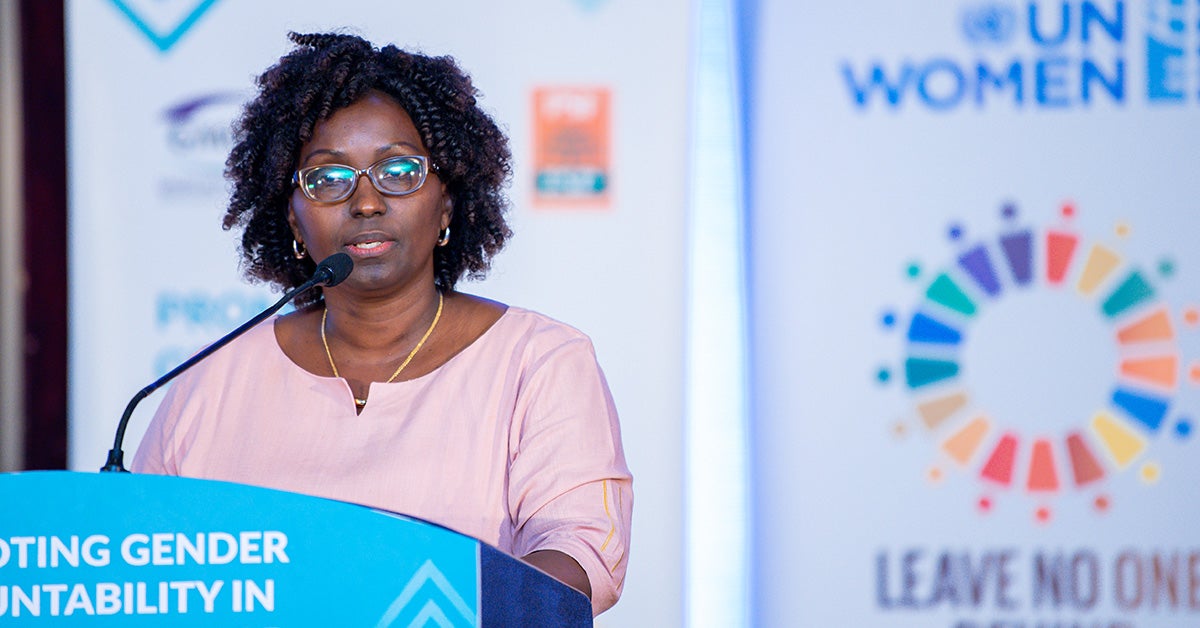 "In this world of uncertainty and COVID-19 recovery and resilient processes, the role of the private sector in boosting Rwanda's economy is paramount.  As part of this vital work, UN Women appreciates not only the private sector companies' commitments to gender equality and women's empowerment but also concrete actions taken in this endeavour by the companies that we are here to recognize today and award for their efforts in putting the commitments into actions. We encourage many more companies to join this transformative initiative, challenge the status quo and boost an inclusive socioeconomic development of the country," said Emma Carine Uwantege, Acting Country Representative of UN Women in Rwanda. She further added that One UN through the complementarity and experience of our two agencies, UNDP and UN Women, will continue to be leveraged to provide a solid framework and concrete tools to support private sector companies' gender equality agenda in line with the UN Women's Empowerment Principles (WEPs) to promote gender equality.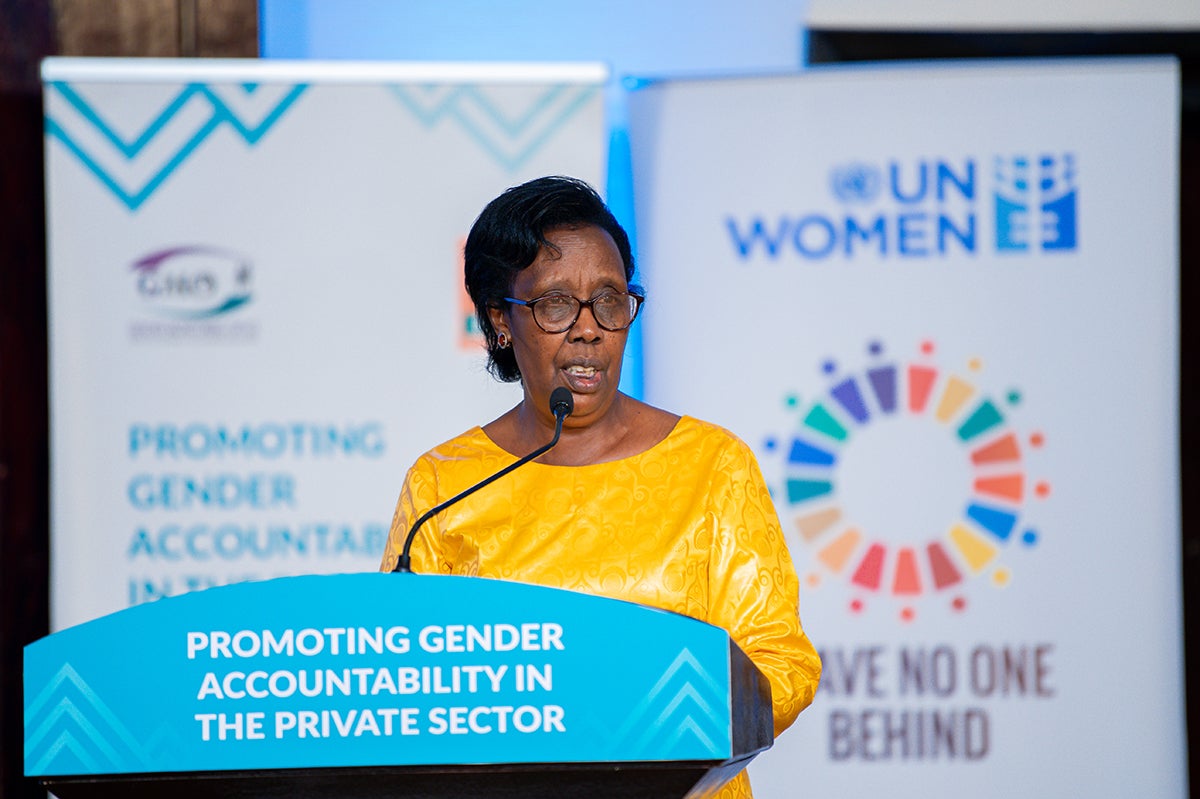 "As an accountability organ, we strongly believe that no sustainable development can be achieved without the participation of both men and women, especially in the workplace. Giving equal opportunities to both not only contributes to improving their lives as employees but also increases organizational productivity," said the Chief Gender Monitor, Rose Rwabuhihi.
She said these companies were among the first to join the program and after three years, they were evaluated against the gender equality seal standards to assess their progress in honouring their commitments. The evaluation revealed they have achieved key milestones in promoting a gender-responsive work environment.
The Minister of Trade and Industry, Beata Habyarimana commended the awarded and recognized companies and called on others to consider gender equality as a business rationale.
"From these nominees, we have seen that gender equality is not only a policy, but a must if you want to deliver more in business as well, so more private companies should embrace the culture, not as a favour, but because it is among women's rights," she said.
While the private sector currently employs 94 per cent of the labour force in Rwanda as per official statistics, the number of women is still low, especially in technical fields which normally pay more wages.
Women's participation in mining stands at 9 per cent, transport and storage at 3 per cent and at 17  per cent in construction. Women occupy only 32 per cent of decision making positions in the private sector. Only 33 per cent of business enterprises are owned by women, most of whom own micro and small business enterprises. The Gender Equality Seal Program was initiated to bridge those gaps and increase business growth.
"The private sector has registered tremendous achievements that include, but are not limited to the development the of second generation of the gender mainstreaming strategy for the private sector 2020 – 2024," said Robert Bafakulera, the Chairperson of Rwanda's Private Sector Federation.
Speaking virtually at the Gender Seal Certification and Recognition event, UNDP's Regional Bureau Director for Africa, Ahunna Eziakonwa, commended Rwanda for being the first country in Africa to implement the Gender Equality Seal program, bridging the gender gap in the private sector.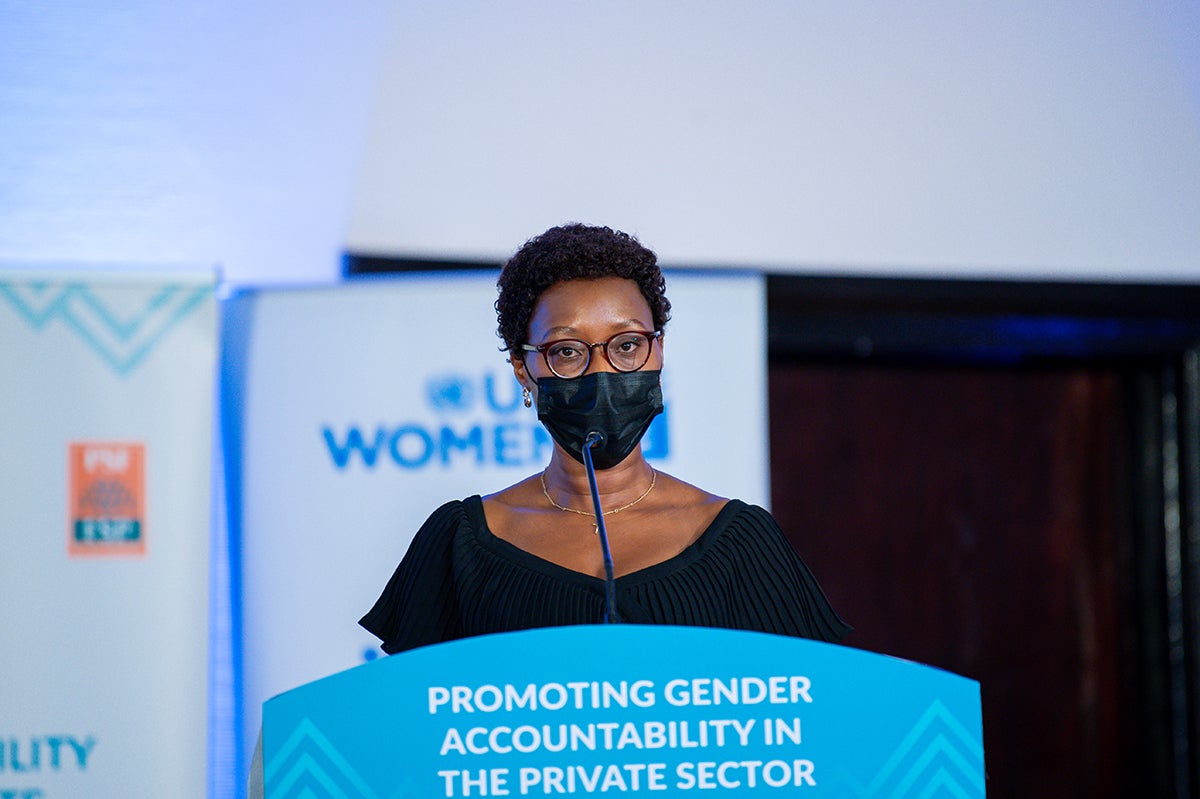 Minister of Gender and Family Promotion, Prof. Bayisenge Jeannette said with the country striving to attain middle-income status by 2035 and a high-income status in 2050, the participation of men and women in the private sector should be emphasized.