A day in life of.... "I enjoy working with men because I challenge them."
A day in life of.... "I enjoy working with men because I challenge them."
Date: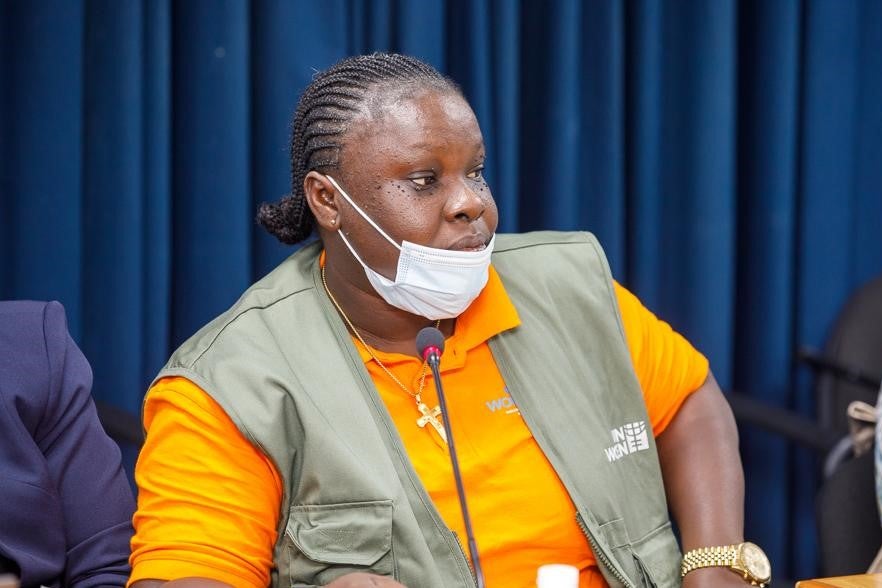 Meet 38-year-old Decontee Kollie, the only female driver in the UN Women Liberia office. 

For Ms. Kollie, working in the male-dominated field of driving makes her happy, because there is nothing that a man can do that she cannot do. Her background and upbringing has a bearing on the person she has become today. 

Ms. Kollie says:
"If there is a tyre puncture on the road, it's my responsibility to fix it. There is no difference between what I do and what my male counterparts do, because we have the same job. I do any work that my supervisor asks me to do. We work as a team. Sometimes colleagues help me but, if there are problems, we find solutions together.

I grew up as the only female child among boys. I am the only girl in a family of eight. I grew up among men. My brothers feel proud of me. They feel I have gone the extra mile to develop myself.

I started playing football when I was 12 years old and still in school. I played football for a girls league for almost 10 years. I played for the Liberian national team. My coach used to encourage us to act and move like men. I believe this background could have contributed to what I have become today. I left the game because there was no money in it.

I also learnt how to drive a vehicle when I was young. A male friend, Willie Peter, taught me how to drive and I learnt how to drive in one day. After that, I started driving.

I am so excited to work for UN Women. I enjoy working with men because I challenge them. The drivers that I work with are impressed with my work and they welcome me. 
Driving is my career. It's not a common thing. When you are driving, you are carrying people's lives and property. Driving is supporting me and my family. We survive on it. I have a passion for driving.

My best experience in the field is that of the excitement when people in the rural areas see a woman driving. They like to make friends with me. They are happy to interact with me and take photo with me because they enjoy seeing a woman do what men can do. 

When we go for training in the field, I participate, and I help to organize. I remember I took a colleague to Nimba for training and a woman came to me and asked me to teach her daughter to drive. I was so excited, and I felt very proud. I promised to teach her daughter to drive. I was very happy to see myself in that position. I felt appreciated. There are many girls who have talent, but they don't want to use it. They want to depend on men or use their bodies. If I have a career, I don't have to depend on men. I can depend on my career, and I can support my family.

My ambition is to grow professionally so that I become programme assistant and attain higher levels. I am learning from people. I want to go to school but I do not have time because of the work.

I am learning a lot of things in the office. When I am less busy, I assist with photocopying and scanning documents. I can send documents via email. I learn from people, get good advice from people and work with people. I have to be calm when dealing with people.

One of the challenges I encounter in my work is driving in bad road conditions. The roads are bad during the rainy season, but we still try to do the work and come back.

My advice to aspiring young drivers is that they should be focused and, if you have a career, put it to use. Don't sell your body. Have a career that can give you a better life. I encourage young women who aspire to be drivers to take driving seriously, because driving is a career where you carry life and property.
My recommendation to UN Women is to organize training for UN Women female drivers, because we have different experiences, and it is good to know each other's experience." 
Before joining UN Women in January 2020, Ms. Kollie worked for organizations such as UNICEF, GIZ (German Agency for International Cooperation), Medica Model and the Food and Agriculture Organization of the United Nations.
Ms. Kollie has a very supportive husband and a 12-year-old son. Her husband motivates her and encourages her to go to school to develop herself.
UN Women is the United Nations entity dedicated for gender equality and empowerment of women.