Promoting and Supporting Youth Leadership
Africa has the youngest population with over 40% of the population below the age of 15, while about 20% of the population fall between 15-24 years age. This presents the continent with an opportunity to harness the potential of its youth in the realization of Sustainable Development Goals (SDGs) and Africa's own Agenda 2063.
Young people are facing incredible challenges and even life-threatening risks, disproportionately carried by girls and young women. Many young people are still experiencing interlocked forms of discrimination, limited political inclusion, high levels of poverty, and limited access to health, educational opportunities, entrepreneurship and decent jobs.
However, young people are also already contributing to the resilience of their communities, proposing innovative solutions, driving social progress and inspiring political change, in urban as well as rural contexts.
In this regard, and with the commitment to 'leave no one behind', UN Women, in collaboration with diverse stakeholders and partners, convened an Africa Youth Conference on Unleashing the Potential of Youth in Africa- Prioritizing Investment in Youth Development in the Post-2015 Agenda, from 23-25 October 2018, at the United Nations Office in Nairobi, Kenya.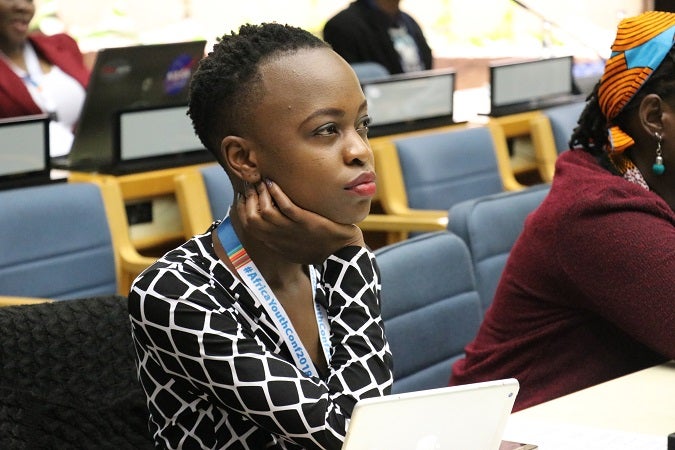 Nerima Wako, participant from Kenya follows the discussions. Photo: UN Women/ Faith Bwibo
The convening - which was facilitated through a partnership between UN agencies and civil society actors - sought to challenge a dominant narrative about African youth as a disengaged and a passive population that lacks the capacity and willingness to positively contribute to the continent's developmental potential and agenda. It provided a platform through which the youth in Africa - and in particular young women and girls, shared how they have been able to take action to innovatively address the challenges facing their communities. They encouraged and galvanized other African youth to become agents of change within their spaces, on the continent and globally, on three specific themes:
Enhancing youth access to sustainable livelihood through social entrepreneurship;

Youth focused engagement and participation in governance/political participation, leadership and decision making; and

Youth action in preventing violence and other harmful practices against young women and girls in Africa; and
The convening designed to open spaces for young people to contribute to inclusive and equitable development and decision-making processes within the framework of the SDGs. It provided a platform for young people to engage in dialogue with themselves and decision makers including government, CSOs and private sector to share ideas, experiences and innovative approaches for effectively addressing youth development challenges facing Africa.
During the three day event, over 350 African youth from across all regions (Central, East, North, South, West and North Africa) had an opportunity to attend different break-out sessions on various critical topics across the three themes affecting young people in the continent including youth activism for policy change, experiences of young women in political spaces, preparing youth for employment and entrepreneurship, the dichotomy of business for a millennial, fostering positive masculinities, youth action in promoting safe migration and anti-trafficking, understanding and breaking the cycle of technology assisted violence and turning the tables on recruitment and indoctrination of youth by extremist agendas among others.
Winny Obure, one of the panelists at the Africa Youth Conference. Photo: UN Women Africa
The conference culminated in an award ceremony for winners of an open innovation challenge in Africa (organized and sponsored by UNDP in cooperation with UN Women and Accenture), to conduct a challenge and award grant financing to help African youth entrepreneurs to develop and implement their innovative solutions that address SDG challenges and especially those targeted at bridging gender gaps. Six award winners were awarded USD5,000 cash prizes for ideas while seven were awarded USD10,000 cash prizes to scale up their businesses.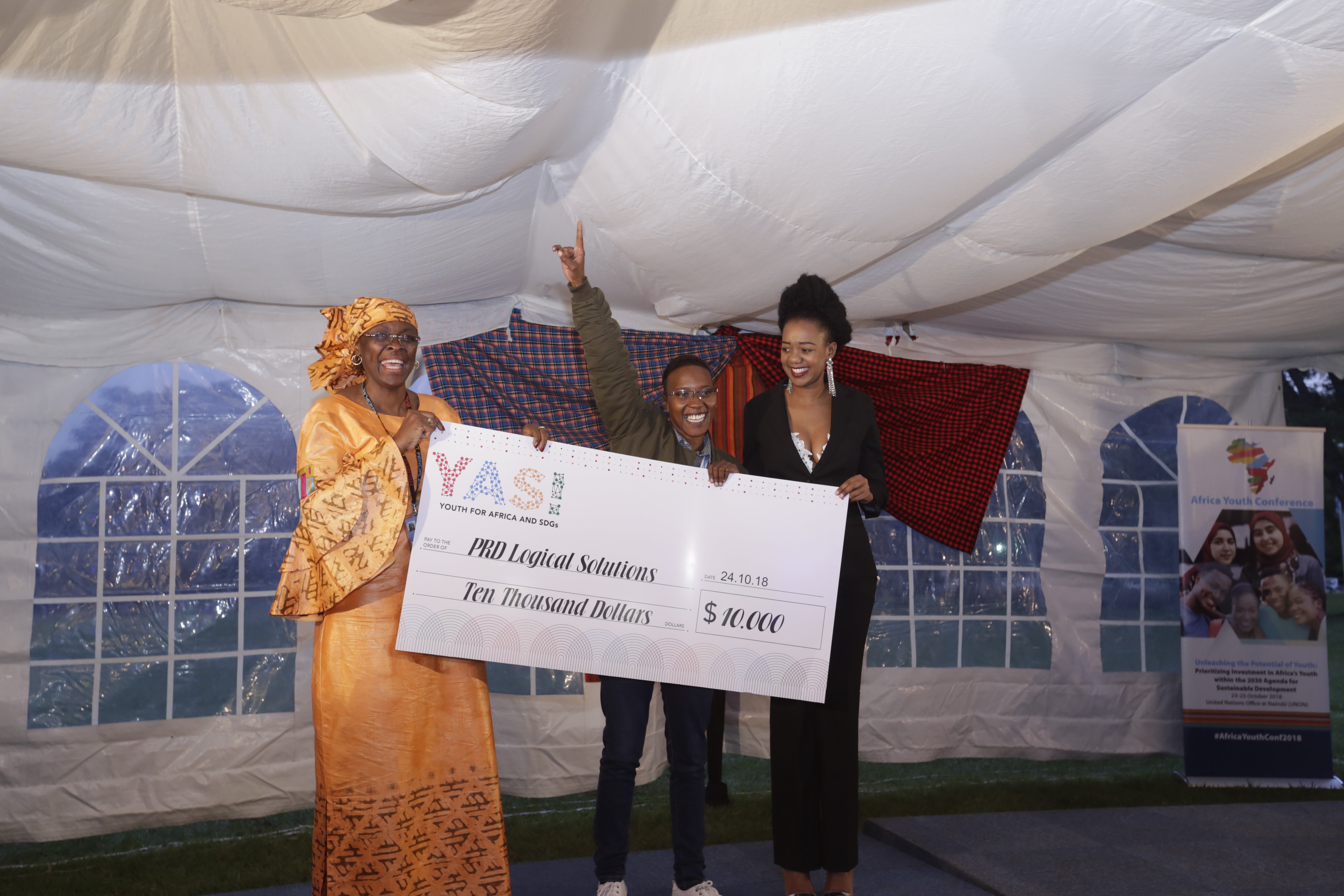 UN Women Regional Director for Eastern and Southern Africa, Izeduwa Derex-Briggs (left) and Sandiso Sibisi from Accenture (right) hand over a cheque to one of the award winners, Portia Mvhungu from South Africa. Photo: UN Women Africa
The conference concluded with the development of an outcome document, detailing identified key strategic actions that would allow the youth to shape the now and the future of the continent.
From the outcome and in line with the United Nations Youth2030 strategy, UN Women, has developed an action plan to work with and for the youth focusing on Promoting and supporting Youth Leadership across all sectors.
Related Documents
For more information on the youth programme, you can contact Susan Kariuki, susan.kariuki[at]unwomen.org and Martha Wanjala, martha.wanjala[at]unwomen.org