Costing the Gender Gap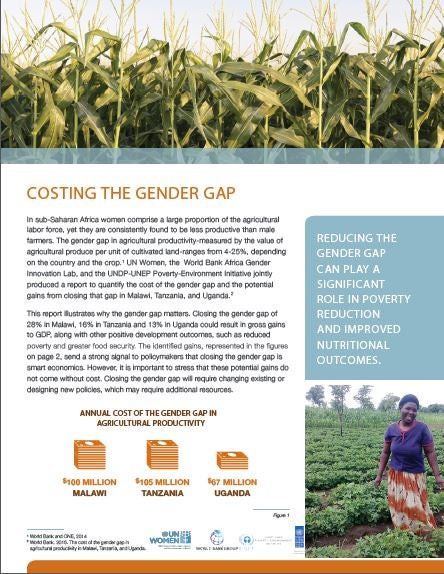 In sub-Saharan Africa women comprise a large proportion of the agricultural labor force, yet they are consistently found to be less productive than male farmers. The gender gap in agricultural productivity-measured by the value of agricultural produce per unit of cultivated land-ranges from 4-25%, depending on the country and the crop.1 UN Women, the World Bank Africa Gender Innovation Lab, and the UNDP-UNEP Poverty-Environment Initiative jointly produced a report to quantify the cost of the gender gap and the potential gains from closing that gap in Malawi, Tanzania, and Uganda.
This report illustrates why the gender gap matters. Closing the gender gap of 28% in Malawi, 16% in Tanzania and 13% in Uganda could result in gross gains to GDP, along with other positive development outcomes, such as reduced proverty and greater food security. The identified gains, represented in the figures on page 2, send a strong signal to policymakers that closing the gender gap is smart economics. However, it is important to stress that these potential gains do not come without cost. Closing the gender gap will require changing existing or designing new policies, which may require additional resources.
View online/download
Bibliographic information
UN Women office publishing: Africa