UN Women in Action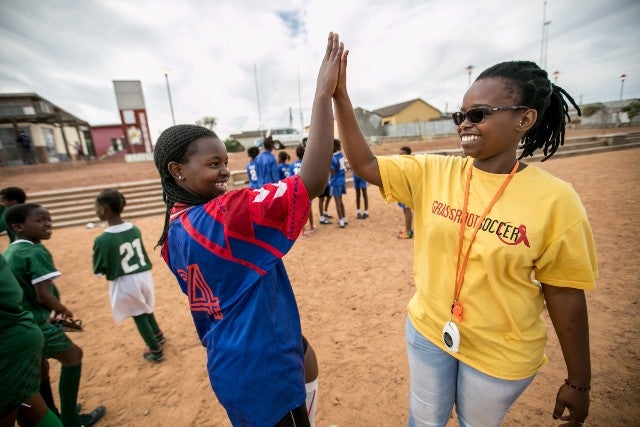 Women Count has conducted national gender statistics assessments in pathfinder countries in the region and has helped strengthen institutional mechanisms by integrating gender equality in national statistics strategies, establishing coordination mechanisms for gender statistics at all levels of government, and committing to regular monitoring of SDGs and national policies.
For instance, in Kenya, gender statistics is now a national priority and stakeholder engagement has resulted in several policy advances. Collaborative efforts between UN Women and the Kenya National Bureau of Statistics (KNBS), the State Department for Gender (SDfG), and other stakeholders in the NSS, resulted in the development of Kenya's Gender Sector Statistics Plan (GSSP) 2019/20–2022/23 instrumental in the generation and use of gender statistics in the country. The establishment and efforts of the Inter-Agency Gender Statistics Technical Committee (IAGSTC) provided a space for discussing the Kenya Census of Population and Housing 2019, which for the first time included the enumeration of the intersex population. Collaboration through the IAGSTC also facilitated other impacts such as the development of County Data Sheets, for the first time providing baseline data to track progress on gender equality, and an Agricultural Finance Corporation (AFC) study on women's access to agricultural finance, which resulted in revisions of the Corporation's gender policy and financial commitments. In Kitui County, the county gender data has triggered three concrete legislations, specifically, a County gender policy, an Empowerment Bill, and a Mainstreaming Bill, ensur­ing that the county takes gender into consideration, including in the allocation of resources. Improved access to data has also driven quality graduate research by University of Nairobi students supported by grants. The research is not only influencing public policy proposals but has also prompted KNBS to fill data gaps on femicide and other specialized areas of study. KNBS partnership with UN Women has also led to the development of Kenya's inaugural Women's Empowerment Index (WEI) Report and popular version, County Poverty Profile Reports for all 47 counties, a Comprehensive Poverty Profile Report, and 47 County Budget Briefs in partnership with UNICEF and several public agencies.
In Uganda, Women Count is helping to scale up gender responsiveness in public procurement through evidence-based decision-making. Following the revision of the National Gender Policy 2017 and the reprocessing of the initial 106 priority indicators of National Priority Gender Equality Indicators (NPGEIs) indicators in a participatory and consultative process with support from UN Women, Uganda has initiated a revision of its Public Procurement and Disposal of Assets Policy to improve the level of women's participation in and benefits from public procurement.
Women Count has supported several non-pathfinder countries including Ethiopia, Tanzania, Uganda, and Mozambique to conduct national assessments of their respective gender statistics systems and supported strengthening of their capacities to produce and disseminate new gender data. Similar assessments are upcoming in Malawi and Sudan.
Since the onset of the COVID-19 pandemic, UN Women ESA has also analyzed and published data in a 28-country regional report on the Impact of COVID-19 on Gender Equality and Women Empowerment in East and Southern Africa and the potential impact of the pandemic on the attainment of Agenda 2030 in the region from a gender perspective. This and related rapid gender assessments from South Africa, Mozambique, Malawi, Uganda, Ethiopia, and Rwanda and similar studies in Kenya and Tanzania, make concrete recommendations for advancing gender equality and influencing current policies and programmes in the COVID-19 and post-pandemic era.
In Zimbabwe, UN Women also developed guidelines on the collection and use of citizen-generated data for reporting SDG 5 and gender-specific indicators in other SDGs. The development of similar guidelines is underway in Uganda.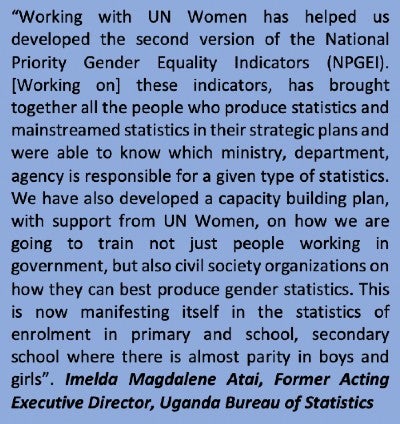 With support from UN Women, Rwanda collected data on violence against women towards the development of a domestic violence module for the Demographic and Health Survey. Building the capac­ity of enumerators in interviewing female and male respondents, particularly about ethical consider­ations and confidentiality, helped to ensure accurate reporting. The survey is expected to provide informa­tion on two Tier II SDG indicators, namely indicators 5.2.1 and 5.2.2, and will be used to inform the formulation of policy on violence against women in Rwanda.
In keeping with global efforts to standardize the production and collection of gender statistics, UN Women ESA customized the Minimum Set of Gender Statistics for Africa to help fill gaps in the Sustainable Development Agenda 2030 and the Africa Agenda 2063, and to serve as a guide for the development of national gender indicator frameworks and for the national production and continental compilation of gender statistics.
As part of efforts to promote the uptake and use of gender data and statistics, ESA in conjunction with the West and Central Africa (WCA) Regional office, tailored and delivered a training curriculum on communicating gender data and statistics in an Africa-wide engagement held virtually in 2020. For statisticians from the NSOs of Malawi and Liberia respectively, participating in the Africa-wide 2020 training on communicating gender data and statistics has led to an increased awareness of appropriate use of data visualization tools and audience-centered messaging, with the result of statistical products that resonate more with the target audiences. In Malawi for example, repurposing data into infographics and user-friendly communication materials has improved reach on issues of GBV and women's empowerment in rural areas where literacy may pose a challenge. There is increased demand for these materials from CSOs here who now feel better equipped to lobby policymakers on these issues.
For more information on the programme, contact Isabella Schmidt, ESARO Statistics Specialist: isabella.schmidt@unwomen.org