The UN Women East and Southern Africa Gender Journalism Awards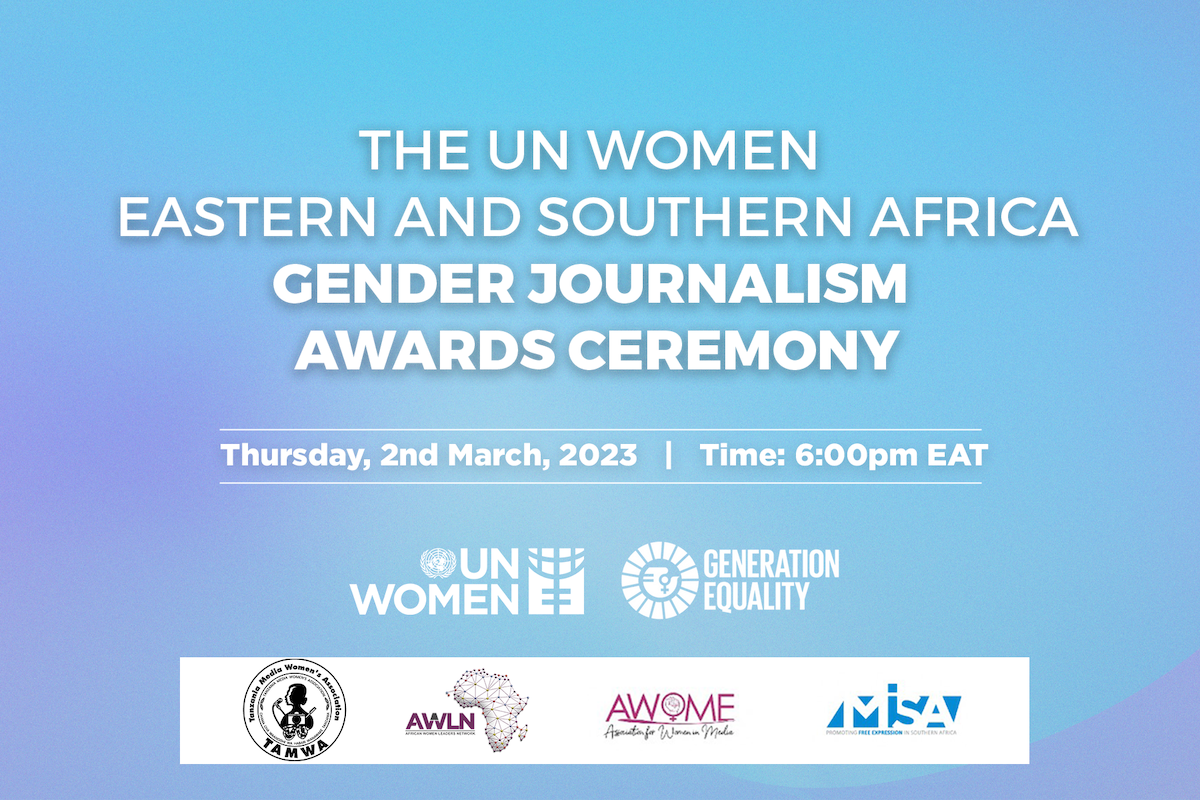 The Gender Journalism Awards for East and Southern Africa organized by UN Women and partners to promote and recognize excellence in media reporting of the work of Feminist Movements in East and Southern African countries.
The Awards were inspired by a UN Women Global Campaign: "Generation Equality: Realizing the Rights of Women for an Equal Future" launched in 2019, the next generations of women's rights activists with the gender equality advocates and visionaries who were instrumental in creating the BPfA in 1995, for galvanized actions towards Gender Equality. Through this campaign, six Action Coalitions were established to drive increased commitment in addressing gender gaps, with more than 2,500  commitments made from partners from governments, civil society, private sector, youth-led organizations, international organizations and the United Nations.
In the same spirit, the Gender Journalism Awards competition aims to promote partnerships with the media as indispensable partners, to support greater progress on the work of women rights activists to advance gender equality and the empowerment of women and girls. The Awards will promote an in-depth and impactful coverage of various gender-related issues that reflect the broader work that Feminist Movements in the region take-on. Reporting on these issues will contribute to ongoing efforts to enhance and sustain longer-term partnerships with the media in advancing the rights of women and girls.
Awards Ceremony
UN Women, UN Women in partnership with the Civil Society Advisory Groups for UN Women Tanzania and Malawi (CSAG); Gender Links; Editors Forum Tanzania, the Tanzania Media Women Association (Tanzania); the Association of Women in Media (Malawi); the Media Institution of Southern Africa, Malawi Chapter, Gender Links; and the African Women Leaders' Network (AWLN Tanzania and Malawi), will organize a virtual awards ceremony to recognize the top five award winners – from 1st to 5th place – that have been selected under the five categories of the Gender Journalism Awards:
Women's Rights Activism and Leadership
Protection of Civic Space for Feminist Action and Movement Building
Intergenerational Partnerships for Consensus Building and Succession 
Feminist Movements and Financing for a Gender Equal Future
Technology and Innovation for Gender Equality 
The event will be held on 2nd March 2023, at 6pm EAT/5pm CAT
Read the full announcement of the winners here
Register to participate in the awards ceremony here
Meet the Gender Journalism Awards winners:
Category 1: Women's Rights Activism and Leadership
Category 2: Protection of Civic Space for Feminist Action
Category 3: Intergenerational Partnerships for Consensus Building and Succession
Category 4: Feminist Movements and Financing for a Gender Equal Future
Category 5: Technology and Innovation for Gender Equality