Peace and security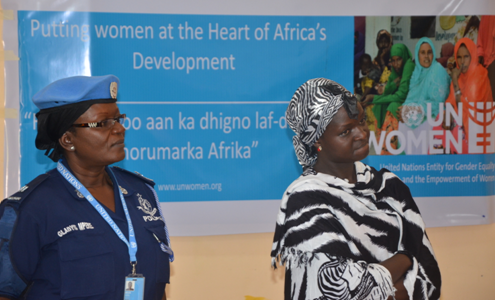 Conflicts have devastating consequences, including in widening gaps between women and men. Women often have fewer resources to protect themselves and,with children, frequently make up the majority of displaced and refugee populations. War tactics such as sexual violence specifically target them. Though women have led peace movements and driven community recovery after conflict, they are almost completely missing from peace negotiations. Exclusion from reconstruction limits access to opportunities to recover, to gain justice for human rights abuses, and to participate in shaping reformed laws and public institutions.
Africa has adopted a regional approach to peace and security through the African Union Peace and Security Council, and Regional Economic Commissions - RECs, in close coordination with the United Nation System. The Regional Office of UN Women facilitates linkages and influences between women's lived experiences and efforts with regional intergovernmental policy and program me processes and leverages spaces for women leaders to directly engage regional institutions, participate in mediation and other conflict resolution and peace initiatives.
The Regional Office works closely with field offices and with key partners, including UN special envoy for the Great Lakes Region and other envoys, and the Peace Building Support Office - PBSO in strengthening women's capacities for effective leadership in this area.