Climate-Smart Agriculture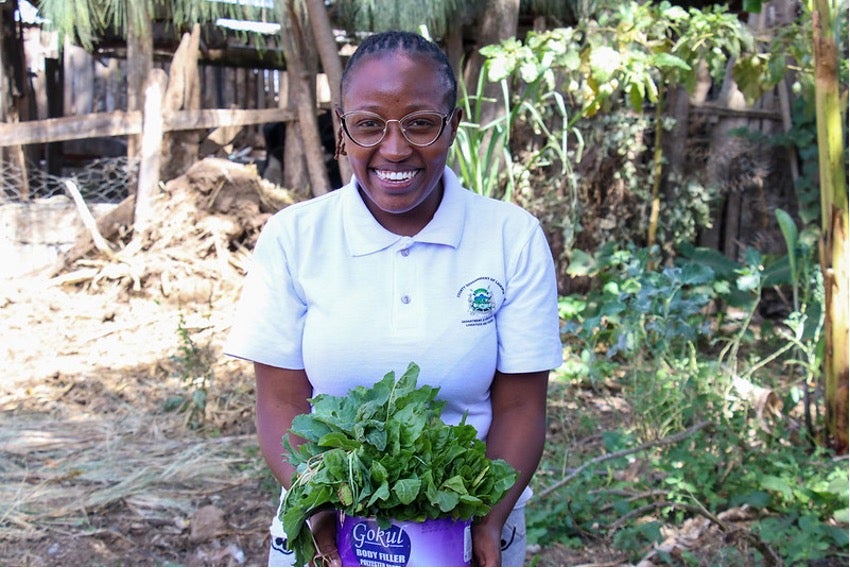 Climate Smart Agriculture regional programme is implemented in 9 countries of East and Southern Africa region, supporting women across various value chains working with women, youth, and their communities to support women's agency, influence and holistic contributions to sustainable farming methods. This contributes to securing local food supply, nutrition, income and livelihoods across different value chains/sectors.
Some of the results to date include:
In Malawi, 10,401  women farmers have been supported with high-yield,  disease and  drought-tolerant groundnut seeds and thus, doubling groundnut productivity in terms of yield; implementation of modern farming methods that conserve moisture and optimize land use; use of weather forecast information for the timely planting of groundnuts despite challenges in climate change which manifested in rainfall fluctuations as well as pest and disease infestations on crops.; use of market information and financial literacy sessions; the adoption of modern farming technologies.
In South Africa, four hundred and fifty (450) women in poultry farming received 2,700 energy-saving bulbs for use in their chicken shelters to save on poultry production electricity costs which contributes to lower energy usage and low energy costs. The green bulbs accompanied by general farming business management skills such as financial management and record-keeping, information and knowledge sharing on climate change have the potential to improve profit margins for the women farmers. Furthermore, UN Women is supporting 150 young women farmers on climate resilient, high quality macadamia nut farming and processing and together with its partners, have secured an international contract from Netherlands for macadamia nuts.
In Uganda, 1,400 women have been equipped with the skills and technologies needed to run successful aquaculture operations through technical training, mentorship programmes, access to inputs including feeds and business management skills. To ensure socio-economic gains despite climate change challenges of low oxygen levels in the lake due to temperature variations, UN Women and its partners supported these women to mitigate climate change challenges through use of sun drying methods, cage shifting to better quality waters, introducing rock salt to mitigate parasite infestation among other techniques. UN Women has supported women in the fish production with knowledge, skills and know-how to address the climatic impacts on their production ensuring a better response to climatic changes in the future production cycles. Additionally, 347 out of 420 women in the retail cohort have increased their profitability by USD 0.140 per kilogram making USD 139.7 more per ton of fish sold as compared to using middlemen.
In Rwanda, through the Joint Programme on Rural Women Economic Empowerment (JP RWEE) in Rwanda, 12 new cooperative groups composed of 1,181 members (927 women and 254 men) have been equipped with climate resilient improved seedlings of green beans, cabbage, eggplant, carrot, beetroot and tomatoes and equipped with knowledge on fruit grafting which increased their agricultural production, income and improved livelihoods. These agricultural inputs and fertilizers (organic and chemical) drought tolerant techniques are supporting farmers to better cope with changing weather patterns. Furthermore, 311 households construct energy efficient, cheaper and accessible cooking stoves reducing the time and labour used in the cooking process and enabling them adopt fuel efficient cooking techniques.
In Ethiopia, through the Joint Programme on Rural Women's Economic Empowerment (JP RWEE), women have enhanced their access to various productive resources. 617 rural women gained access to time and labor-saving technologies that is the tractor, and milk processing equipment which reduces the time spent in livestock rearing management and allowed them to grow their agribusinesses and create higher value products.
Women farmers in Tanzania set an example of sustainability