UN Women Africa
We Empower - UN Women Uganda
This video takes you through the 6 outcome areas of the UN Women Strategic Note (2022 - 2025) with the geographical representation of results as told by implementing partners and UN Women beneficiaries, in Uganda.
Speech: Crises multiply threats, women are the solution multipliers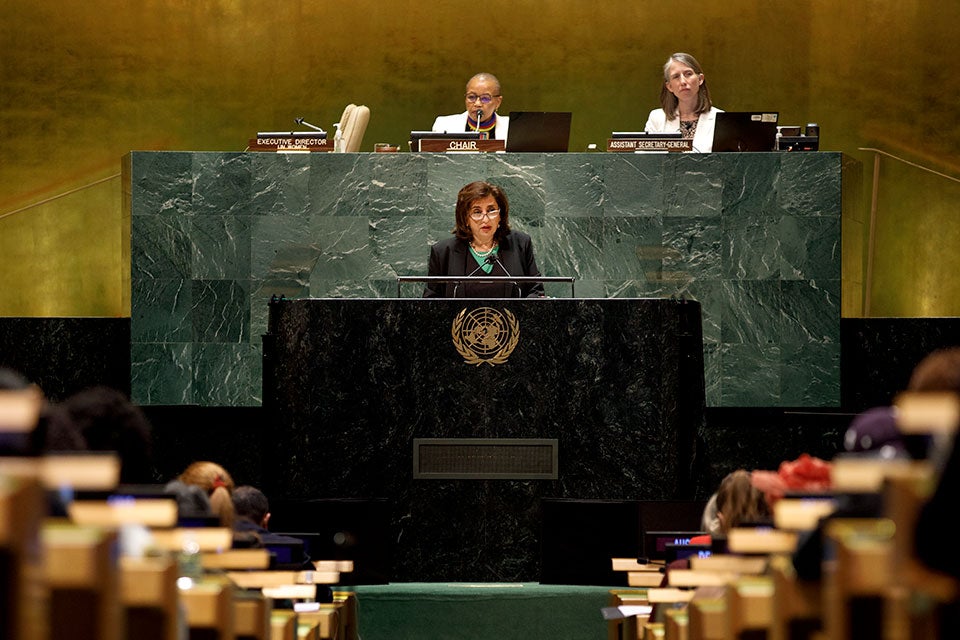 Introductory statement by Under-Secretary-General of the United Nations and Executive Director of UN Women, Sima Bahous, to the Commission on the Status of Women at its 66th session Read more ➤
Featured Publication
The study covers Botswana, Ethiopia, Kenya, Malawi, Mozambique, Namibia, Rwanda, South Africa, and Uganda. It finds that NEET rates in ESA are above 40 percent for youth in the 20-24 years age bracket, that young women in the region are disproportionally affected by NEET status regardless of their age group, and that this status is more likely to become a permanent state for young women than for young men.
Call to Action for Sexual, Reproductive, Maternal, Newborn, Child & Adolescent Health Rights in HoA
Through UN Women's POWER Programme on Women's Empowerment in the Horn of Africa, supported by the Austrian Development Agency (ADA), Rahma Ahmed calls for action to uphold Sexual, Reproductive, Maternal, Newborn, Child, and Adolescent Health (SRMNCAH) rights in humanitarian settings through joint efforts by host government, local and international NGOs to mobilize and sensitize Religious leaders, community leaders, traditional circumcisers, and midwives in Garissa County to come out strongly and separate/de-link FGM from religious teachings and cultural requirements.