African Girls Can Code Initiative (AGCCI)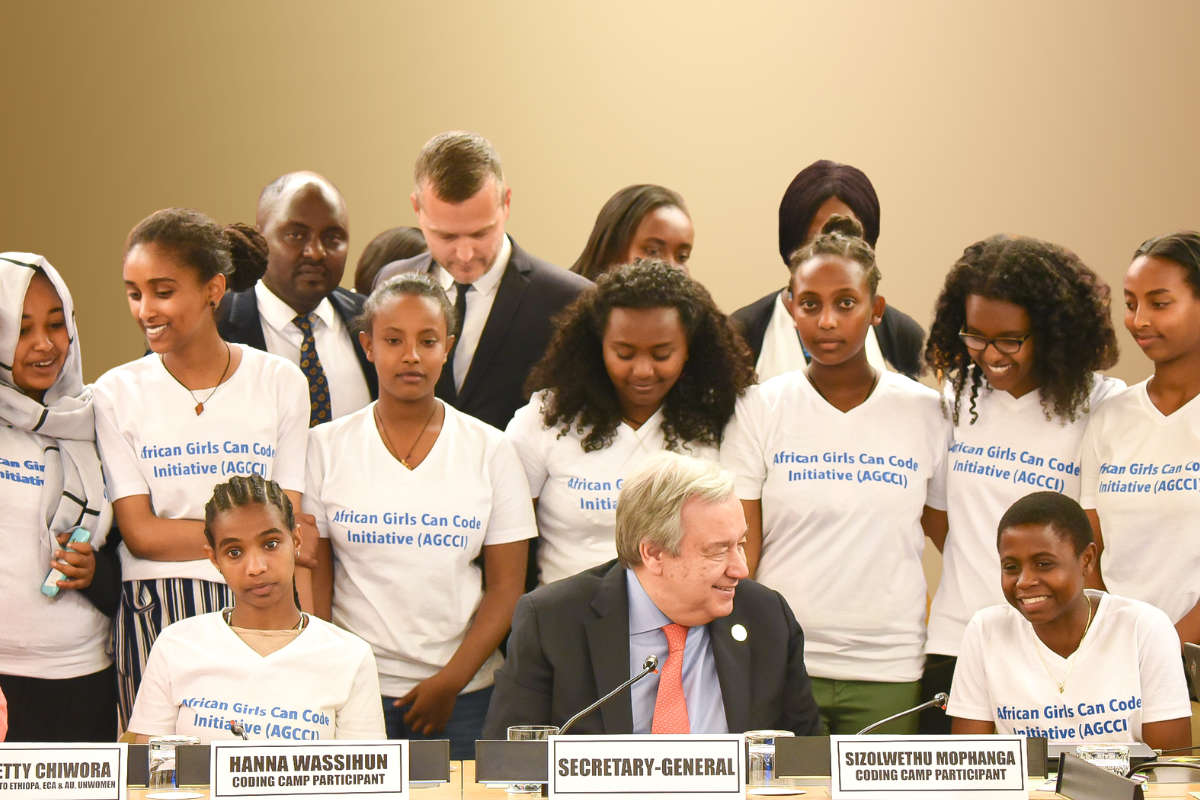 The African Girls Can Code Initiative (AGCCI) was commissioned by UN Women and the African Union Commission (AUC) in collaboration with the International Telecommunication Union (ITU). The first phase of AGCCI, was launched in 2018 supported by the Denmark Embassy in Ethiopia and completed in 2019 marking a list of great achievements. The initiative aims to train and empower a minimum of 2000 young girls aged between 17-25, across Africa to become computer programmers, creators, and designers, placing them on track to take up studies and careers in the information, communication and technology (ICT), education and coding sectors.
The initiative has two key strategies namely: 1) coding camps and 2) mainstreaming ICT, coding, and gender into the national curricula. Moreover, it promotes the implementation of national media campaigns involving role models (e.g. women in ICT, female teachers in schools) and utilizes an on-line platform to enhance networking among the girls, trainers and mentors.
Success of the first hase of the programme: 
600 girls have been trained through the AGCCI coding camps nationally and regionally since inception. The regional coding camps took place in Pretoria, South Africa (2019) and Addis Ababa, Ethiopia (2018). Additionally, national coding camps were hosted in Ethiopia with participants from the regions of Addis Ababa, Hawassa and Adama. The Coding Camp participants came from various countries in Africa including countries where UN Women has presence such as: Ethiopia, Burundi, Cote D'Ivoire, DRC, Kenya, Liberia, Mali, Malawi, Rwanda, Senegal, Sierra Leone, Sudan, South Sudan, South Africa, Uganda, Tanzania, and Zimbabwe.
A guide on mainstreaming ICT, gender and coding in the national curriculum  for education ministries, educational stakeholders to integrate  computing and gender into the national curriculum of secondary education.
An AGCCI eLearning platform  developed and managed by ITU. The platform provides online mentorship, courses, training tools, job opportunity postings and promotion of innovative programmes developed by participants.
April 2022 marked the launch of the second phase of AGCCI. AUC and UN Women in partnership with and ITU, ECA, UNESCO and UNICEF and supported by the Government of Belgium will spear head the implementation of this phase. 
Second phase priority areas:
Training of Trainers (ToT) to have a pool of trainers who will provide trainings in 11 selected African countries to reach the target of 2,000 girls by 2023. The TOT was organized in April 25-27, 2022, in Dar es Salam Tanzania bringing together trainees from 11 of the target countries.
Set up AGCCI Learning Centers in partnership with local learning/training institutions in participating countries.
Provide all learners with equipment and technology including laptops/smartphones/iPads and modems to ensure access to internet to continue learning.
Ensure mainstreaming of ICT, gender and coding into the national curricula and the adoption of the guide on mainstreaming in partnership with the AUC, African Union – International Centre for the Education of Girls and Women in Africa (AU/CIEFFA) and Member States.
Revitalizing the e-learning platform.
Partners and their Roles:
 
Member states to avail the girls and take care of required facilities for national camps, mobilize domestic resources including from country-based donors.
African Union Commission to provide Political directions and guidance as well as to advocate for national ownership of the programme.
Implementing partners: UN Women, ITU and AUC
Donors (Denmark for phase one) to provide funding support to the AGCCI
Private Sector including philanthropies, Tech and other companies, Media, and international organizations to promote job access for girls who code and provide equipment (laptops, smart phones, modems, data bundles), funding support, and mentorship.
The African Girls Can Code Initiative Testimonies