In Focus: 76th Session of the UN General Assembly
Top stories | Gender equality – Where are we today? | Social media
The 76th session of the United Nations General Assembly (UNGA 76) will open on 14 September, with the High-level General Debate taking place from 21 to 27 September under the theme "Building resilience through hope - to recover from COVID-19, rebuild sustainability, respond to the needs of the planet, respect the rights of people, and revitalize the United Nations".
During this pivotal year, as COVID-19 continues to disrupt lives and economies around the world, it is critical to include women's voices and leadership in all efforts to build back better, restore balance with nature, tackle the climate emergency, and get ahead of the pollution crisis, while ensuring no one is left behind. This year must be the beginning of new and accelerated action to achieve the Sustainable Development Goals, including Goal 5 on gender equality. On the sidelines of UNGA 76, UN Women is launching a Feminist Plan for Sustainability and Social Justice, outlining how to use the recovery from the COVID-19 crisis to shape a better, more gender equal and sustainable world.
Through side-events, intergenerational and intergovernmental conversations, UN Women is building upon the momentum of the Generation Equality Forum and celebrating the Generation Equality Action Coalitions as they take needed urgent action towards gender equality.
Watch this space for news and updates on gender equality at UNGA 76.
Top stories
Infographic: Gender equality – Where are we today?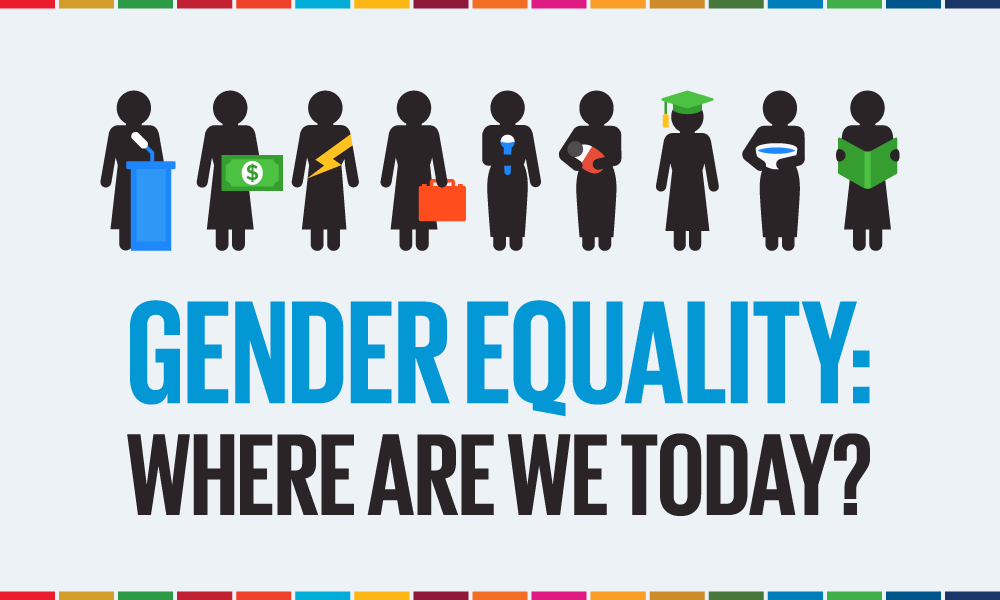 Social media
As world leaders meet for #UNGA to find solutions to the most pressing issues of our time, this is our opportunity to make our voices heard through social media! Share your feminist agenda using #GenerationEquality with GIFs, data cards and more available in our social media package in English, French and Spanish.
Get started here: https://trello.com/b/ebcAYHPl
Follow us:
@unwomenafrica, @un_women, @onumujeres, @onufemmes on Twitter
UN Women Africa, UN Women, ONU Mujeres, ONU Femmes on Facebook
@unwomen on Instagram
@unwomen on TikTok
un-women on LinkedIn
un-women on Medium
Previous UNGAs: 2020, 2019, 2018, 2017, 2016, 2015, 2014, 2013, 2012