Rwanda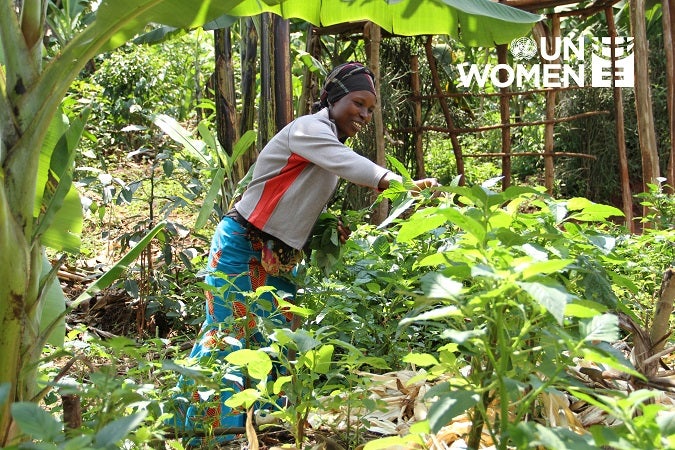 Rwanda is located in the Eastern/Central Africa region with a population of close to 12 million of which 52 percent are women and remains one of the most densely populated countries in Africa.
Following the 1994 Genocide against the Tutsi, Rwanda embarked on a recovery process that required the participation of citizens in all spheres of social and economic development. Today, gender equality and women's empowerment are mainstreamed in all development frameworks at central and local levels (districts and sectors), starting by the Constitution which guarantees equal rights for women and men and provides a quota of 30 percent representation of women in all decision-making organs but has been largely surpassed in many institutions. Gender equality principles have also informed the formulation of the National Strategy for Transformation 2018-2024 (NST1) as the EDPRS2 successor framework, Vision 2050 and the United Nations Development Assistance Programme 2018-2023 (UNDAP2).
As a result, Rwanda continues to register significant gender equality gains not only in women's representation where it leads the world with 61 per cent of women in the Chamber of Deputies, women occupy 50 percent of ministerial portfolios (latest 2018 cabinet reshuffle), 38% percent of the seats in the Senate, and 43.5 percent of councillors' seats at local government level. The country also made noteworthy in-roads in the economic, social and political sectors and has now emerged as a regional and global leader in advancing gender equality, ranking fourth globally and first in Africa by the World Economic Forum (WEF) in 2017. Rwanda is leading on the numbers of signatories to the HeForShe campaign with over 200,000 with three commitments to bridge the gender digital divide by 2020, triple girls' enrolment in TVET and eradicate gender-based violence in all its forms.
Rwanda's political will to promote gender equality also materializes through its commitments to at least 13 regional and international conventions and protocols on gender equality and women's empowerment such as the Convention on the Elimination of All Forms of Discrimination against Women (CEDAW), the Beijing Declaration and Platform of Action of 1995, with steady reports of notable progress.
The advancement of gender equality in Rwanda is also driven by homegrown mechanisms such as parents' evenings "umugoroba w'ababyeyi", a forum where men and women gather at community level to debate on community development and social cohesion issues.
UN Women has been a key partner of the Rwanda Government, as a hub for knowledge and technical expertise on gender and women empowerment issues. UN Women has also built strong partnerships with the civil society, the private sector and development partners; it engages women and men, boys and girls on these issues with the view to widely contribute to bring the debate and awareness to a larger audience including through the HeforShe Global impact campaign, promotion of positive masculinities and fighting against Gender Based Violence (GBV).
Our Programmes
Leadership and Political Participation
As a way to strengthen political participation of women at all levels, UN Women works with the National Gender Machineries (NGM), four government institutions working on all aspects of gender equality issues, and other implementing partners from civil society and private sector.
The Programme has been instrumental in advocating for reforms that contributed to repealing a number of discriminatory legal provisions, institutionalizing Gender Responsive Budgeting (GRB) and Gender Budget Statements (GBS) and strengthening the capacity of the NGM to implement its mandate.
UN Women also contributed to building foundational capacity to analyse, implement and report on gender responsive plans and budgets, monitoring gender budget statement and developing gender profiles and strategies for selected public institutions.
UN Women will continue to support the NGM to address the remaining gaps, especially in mainstreaming gender in district planning and accountability frameworks such as Districts Development Strategies , Performance contracts ''Imihigo'' as well as public procurement processes among others.,
Economic empowerment
Agriculture represents 30 per cent of Rwanda's GDP and remains a key employer. The sector employs 79 percent of women compared to 54 percent of men, with most of women's labour in agriculture being unpaid labour.
In Rwanda, women are underrepresented in the non-farm wage sector but overrepresented in lower-value subsistence agriculture, while men are more involved in cash crop production and marketing. Women also spend more time on non-productive work such as domestic work, compared to men (21 hours vs 8 hours).
Through the Joint Programme on Accelerating Progress towards the Economic Empowerment of Rural Women (JPRWEE), UN Women, in collaboration with WFP, FAO and IFAD, work to improve women's food and nutrition security, increase their incomes, enhances their decision-making power and fosters a conducive policy environments for their economic empowerment.
In addition, UN Women launched a digital platform, through the Buy From Women Project that leverages technology to empower women farmers and link them to information, markets, and finance through mobile enabled access. Women registered on the platform gain access to critical information about their land size and the yield forecast, while being informed on the market price of their produce, in real-time. Trainings on Climate Smart Agriculture techniques are also provided to the beneficiaries.UN Women also works with private sector entities, in ensuring gender-responsive procurement practices, access to finance, access to mentorship for younger women, digital inclusion and enhance women's participation in STEM fields and the expanding private sector in the country and the region.
Ending Gender-Based Violence
Registering a growing pace of urbanization, the country also attributes greater focus to addressing issues of human trafficking and sexual harassment in public spaces. A "safe city" programme implemented by the City of Kigali since 2011 as part of a global safe cities programme, with the support of UN Women, focuses on elimination and prevention of GBV and sexual harassment in public spaces.
Efforts have been made to respond to GBV through comprehensive support provided to GBV survivors through the Isange One Stop Center model. Forty-four Isange One Stop Centres (IOSCs) have been established countrywide and provide medical, psychological, forensic, judicial and legal services to GBV and child abuse victims.
In line with the national HeForShe commitments to end GBV, UN Women works with the Government and particularly the Rwanda National Police to curb GBV incidence, by working with target groups from police officers, health practitioners, youth, to motorcycle drivers.
Social norms, mind-set and culture that are at the source of GBV and tend to hinder the reporting of GBV cases at household and community level and in the workplace are also addressed in GBV interventions, contributing to the prevention of such cases in the future.
Cross cutting issues
In collaboration with the National Institute of Statistics, UN Women is working to strengthen the production of gender disaggregated data including the use of complementary data sources , as a key tool of accountability and impact evaluation of development interventions.
In addition, pursued efforts will be fostered to change social norms and gender stereotypes that often limit self-confidence and self-esteem among women and affect their ability to effectively play their role as leaders, in the professional domain and at household levels.