UN Women Representative in Rwanda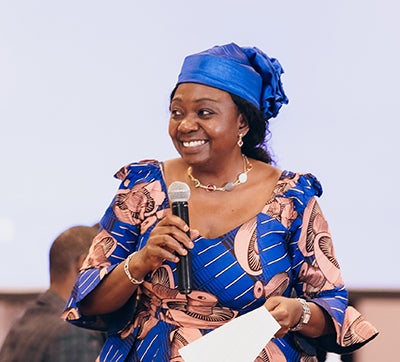 Ms. Jennet Kem, appointed as the UN Women Country Representative in Rwanda with effect from 1st April 2022, brings more than 27 years of experience in a wide range of gender and human rights issues including Gender-responsive governance, Gender Responsive Budgeting, Advocating for Women's Human Rights using CEDAW and related instruments; Ending Feminized Poverty and Violence against women and Girls; Advancing Gender and Juvenile Justice; Mobilizing leaders and communities for Gender Equality, Peace, Justice, and Humanitarian Action, amongst others. 

She came to Rwanda from Burundi where she served as Country Representative for UN Women from 2017-2022 and contributed to position women in leadership and peacebuilding at local level. She initiated the concept of positioning women at the center of efforts to end malnutrition and highlighting their contributions to critical agriculture value chains. Before joining UN Women in Burundi, Ms. Kem served as UN Women Country Representative in Sudan from 2015-2017; Senior Policy Advisor on ending violence against Women at the UN Women Regional Office for East and South Africa (2014-2015); Manager of the UN SG's UNiTE Campaign to end violence against women-leading the secretariat in Addis Ababa to launch the campaign in more than 20 countries-(2011-2014); Senior Gender Advisor for UNDP Regional Bureau for Africa (RBA) in New York USA (2009-2011); Gender Advisor on Public Finance Mgt and Economic Empowerment for the Commonwealth Secretariat in London (2008-2009); Inaugural Manager of the Gender Equality Fund for CIDA-Canada (2002-2004) She inaugurated UNIFEM Country Programme Manager in Cameroon-(2004-2008). Ms. Kem started her leadership journey in human rights and equality as the Founding Director for Women's in the Ministry of Women and Social Affairs, Cameroon 1998-2002).
She holds a First Degree, Master's degree, and DEA in Law from the University of Yaoundé-Cameroon as well as a Postgraduate Certificate from School of Administration and Magistracy (Cameroon). Jennet is currently a commissioned Ph.D. Research Fellow.
She has a passion for equality, justice and community development and spends her spare time researching, training and contributing to these ideals.