Guide for Gender-Responsive Budgeting Facilitators: A Pratical Approach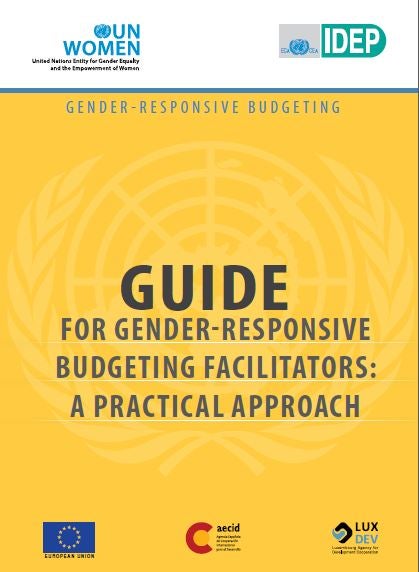 This guide to gender budgeting, commissioned by the Increasing Accountability in Financing for Gender Equality (F4GE) programme and the Programme for Gender Equitable Local Development (GELD), is aimed at supporting the government of Senegal in taking gender into account in sectoral policies and the budget.
It follows the «methodological guide for gender mainstreaming in programs and projects»
developed by the Gender Equality Directorate (Ministry of Women Affairs, Family and Social
Development), financed by the United Nations Population Fund (UNFPA). It also follows the Gender and Economie Policy Management Initiative (GEPMI) focused on training on gender-responsive economic policy management. This joint UNDP / UN Women Programme - implemented by the United Nations African lnstitute for Economie Development and Planning (IDEP) - was developed to respond to the needs of African policymakers to include a gender perspective in national development frameworks.
This Guide was prepared thanks to the technical support of Mrs Khady Ndao Diagne, Head of the Directorate of Budget in Senegal, Mr Elias Baingana, former Director General of the National Budget department in the Ministry of Finance and Economie Planning of Rwanda, and resource persons of the Senegal Ministry of Economy and Finances, the Ministry of Environment and Sustainable Development, the Ministry of Water and Sanitation, the Ministry of Town and Country Planning and Decentralization, the Ministry of Woman, Family and Childhood, decentralized services from the region of Louga and UN Women. The preparation of this Guide has benefited from consultations with the budget experts in the National Budget department of the Rwanda Ministry of Finance and Economie Planning who provided useful insights on gender and the budget. Special thanks are extended to our technical and financial partners: UN Women, the African Institute for Economie Development and Planning (IDEP), the European Union, the Spanish Cooperation Agency (AECID) and the Luxembourg Agency for Development Cooperation (LuxDev).
The authors are particularly indebted to the UN Women team, including the Coordinator of the
Financing for Gender Equality programme, Dr. Mbarou Gassama Mbaye, the GELD coordinator, Dieynaba Wane Ndiaye, as well as the programme experts at the UN Women West and Central Africa Office in Senegal. Last but not least, the reference materials from the Senegal and Rwanda Ministries of Finance and Pl anning and UN Women were very useful and influenced the process of designing this Guide.
View online/download
Bibliographic information