Report for the UN Women's Innovative Market Place on Women's Socio-Economic Empowerment in Africa Hosted at the Timeless Conference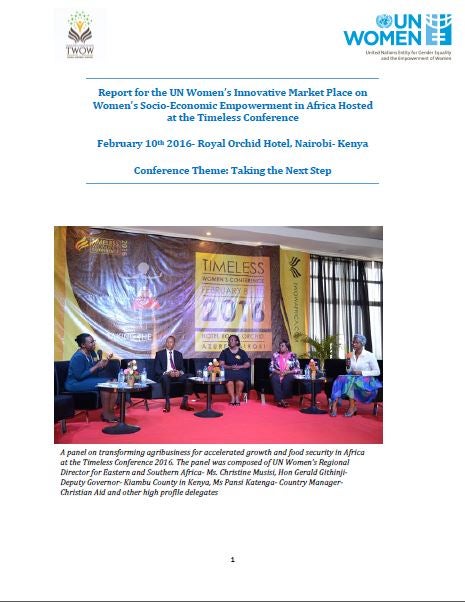 In 2015 Timeless Conference focused on "HEALING HEELS" … transforming mindsets, attitudes and destroying limiting belief patterns to move into a limitless thought pattern with a positive mindset and attitude for optimization of potential and resources for women.
In 2016, Timeless Conference took the conversation higher as it dialogued on what we must now do if Africa is going to achieve exponential socio-economic growth. The theme "TAKING THE STEP" challenged the women of Africa to take a step to shift the status quo and begin to realize tangible impact in all areas pertinent to social and economic transformation of Africa. The conference looked at the key drivers of social and economic changes and discuss the roles of various stakeholders in building sustainable change.
2016 Timeless Women's Conference was used as an opportunity to share great initiatives/ innovations/ interventions and programmes that create social and economic impacts in the lives of women in Africa. These initiatives are replicable and can be shared on a wider scale. These were shared in a market place at the conference with global participants who included business leaders, development partners, governments, civil society, the private sector players and other players in the economy. They were initiatives with evidenced impact in the countries of operations. The market place provided a space for all selected interventions to be profiled by way of a knowledge product and a booth to share what has worked or what is working and why. Three best initiatives were selected for awards and oral presentation at the market place. This was an opportunity for the region to link to potential partners, governments, donors and development agencies and convince them that we do real initiatives that are replicable in certain contexts while creating a space for external knowledge mobilization and dissemination.
View online/download
Bibliographic information
UN Women office publishing: Africa