Policy Brief: Assessing the Gender Gap in Agricultural Productivity in Rwanda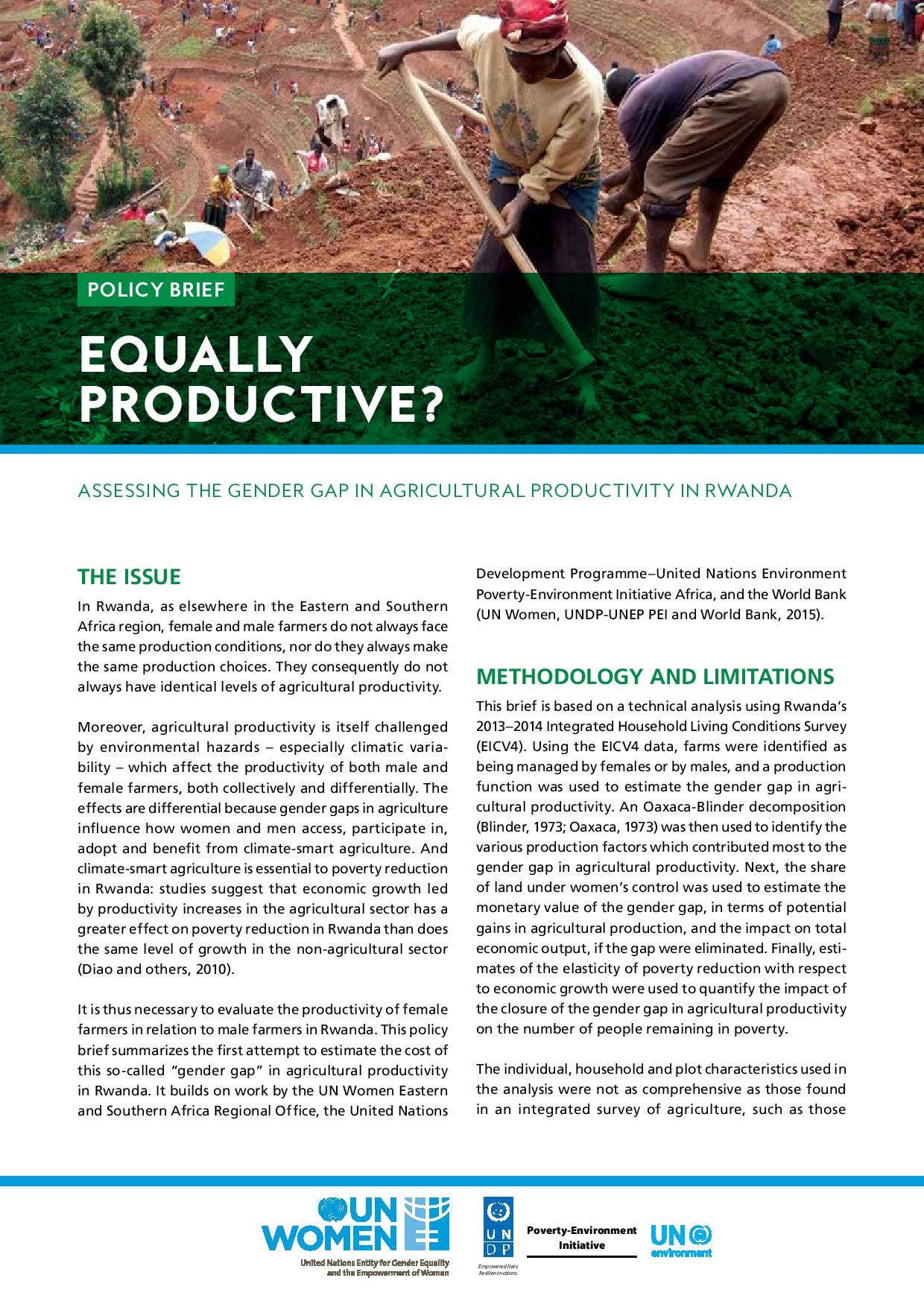 In Rwanda, as elsewhere in the Eastern and Southern Africa region, female and male farmers do not always face the same production conditions, nor do they always make the same production choices. They consequently do not always have identical levels of agricultural productivity.
Moreover, agricultural productivity is itself challenged by environmental hazards – especially climatic variability – which affect the productivity of both male and female farmers, both collectively and differentially. The effects are differential because gender gaps in agriculture influence how women and men access, participate in, adopt and benefit from climate-smart agriculture. And climate-smart agriculture is essential to poverty reduction in Rwanda: studies suggest that economic growth led by productivity increases in the agricultural sector has a greater effect on poverty reduction in Rwanda than does the same level of growth in the non-agricultural sector (Diao and others, 2010).
It is thus necessary to evaluate the productivity of female farmers in relation to male farmers in Rwanda. This policy brief summarizes the first attempt to estimate the cost of this so-called "gender gap" in agricultural productivity in Rwanda. It builds on work by the UN Women Eastern and Southern Africa Regional Office, the United Nations Development Programme–United Nations Environment Poverty-Environment Initiative Africa, and the World Bank on the Cost of the Gender Gap in Agricultural Productivity in Malawi, Tanzania and Uganda, 2015.
View online/download
Bibliographic information
UN Women office publishing: Rwanda Multi-Country Office