Women's Land Rights and Tenure Security in the Context of the Sustainable Development Goals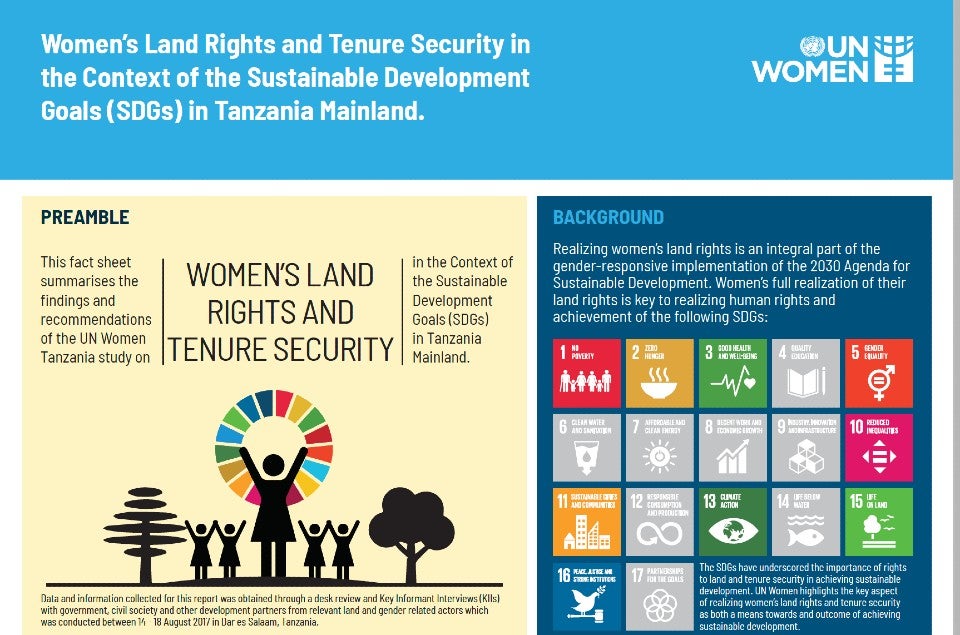 Tanzania has a total area of 945,087 square kms where 886,037 square kms is land area, making it the largest country in East Africa (World Bank, 2015). Approximately 45% of Tanzania's land area is devoted for agriculture (World Bank, 2018), and the remaining 55% is used for fishing, mining, forestry, and livestock keeping.
While Tanzania's population is over 57.3 million (World Bank, 2018), is estimated to exceed 77 million where more than 39.3 million will be female by 2030 if the current trend is maintained (National Bureau of Statistics and Office of the Chief Government Statistician, 2018). It is also estimated that women and girls make up over half of the Tanzania's population. Where, out of 25 million of working age population aged 15 to 64, women and adolescent girls constitute 52% (NBS, 2014). Women constitute 50.5% of 22 million labour force of Tanzania and 49% of 20 million employed population.
Due to population growth and climate change trends, pressure on land has been increasing in various economic activities like commercial agriculture, subsistence farming and grazing. To reach the development goals of the country as outlined in Vision 2025 and the Sustainable Development Goals (SDGs) women and girls must be enabled to realize their rights to land to actively contribute to and benefit from the economic growth.
It is within this context that a study was conducted and the findings and recommendations on women land rights and tenure security in the context of SDGs in Tanzania Mainland were summarized.
View online/download
Bibliographic information
UN Women office publishing: UN Women Headquarters