MARKET ASSESSMENT OF MICRO-BUSINESS OPPORTUNITIES FOR WOMEN IN IDP COMMUNITIES AND THEIR HOST COMMUNITIES IN JUBALAND AND SOUTH WEST SOMALIA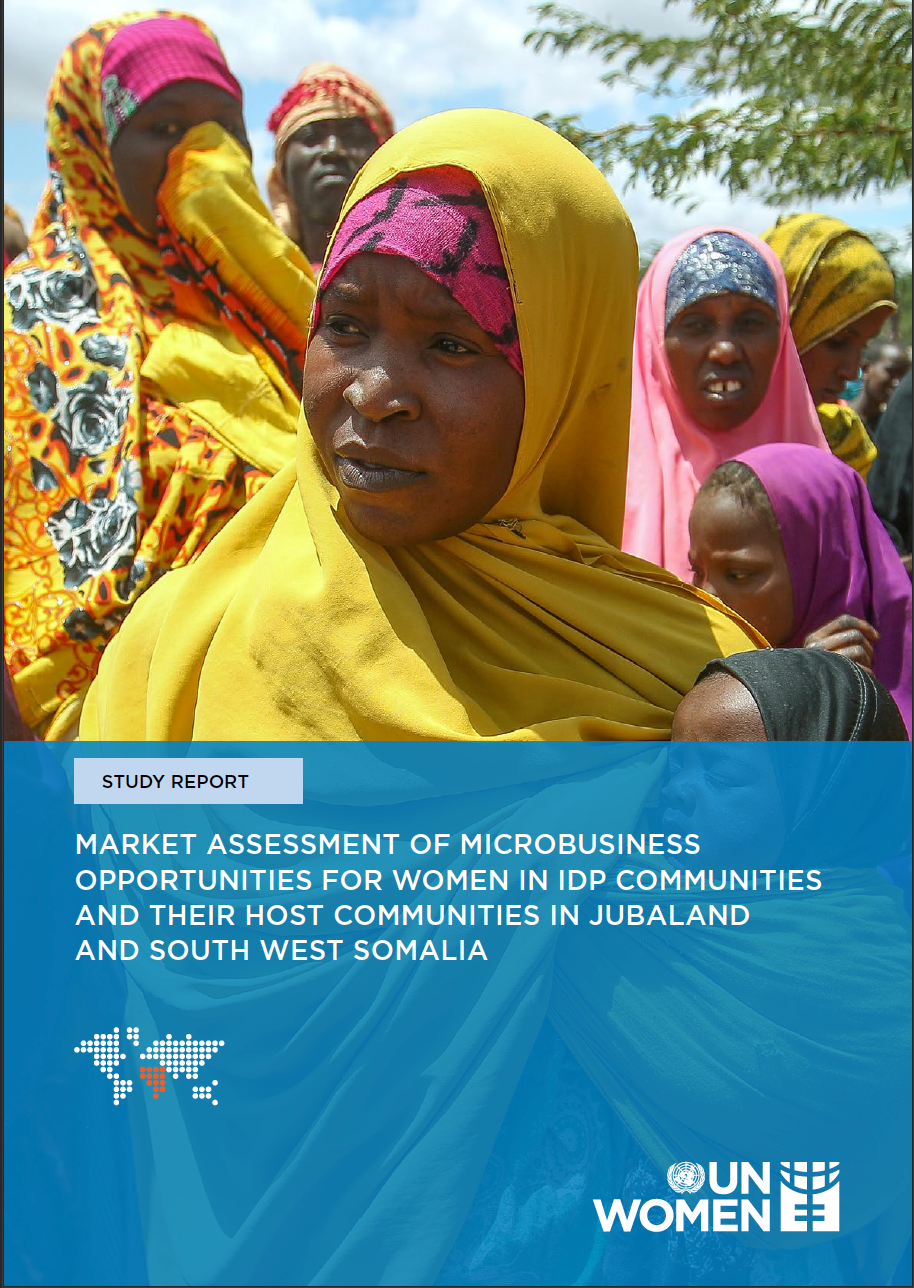 UN Women commissioned a comprehensive research study addressing a number of research objectives that explore the current micro-business opportunities, barriers, and challenges faced by internally displaced people (IDPs), and particularly women IDPs, in accessing economic opportunities in Kismayo and Dollow (Jubaland) and Baidoa (Southwest state) in Somalia.
This study on "Market Assessment of Micro-Business Opportunities for Women…" contributes to the efforts of women's economic empowerment central to realizing women's rights and gender equality. Women's economic empowerment includes women's ability to participate equally in existing markets; their access to and control over productive resources; access to decent work; control over their own time, lives, and bodies; and increased voice, and meaningful participation in economic decision making at all levels from household to international institutions. The findings indicate there are several market segments in which women who are IDPs could be supported to either access or expand their existing livelihoods. Gender norms in business and casual labor activities were quite clear in the research. For example, more labor-intensive industries, such as construction, telecommunications, transport, and certain aspects of livestock-keeping, are typically associated with men. Thus, women mostly are taking part in casual labor in domestic work, agricultural production, or in small businesses such as tea shops, beauty salons, and kiosks that sell fruits and vegetables, milk, sweets, and other small consumer goods. The data does show that some women had received training in work considered to be more male-dominated, such as masonry, which suggests that there is a slight shift in these gender norms thereby opportunities for women.
View online/download
Bibliographic information
UN Women office publishing: East and Southern Africa Regional Office