HUMANITARIAN GENDER ALERT - WOMEN, PEACE AND SECURITY AND HUMANITARIAN ACTION IN CONTEXT OF ETHIOPIA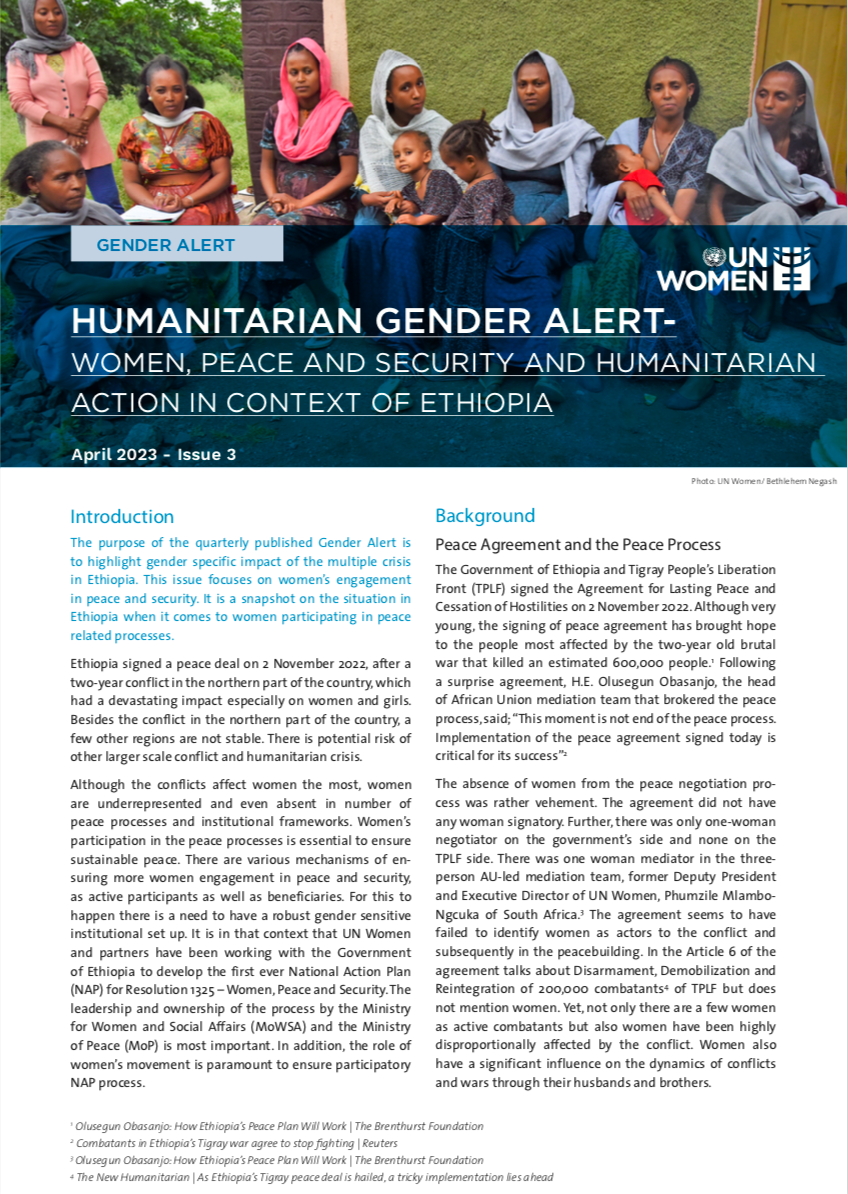 The Gender Alert is a quarterly published report that highlights the gender-specific impact of the various crises in Ethiopia. This issue focuses on women's engagement in peace and security, which is critical to ensuring sustainable peace. It provides a picture of Ethiopia's position regarding women's involvement in peace-related processes.
Women are disproportionately affected by the various conflicts and humanitarian crises in the country. Although women's participation in peace processes is essential, women are underrepresented in these processes and institutional frameworks. The article highlights the absence of women from the peace negotiation process, particularly in the recent peace agreement signed in November 2022. The peace agreement failed to identify women as actors in the conflict and subsequently in peace building.
There are several ways to make sure that more women are involved in peace and security, both as beneficiaries and active participants. A strong institutional framework that is gender sensitive is required for this to occur. In light of this, the Government of Ethiopia and UN Women have been collaborating to create the first National Action Plan (NAP) for Resolution 1325 - Women, Peace and Security. The Ministry of Women and Social Affairs (MoWSA) and the Ministry of Peace (MoP) are crucial for taking the initiative and owning the process. Furthermore, the importance of the women's movement in ensuring a participatory NAP process cannot be overstated.
The article emphasizes the need for more women's engagement in peace and security, and the development of a robust gender-sensitive institutional set-up in Ethiopia.
View online/download
Bibliographic information
UN Women office publishing: Ethiopia Country Office