2022 International Women's Day Celebrations: 'Gender Equality today for a Sustainable Tomorrow – A young people's perspective.'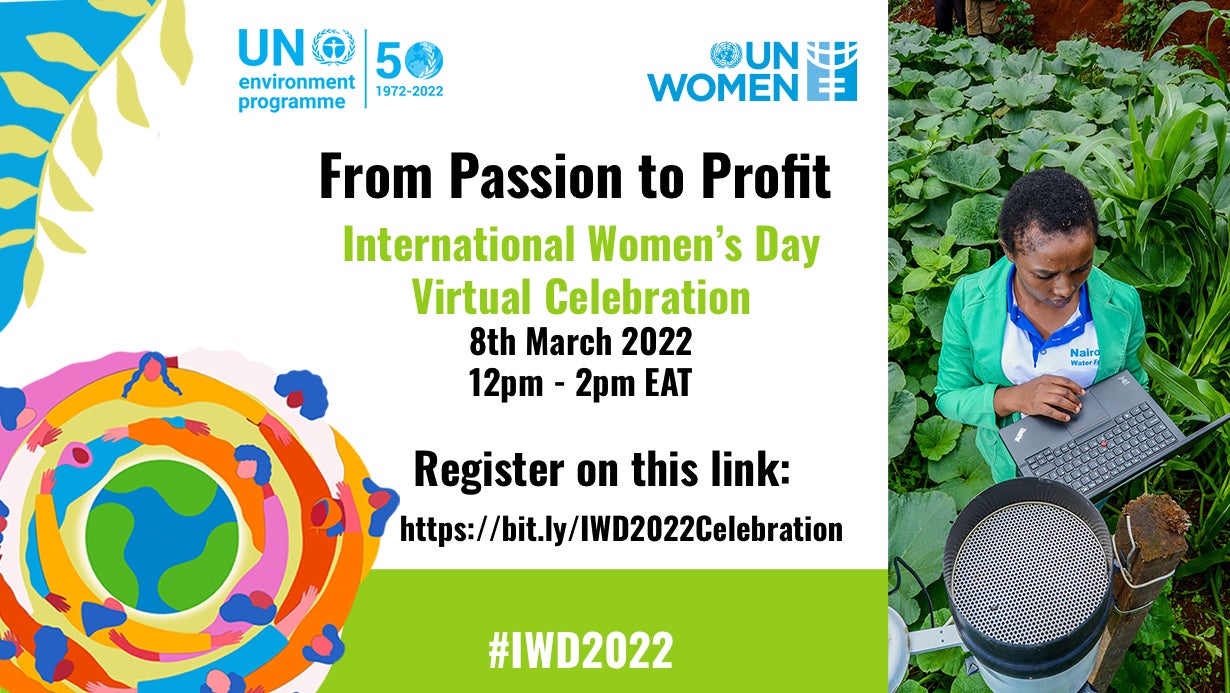 2022 International Women's Day Celebrations: 'Gender Equality today for a Sustainable Tomorrow – A young people's perspective.' Collaboration between UN Women East and Southern Africa Regional Office (UN Women ESARO) and UN Environment Programme (UNEP)
Full details ▼
Event type: Lectures, seminars, panel discussions
Start date: 08 March 2022 | Start time: 09:00 UTC +00:00
End date: 08 March 2022 | End time: 11:00 UTC +00:00
Location:
Online,
NAIROBI,
Kenya
Event description
The theme for International Women's Day, 8 March, 2022 (IWD 2022) is, "Gender equality today for a sustainable tomorrow", recognizing the contribution of women and girls around the world, who are leading the charge on climate change adaptation, mitigation, and response, building a more sustainable future for all.
To increase global and regional awareness and amplify youth's voice and their vital role in climate action, UN Women and its partners will commemorate International Women's Day to call for action to support women and girls to grow their capacities to respond to climate change through agricultural production, food security, and natural resources management.  For this celebration in 2022, UN Women and UNEP will advance joint advocacy on youth, climate change, and gender issues, contributing to enhancing regional norms on climate-smart economic empowerment.
The International Women's Day celebrations will be held virtually and will be in two segments; the first will include a discussion with the youth authors of the UNEP study as a follow-up of their journey after they completed the report. The second segment will be a fireside chat structure where a youth moderator will steer discussions with experts from UN Women, UNEP, National Governments on the economic opportunities for young people in climate-smart businesses. Throughout the event, videos from young people explaining their work in this area will be showcased.
Objectives of the virtual event celebrations
To give visibility to young people's actions in the gender equality and climate action nexus;
To inspire discussion among young people on climate action to advance their economic empowerment through gender-equal climate-friendly businesses.
To share the "Global Environment Outlook (GEO-6) for Youth, Africa: A Wealth of Green Opportunities" findings and how the youth authors have progressed on the journey in climate activism.
To provide a nexus for innovators and policymakers, paving the way for considerations in developing youth-centric climate change mitigation and adoption policies and practices.
To present the findings and recommendations of the study "Opportunities for Youth in Rural Business and Entrepreneurship in Agriculture" that can inform climate-smart approaches and innovations bridging the digital divide and increase resilience and adaptation to the adverse effects of climate change."
To leverage on ways of operationalizing the findings and recommendations of the studies by exploring partnerships with interested stakeholders in further advancing work on young women's economic empowerment.
Documents: