Protection through Empowerment of Women and Girls of North East Nigeria
Date: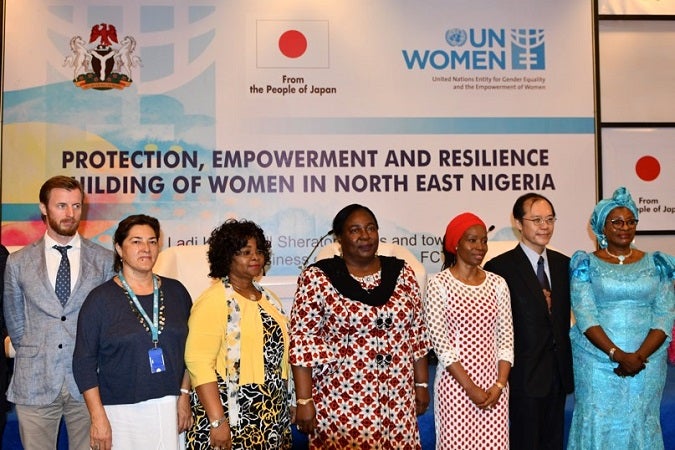 Abuja, Nigeria, 8 June 2018:  The Federal Government of Nigeria, the Government of Japan and UN Women collaborated to launch on 07 June 2017, a project which seeks to protect, empower and build resilience of women and girls in Borno and Yobe States of Nigeria.The aim of the project is to facilitate protection through empowerment of women and girls who have been affected by the Boko Haram insurgency, which is currently in its ninth year.
The event was attended by government officials, UN agencies, development partners, members of the diplomatic corps, civil society organizations, the media and representatives from the project target states.
In addressing participants at the launch, Mohammad Hafsat, an internally displaced woman, whose husband was kidnapped and killed by Boko Haram four years ago, and who now lives with her seven children in one of the internally displaced persons (IDP) camps in Maiduguri, expressed the conviction that if economically empowered, she will be able to take care of her household.
"If I learn how to be independent, If I learn how to sew, I will be able to open a shop that will enable me take care of myself and my children. I will enroll them in school, so they can take care of me when l am old".
On behalf of the Minister of Women Affairs and Social Development, the Permanent Secretary of the Ministry, Ms Ifeoma Anagbobu, commended UN Women for their continued investment in women and girls of Nigeria and underlined the importance of supporting women's economic empowerment.  "Women become vulnerable to violence unless they are economically empowered. Women must have the necessary skills and be able to access markets. My ministry will work closely with UN Women and the Government of Japan to make the project a success"
The Ambassador of Japan to Nigeria, Mr. Yutaka Kikuta, used the occasion to reiterate his government's commitment to women's empowerment in Nigeria.   "'Through this project, women and girls of Borno and Yobe states will have a better life. It will help women get engaged in income generating activities, increase their access to formal and informal justice systems for mitigation of risks, prevention and response to gender- based violence.  Japan will continue to offer humanitarian assistance through UN Women and other organizations to mitigate the effects of the insurgency in Nigeria"
UN Women's Country Representative to Nigeria and ECOWAS, Ms Comfort Lamptey, pledged to continue working with the Government of Nigeria to advance gender equality and women's empowerment in all parts of the country, including the North East. "We witness today the strong appeal being made by women and girls for skills and capacities to enable them stand on their feet. We must respond to their call and do so not in a tokenistic manner, but meaningfully. If we are serious about building sustainable peace in North-East Nigeria, we must invest in helping women and girls to re- establish their dignity and self-reliance. That is what will drive the vision of recovery and peace building in the period ahead"
The project will underline three main interventions, namely:  the provision of livelihood and skills-building training to women and girls supporting women's access to justice; and building the capacity of humanitarian workers to better respond to the priorities of women and girls in North East Nigeria.
The humanitarian crisis in North-East Nigeria has disproportionately affected women and girls, who make up 52 percent of the more than 1.7 million, internally displaced population (NBS) . Human rights violations continue to be reported daily as a result of the crisis. Disruption of livelihood, food security and weakened basic services and protection mechanisms are among the main challenges confronting the affected populations. Many women are now single heads of households and sole decision-makers due to kidnapping, death or separation from their spouses.
The partnership between UN Women and the Government of Japan is timely, coming at a period when there is growing consensus among all partners supporting the humanitarian response efforts, of the need to address the humanitarian-development nexus.  An important part of addressing the nexus requires investing in interventions that will empower and build resilience of the affected populations to begin the process of rebuilding their lives and communities.