From Where I Stand: As a woman, practicing self-isolation in a home setting is next to impossible
Gorret Kalekwa, 39, is an enrolled midwife working at Adjumani General Hospital. Adjumani district registered Uganda's second case of COVID-19 on 23rd March 2020. Gorret, who was one of the Case Management Team members and served in the Coronavirus Treatment Unit, narrates her experience and what it means when you have a young family.
Date: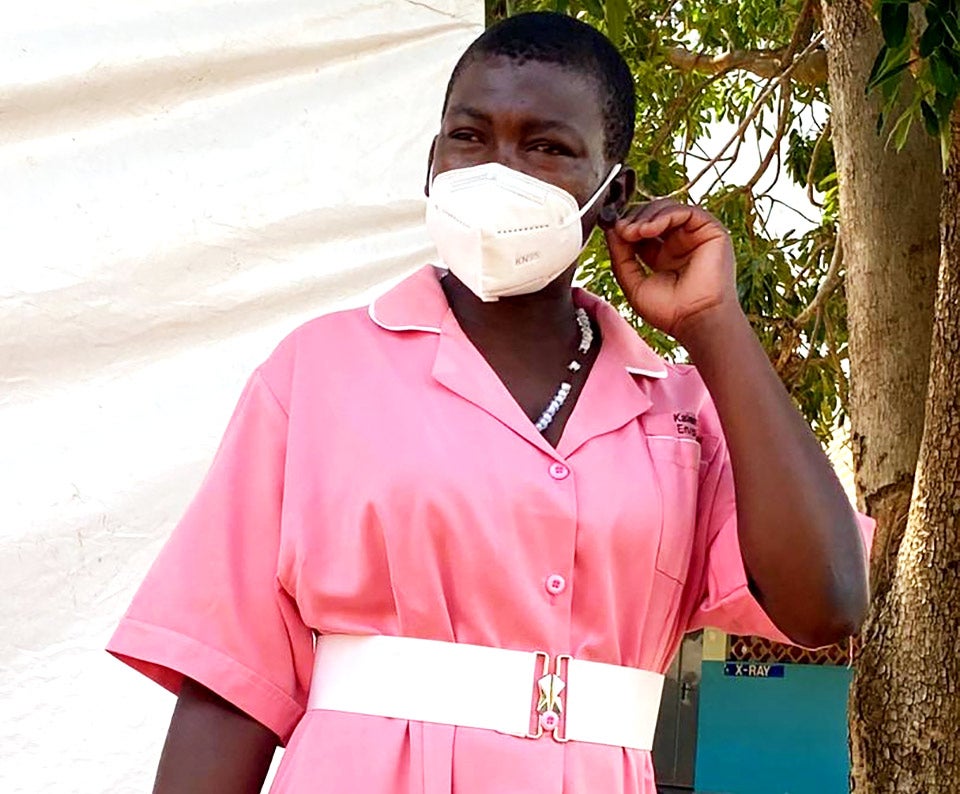 I am a mother of twins aged 1.7 years, and I was breastfeeding yet I had to spend long hours at the Coronavirus Treatment Unit working from 8:00 am till 8:30 – 9:00 pm. Hence, they ended up refusing to breastfeed because I was not breastfeeding regularly. But at least they are eating food which comforted me. With young children, I have to be extremely careful, which is rather difficult considering that when the first case was registered, none of us had Personal Protective Equipment (PPE). When we finally got them, they were not enough. I always bath before leaving the hospital and immediately after arriving home. 
My relatives questioned my decision to be involved in treating COVID-19 patients. I reached a point where I started avoiding talking to them. Being at the forefront of COVID-19 is not easy. Colleagues who were not involved in the treatment of the first COVID-19 case admitted at Adjumani General Hospital, distanced themselves from us and labelled us Coronavirus. The psychosocial support team counselled us, which enabled us to cope.
When the first case was discharged, we went into self-isolation for 14 days. As a woman, practicing self-isolation in a home setting is next to impossible. You have to protect yourself, your family and neighbors, yet you cannot totally relegate your roles as a mother, especially when you have young children. I did my best to follow the prevention guidelines, but sometimes it would be very had as I had to take care of the family, ensure they had all the groceries and supplies needed at home. When the children see you, they run to you to carry and play with them. I would signal them to wait and allow me first to wash my hand and take a bath. I had to change and wash my clothes many times and to disinfect surfaces. 
The biggest challenge we face as health workers is the inadequate supply of PPEs. Although the PPEs are now available, the high demand, especially for the facemasks, makes them run out of stock quickly and you work in a situation where it is not there, but you have no option. This exposes us to a high risk of infection. It's very critical that as health workers, we protect ourselves and the ones we are treating. We need to be provided with PPEs. We also have to ensure there is proper waste management – anything used in the isolation unit must remain there and be disposed of properly, while items that are reusable like goggles and gumboots should be disinfected before reuse. 
---
In 2019 Gorret Kalekwa was among the 30 health workers in Adjumani District who were trained to treat and manage Ebola disease. When the first case of COVID-19 was registered in Adjumani district, health workers who were trained to manage Ebola were called upon to respond although not everyone registered. Many health workers feared due to the uncertainty that surrounded COVID-19 at that time. What kept her on the frontline is the commitment she made to serve in the nursing profession. She pledged not to manage only malaria but all cases. She strongly believes that God has always protected her and will still protect her even during COVID-19.