Placing gender at the center of security sector reforms in Nigeria
Progress made, but still a long way to go in implementation of the UNSCR 1325.
Date:
Nigeria is signatory to several commitments on women, peace and security, and, more specifically, a gender-responsive and gender-balanced security sector. UN Security Council Resolution 1325 on women, peace and security (2000), domesticated in Nigeria through a National Action Plan, is a key one. In response to these commitments, there have been various policy and programmatic initiatives by security institutions; related ministries, departments and agencies; partners; and civil society organizations. However, progress and implementation have been uneven across and within security sector institutions.
It is against this backdrop that UN Women supported the convening of the first Security Sector Reference Group meeting on Resolution 1325 for 2021. The meeting was aimed at adopting the annual workplan for the group, getting updates from the members regarding their various gender-related initiatives and priorities for the year, validating a gender training manual for security sector personnel, and providing inputs from the security sector to the development of the third Nigerian National Action Plan.
The meeting was graced by Minister of Women Affairs HE Dame Pauline K. Tallen and UN Women Country Representative to Nigeria and ECOWAS Comfort Lamptey, who attended virtually. "Security is an issue that affects all of us. We all know that women and children are the worst hit by insecurity, disasters and most recently the COVID-19 pandemic. This brings to the fore the crucial element of collaboration among various actors."—HE Dame Pauline K. Tallen, Minister of Women Affairs
The Minister reiterated the vital support needed, starting from the presidency all the way to the grass roots. In her remarks, she stated that the Ministry of Women Affairs is not a stand-alone body, but is at the centre of the nation's development.
"For the first time, the Gender Unit in the Institute of Peace and Conflict Resolution has an allocated budget. We must continue to ensure that we mainstream gender in each of our programmes and policies, not forgetting the importance of building synergies to move the women, peace and security agenda forward."—Grace Awodu, participant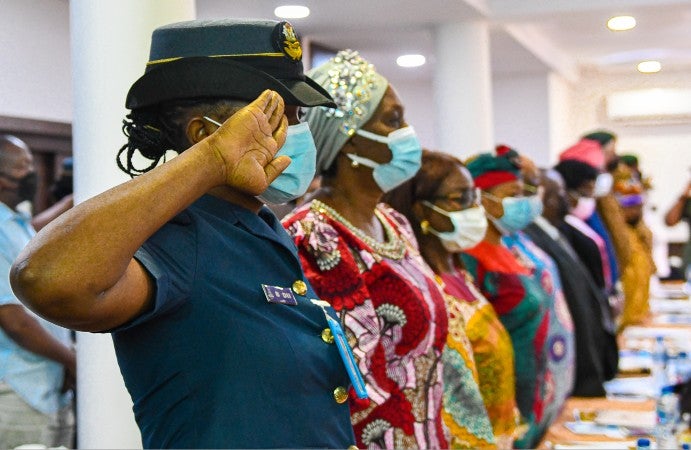 'This platform will allow the exchange of experiences and good practice through gender structures of various institutions, collating data and assessing overall performance of the gender responsiveness of the security sector… We expect that this year the group will achieve much more as it consolidates its membership and ways of working."—Comfort Lamptey, UN Women Country Representative to Nigeria and ECOWAS
Convenings of the Security Sector Reference Group form part of a larger intervention by UN Women, funded by the Government of Germany. The main objective remains to support efforts by the Government of Nigeria to enhance the gender balance and gender responsiveness of security sector institutions. This initiative also intends to meet the Government of Nigeria's international, regional and national commitments, in particular United Nations Security Council Resolution 1325.
Titled Enhancing Gender-Responsive Security Operations and Community Dialogue on Gender-Responsive Security Sector Reform, the project specifically aims to support key security sector institutions to integrate gender into their policies, training and operational documents.
"There is need to change the narrative and engagement of women's issues (SDG 5), which is a stand-alone aim but is also cross-cutting in achieving other goals for achievement of the SDGs," noted Peter Mancha, UN Women Programme Specialist.
The consultation was attended by representatives of various security sector institutions (including the Nigeria Police Force, Nigerian Army, Nigerian Air Force, Nigerian Navy, Nigeria Immigration Service, and Nigerian Customs Service, among others), oversight agencies and civil society organizations working on security.