Small business, big impact on families in Kenya's informal settlements
Date: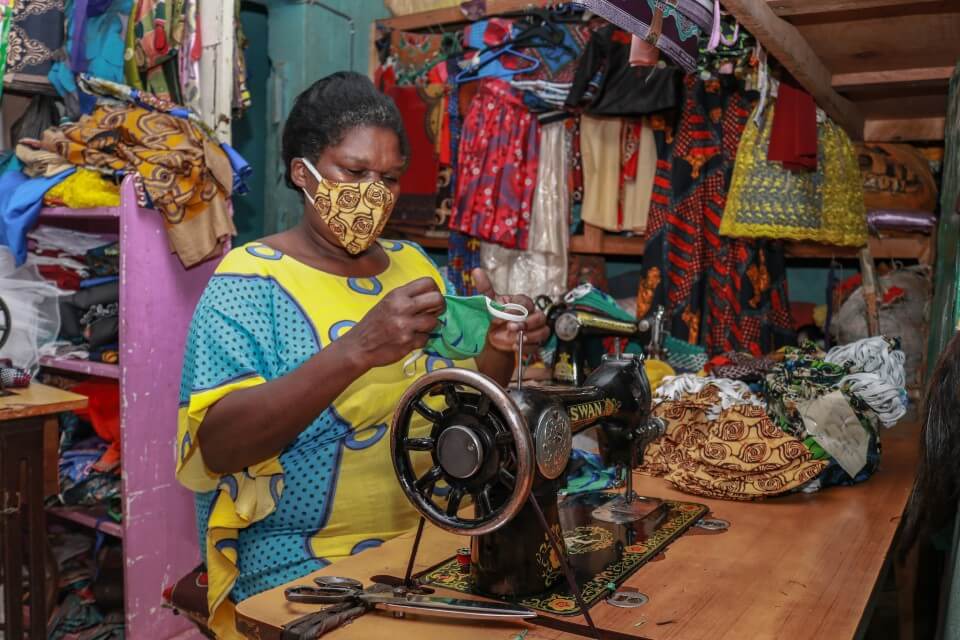 "When COVID 19 came, I had just started learning to sew again," said Alice Wanjiru, 56 and mother of four living in Kenya's Mathare Valley slums- one of the oldest slums in Africa. "It really affected us because you couldn't go out, you couldn't search for income, just sit there and wait to see if you will be helped."
Since the onset of the pandemic, containment measures have led to loss of livelihoods and increased insecurity including a rise in gender-based violence. The lives of women are directly impacted. Sectors hardest hit by the pandemic are female-dominated sectors, characterized by low pay and poor working conditions, including lack of basic worker protections. In Kenya, UN Women's recent study shows that women are nearly twice as likely to lose all their income compared to men; and one in ten-women owned businesses could not restart their business after closing.
Supported by the government of Japan, UN Women in Kenya started working with Uweza Foundation during the height of the pandemic amid concerns of the risk of spreading the virus spreading in informal settlements due to overcrowding and access to running water. Demand for face masks in informal settlements was high following government directives for their mandatory use, providing an opportunity for women to sew masks and meet the demand.
"The training lasted two months and when it finished, we were given material, and started the work.
I bought two chickens. I went to the bank right away and withdrew the funds. I will also buy bags of cement so that I can start building a new home!"
Like Alice, Janet Mwanzia closed her small tailoring shop when the country went on lockdown.
"The biggest challenge was closing the business. We missed meals and were struggling to to pay rent. My husband lost his job and there was no work to be found. When I received a message on joining a group to start training on sewing masks, I registered immediately, and I was trained on the phone.
Following the training, I sewed a total of 520 masks in almost 8 days. One day I would cut and then next day I would sew almost 100 masks. I would make sure that I cut a material of 6 yards in two days and finish those masks," said Janet. "A mask like this one sells at KES50 [less than half a US$], its quality and better than what is being sold on the streets."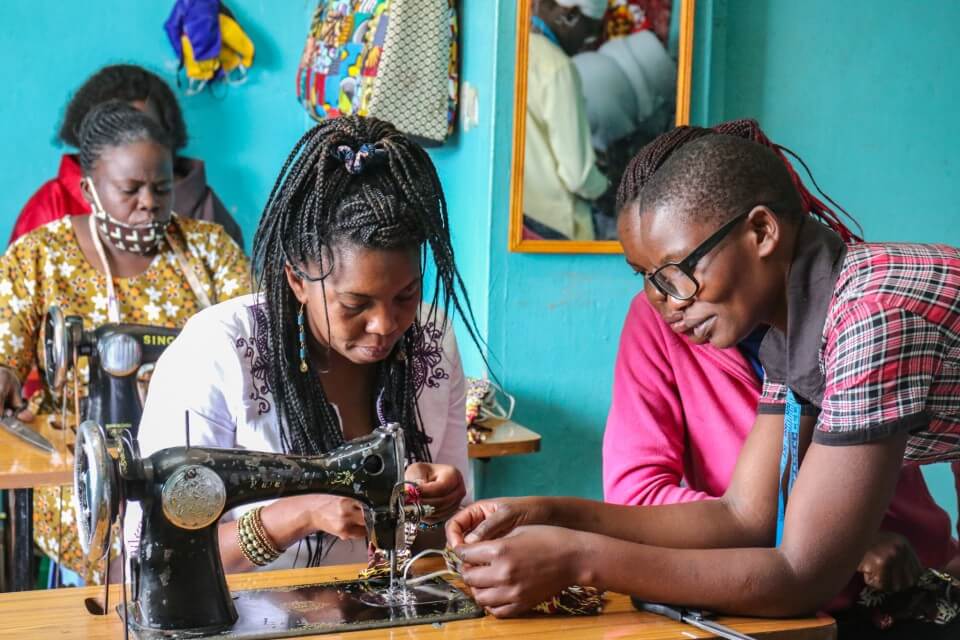 "As a result of the Empower Women Tailors Financially and Protect Communities Through the Production of Face Masks project, 105 women tailors have earned an average increase in their income of KES10,857 [around US$100]. In addition, over 50,000 masks were distributed across six of Nairobi's informal settlements and over 40,000 received gender-based violence awareness materials. The project has not only built the capacity of the participants beyond the reporting period, the outputs are protecting their communities," said Elizabeth Obanda, Women Economic Empowerment Analyst, UN Women Kenya.
"Because I joined the association, I know I won't struggle to get a job. Members of the association get jobs all the time. Its not a must that (customers) come to my stall, I will get work from outside. It can keep me going with my work," said Janet, "I was fighting a lot with my husband because we both lost our jobs, but now we fight less."
Supported by the government of Japan, UN Women Kenya started working with UWEZA Foundation at the height of Kenya's first wave of the pandemic. One hundred and five women tailors across six informal settlements are now members of the Kenya Tailors Association, which provides them access to new contract work and potential clients, new networks to other tailors throughout Kenya, and further training.