Generation Equality Take Five: "Girls who believe in themselves become visionary leaders"
Date: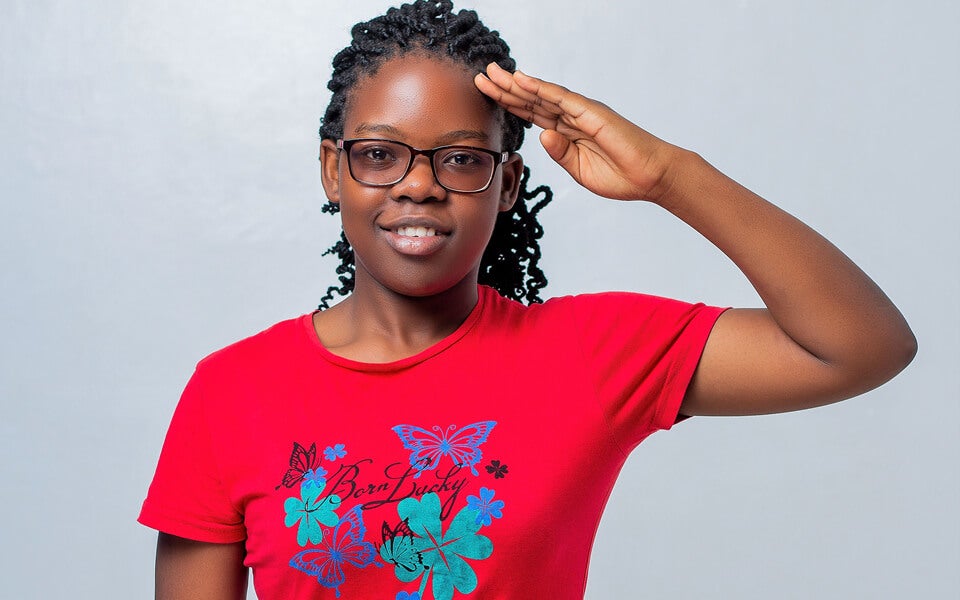 Young women and men, boys and girls are at the heart of the UN Women-led global campaign Generation Equality: Realizing Women's Rights for an Equal Future, launched in 2019 to engage a new generation of feminists in reimagining economies, societies and political systems so that they achieve gender equality leaving no one behind. The campaign will culminate in the Generation Equality Forum from 30 June to 2 July 2021 in Paris, France. Heads of state and government, leaders of international organizations, civil society and the private sector will reveal their commitments on concrete and transformative actions that will be implemented during the next five year through the Generation Equality Action Coalitions.
"Technology and Innovation for Gender Equality" is the theme of one of the six Generation Equality Action Coalitions, which will explore how technology and innovation can help advance gender equality and create new solutions responding to women and girls needs in all their diversity. It will also address the gender digital divide, online abuse and discrimination and the underrepresentation of women in tech.
UN Women Tanzania spoke to 16-year-old Vivian Jane Lukanga about her aspirations of becoming the first female pilot in her community on the sidelines of a virtual Generation Equality dialogue on Technology and Innovation, held recently.
You are aspiring to become a pilot: can you share why you are interested in the aviation sector, and what would you like to change?
From a very tender age of six years, I was fascinated by seeing airplanes flying in the sky. As I grew older, I learned that there are very few female pilots in Tanzania, and this drew me much closer to the aviation industry. I would like to become a pilot so that I can help to change the current perception that some jobs are for men while others are for women. In my opinion, this creates barriers for girls like me who are interested in working in male-dominated sectors. I would also like to become the first woman pilot in my community and help to inspire other girls to also pursue their dreams.
What support are you receiving from your family, school, and peers to support your dream?
I receive a lot of support from my family, being the youngest in a family of three children. My mother especially encourages me to believe in myself, and my siblings also challenge me with their questions, pushing me to do a lot of research and learn more about the profession. This is helping me to understand the aviation sector, and also to keep my dream alive. From time to time, I come across people who try and discourage me, in my community and even at school. They raise a number of concerns including the high cost of study, arguing that there are no good aviation schools in Tanzania unless I study outside the country, which is expensive. Some even say that women should not be pilots because it is dangerous. What I do not understand is why this statement of danger does not apply when it is a boy aspiring to become a pilot. It's very strange indeed! However, among those who encourage me is a pilot by the name of Captain Frank Nyawa, who has been of great help so far in my journey to becoming a pilot. I am also glad that there are organizations such as UN Women, empowering girls to believe in themselves and not to abandon their dreams due to baseless societal pressures.
Do you think you have the power to decide what you would like to become in the future?
Yes, I have the power to decide what I will become in the future, because of my determination and the passion that burns in me. I have no doubt that my passion will propel me towards achieving my dream. I am also grateful for the support I am receiving from my family and other well-wishers. It gives me a lot of confidence and the strength to defy all odds. I am determined to become not just a pilot but an excellent pilot. I believe this will generate many lessons in my community, that with determination and support, girls with dreams can achieve them and also that girls who believe in themselves become visionary leaders.
As you are aiming for the sky, do you sometimes feel under pressure to cope with your schoolwork and domestic chores? How do you strike a balance?
I am coping well so far because I always work through a time management schedule. During the transition holiday period, I was mainly at home and kept myself busy acquiring more knowledge about the aviation sector through online research and discussions with like-minded people. My time schedule also includes some domestic chores, such as watering our vegetable garden and helping my cousin with her homework.
How has the Generation Equality Roundtable dialogue impacted you?
I felt very privileged to be part of such a great platform that connected me with more than 70 women and men working in different spaces and committed to supporting women and girls to realize their full potential. One important lesson that resonated with me was that there is nothing wrong with having dreams even when some people have their own reservations. I had the opportunity to connect with like-minded people who believe in the power of science and technology as a life-changing strategy for the empowerment of girls and women. I also learned the importance of including boys and men in gender equality programmes to strengthen sustainability and speed up the gender equality process. Through the dialogue, I have become bolder in my quest to become a pilot.