UN Women calls for a holistic data collection approach to help develop humanitarian work in South Sudan
Date:
In collaboration with the Ministry of Humanitarian Affairs and Disaster Management (MHADM), UN Women and other Ministry partners conducted a one-day validation workshop for the gender analysis of the impact of conflict in South Sudan for an upcoming report. The data from the report will benefit the humanitarian sector and communities it supports.
Since the beginning of 2021, UN Women has provided MHADM gender analysis for its humanitarian assessments and gender-sensitive humanitarian trainings. The objective of the gender analysis is to assess experiences of women, men, and children in post-conflict South Sudan. Recommendations from the validation workshop will be incorporated into a final report.
During opening remarks, the Acting Deputy Director of MHADM, Mr. James Bol praised UN Women's support of the Ministry and applauded the resources and capacity building assistance it offers women led organizations. He spoke of the full support the Ministry gave for the data collection and remarked that the government will have ownership of the important report.
UN Women, Deputy Country Representative Dr. Paulina Chiwangu emphasized the importance of the validation and discussed UN Women's work with the Ministry on gender analysis and humanitarian training. While encouraging participants to be open to more inclusive data, she noted that a holistic approach results in gender-informed and considerably improved findings. Dr. Chiwangu enthusiastically stated, "I very much look forward to the report."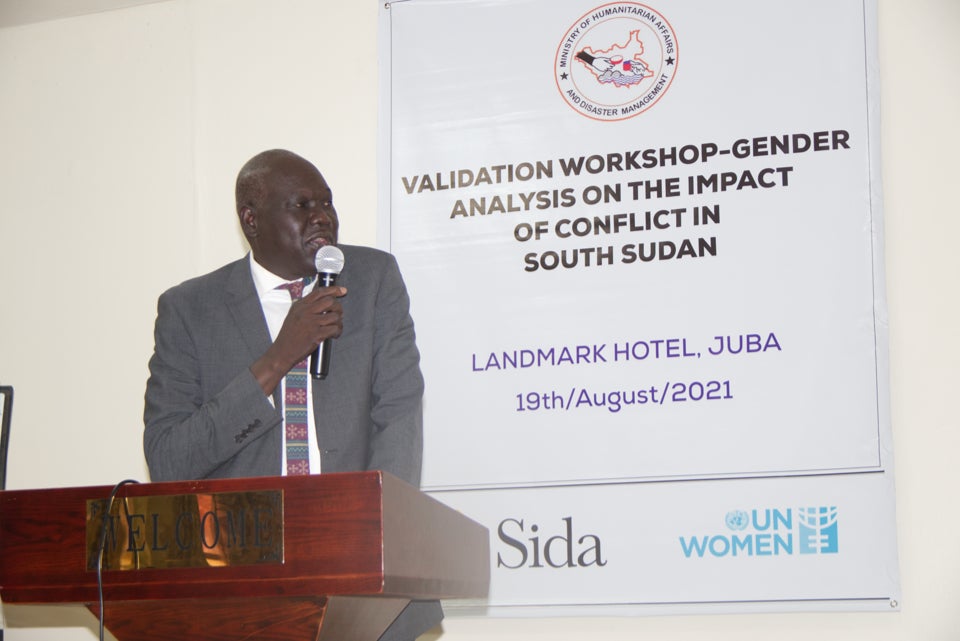 Dr. Kot Bol Nyuar, Undersecretary of MHADM, spoke about social and economic instability, especially during the Covid-19 pandemic that created more vulnerabilities for women and girls and subjected them to a greater risk of domestic violence. "Gender-Based Violence (GBV) survivors have limited access to information, resources, and support." Dr. Kot called on humanitarian agencies to support women to improve their lives.
The Gender Analysis on the Impact of Conflict in South Sudan is a project implemented by UN Women with support from the Swedish International Development Cooperation Agency (SIDA).