Empowered to Advocate for effective GBV and COVID Response in IDP camps.
Fifty-year old widow with disability, Lariba Sule serves as a change agent in her community with no limitations. Aside from creating a sustainable livelihood for her family, she's committed her time as an activist for gender-based violence (GBV) and COVID-19 among families living in IDP camps and affected by conflict.
Date:
Mother of four, Lariba lives in Teacher Village camp in Maiduguri, within the Northeast of Nigeria. Her husband was killed by Boko Haram's armed insurgents seven years ago, leaving her and her children on the streets resorting to alms.
She could barely feed herself and her children until she encountered the "Building Leadership Capacity of Internally Displaced Women for Effective COVID-19 and GBV Response in Internally Displaced People's (IDP) Camps in Borno State, Nigeria" project, funded by the Women's Peace and Humanitarian Fund (WPHF) and the EU-UN Spotlight Initiative on Ending Violence against Women and Girls, implemented with the technical support of UN Women.
The project supported her with food items and a start-up grant for business enabling her to buy and sell corn, beans, groundnut, millet, rice, cowpeas and locally made pasta to take care of her family's needs. She further received training on leadership skills, GBV, human rights and conflict resolution. She recalls, prior to the project, women in the camp could not exercise their rights and used to face several domestic abuses, rape, and other gender-based violence, leaving perpetrators unpunished.  Due to this, women and girls – mainly victims – lived in silence and fear, with no access to any livelihood support.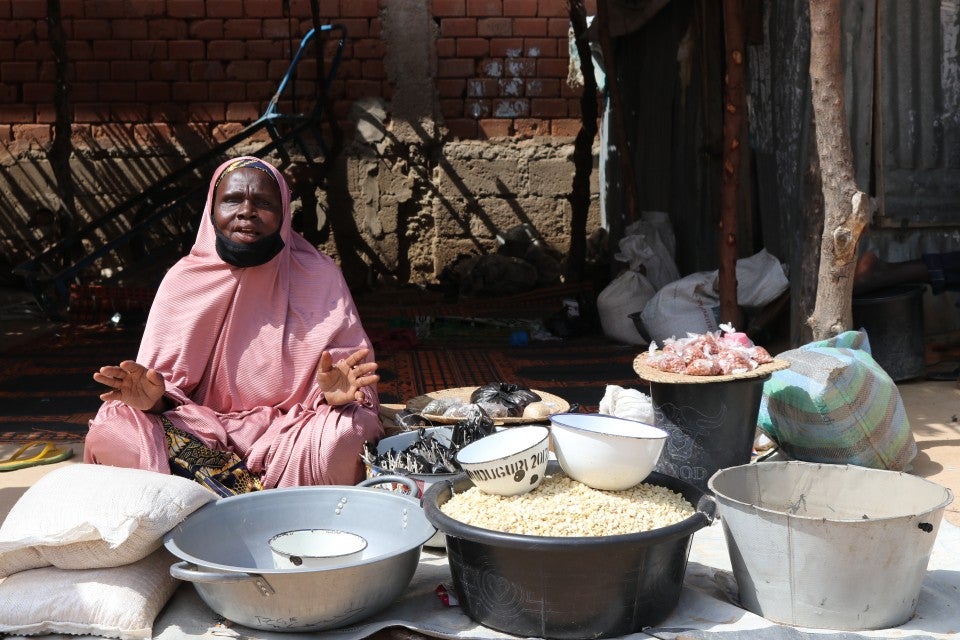 After receiving capacity and being empowered to identify, report and handle GBV cases, Lariba now embarks on a campaign against GBV in the camp. She educates other women and girls on the effects of GBVs especially rape.
"I constantly engage women living in the camp to immediately take rape victims to the clinic before reporting to the police because the consequence lead victims with sexually transmitted infections, unwanted pregnancies, vaginal fistula, trauma and even death. Because offenders of rape are now reported and punished, it has reduced the cases in the camps", Lariba Sule.
Known for her zeal to bring about change in her community, Lariba also contributes her time to sensitizing women and children on COVID-19.
"I lead other women to embark on household visit to educate families on the importance of wearing nose mask, making use of hand washing stations in the camp and avoid attending unnecessary ceremonies. I explain to them that because we live in an IDP camp, if we get infected, it will be uncontrollable and dangerous for us" Lariba Sule.
 The "Building Leadership Capacity of IDP Women for Effective COVID-19 and GBV Response in IDP Camps in Borno State, Nigeria" project is under the Women Peace and Security programming of UN Women and seeks to contribute to lasting peace by ending sexual and gender-based violence, to protect women's rights, toadvance gender equality, and to respond to COVID-19 in settings of conflict and crises.