From where I stand: If girls are not economically empowered, they cannot meaningfully participate in a peace process
Agua Afisa is a 27-year-old graduate of Information Technology from Makerere University. In 2020, Afisa was trained by UN Women's implementing partner Coalition for Action (CoACT) as a Young Woman Peace Ambassador. With financial support from the Royal Norwegian Embassy in Uganda, UN Women is partnering with CoACT to implement project 'Amplifying Women's Agency for Peacebuilding.' Through this project 13 Young Women Peace Ambassadors have been trained and they are reaching out to other young people in their communities. Born and raised from the rural village of Odropi in the refugee hosting district of Yumbe, Afisa is one of the few girls in her village who managed to get an education. A single mother of a four-year-old son, Afisa, has emerged as Young Woman Peace Ambassador in her district mobilizing young girls to speak out against abuse.
Date: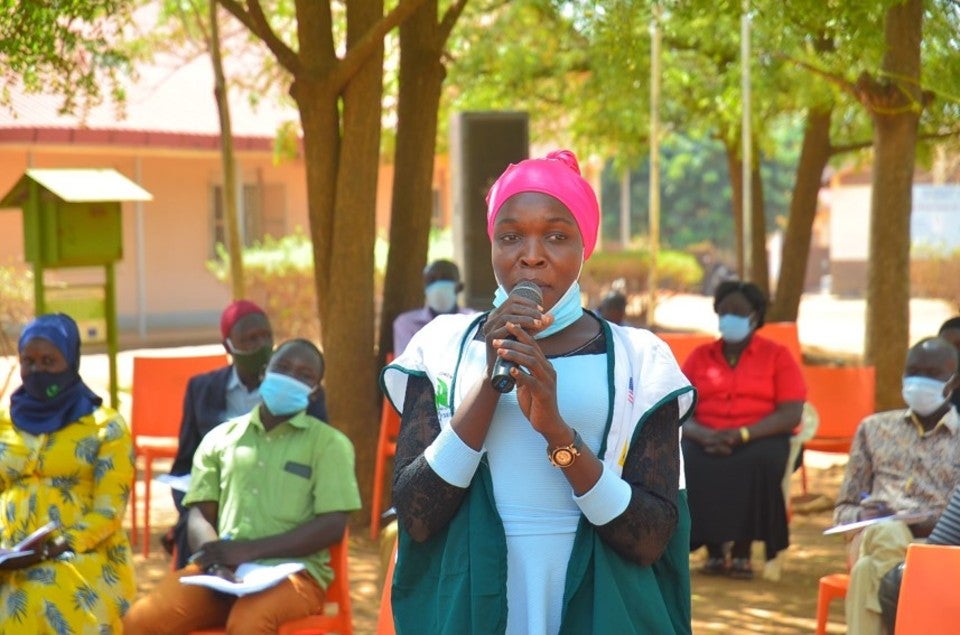 In my district, Yumbe, girls face a lot of challenges but the worst is Sexual Gender-Based Violence and early marriages. In my village for instance, girls are married off at a young age, denying them an opportunity to complete their studies. The lack of an education disempowers them and they cannot stand up for their rights.
You cannot have peace when you are faced with such challenges. A peaceful society is where women are put first and involved in peace processes. Women are the majority participants in community engagements yet they are left behind in decision making. When conflict erupts, women suffer the most but they are never involved in conflict resolution processes. Women's views should be put into consideration when resolving conflicts.
Economic empowerment is a key step in enabling women to address conflicts that affect them. In 2020, I was identified by the Yumbe district gender officer to participate in a UN Women supported training that was organised by Coalition for Action (CoACT). I am now mobilizing young girls and holding weekly 'Girl Talk' sessions with them every Friday afternoon for just one hour. I started off with five girls and in the next meetings they kept coming with their friends. We are now 17 girls. The 'Girl Talk' discussions centre on issues that young girls face on a daily basis … challenges with menstrual hygiene and lack of access to resources to buy sanitary towels are common. From these discussions, I identify opportunities for skills development and empowerment. This has involved training the girls to make sanitary pads, liquid soap and starting a savings group. If the girls are not economically empowered, they cannot voice their issues, they cannot avoid factors that predispose them to conflicts especially SGBV.
Empowering the girls to earn a decent living reduces their vulnerability and increases their involvement and participation in the implementation of Women Peace and Security agenda. To attain this empowerment, in addition to our 'Girl Talk' conversations, we are now engaged in saving and every week when we meet, we are able to save on average UGX 70,000 (USD 20). Our plan is to accumulate this money and register as a SACCO.