Bring meaning back into her life
Zeinab, a 30-year-old woman, owns a money transferring service kiosk called "Orange Money", where she works 8 hours on opening days. This small business allows her to be financially independent and live a decent life. Devoted to her work, she is full of dreams and ambitions.
Date:
It's 11 AM in the heart of the business center of Bamako. Under the hot sun of late morning, the traffic is heavy and noisy. Right across the road, a bunch of customers patiently queuing in front of a kiosk, the kiosk of Zeinab. Wearing a red shawl, she was sitting inside her kiosk working. Very friendly, her interaction with the customers is full of smiles, talks and laughter. Indeed, it was the kind of atmosphere where customers don't see the time flying. Obviously, she was busy, so we waited.
During lunchbreak, she warmly invited us in the shop next to her Kiosk. The shop full of colorful African tissues, shoes, perfumes, and other women items had a unique and unforgettable smell. No customer, just the shopkeeper, a close friend of her was taking a nap behind the counter. A soft and relaxing traditional Kora music barely audible was playing besides her. It was calm and quiet, the right place to talk. Thoughtful, she started talking and we listened.
Six months ago, she was still married to an abusive polygamist man. Like many women, she was verbally and physically abused by her husband. For two years, living in fear, stress and unsafety was her daily routine. Her suffering came to an end the second she stepped in One Stop Center.
Violence in marriage is still a common thing in many Malian homes. Victims are generally subjected to sexual, physical, verbal, psychological, and economic violence. According to EDS 2013, 44% of Malian women are victims of domestic violence. Fearing the social, religious, and political pressures victims of domestic violence face when they denounce such violence, they tend to keep it to themselves and suffer in silence. Since the opening of One Stop Center, although there is still a long way to go, the situation is changing.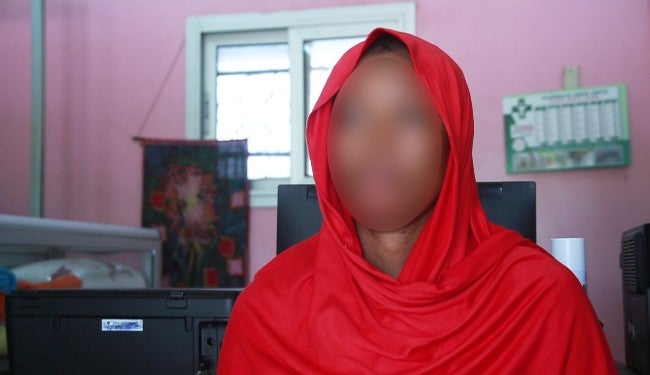 Inaugurated on April 2018 by the Malian government and the United Nations, One Stop Center was established with the goal of helping survivors of Gender-based Violence. A year later, many women and girls have already received free medical, psychological, and legal help. Zeinab is one of those women.
Her husband was very jealous. He wanted to keep an eye on everything she did, even the clothes she wears to go to work had to be approved.
"He would always remind me that he owns me, and as his wife, it is my duty to obey him. He believes that everything a woman has belongs to her husband. One day in the middle of the night, he said I must stop working and stay home like my co-wife. I desperately begged him to let me work as we convened before getting married, but he said unless I was prepared to give him my salary, otherwise I would stay home" said Zeïnab.
She knew the only way this night would end without another physical abuse would be for her to keep quiet and sleep. The next morning, instead of going to work, she went to her family and asked for help. Thanks to her parent's intervention, he accepted to let her work.
But regarding the abuse, the intervention of parents and friends didn't make any change. For trivial reasons, he would threaten, humiliate, and beat her.
"He repeatedly pointed gun at me, threatening to shoot if I don't leave his house immediately. Scared to death, I disappeared at lightning speed."
Few days later, her husband would go to apologize to her parents, often with tears in his eyes promising he will never raise hands on her again. Afraid of ruining their reputation, her family didn't want her to divorce. Sadly, the abusive act was forgiven again and again, and she returned with him.
Since early age, just like many other Malian women, according to the local tradition, Zeinab was taught that suffering is part of marriage, that a woman should be submissive to her husband and that as a woman, her dignity lies in marriage. Therefore, she was willing to go through storm and rain to save her marriage. But the level of violence got worse and worse by the time. He didn't spare her even when she was heavily pregnant. She gave birth, but the baby didn't survive. That's when she realized her life was in danger.
"He savagely beat me, more and more. Helpless, I felt like a deer in the hands of a lion."
The assault left her with many serious injuries and red marks. She was recommended by a cousin to go to One Stop Center. Horribly injured, she covered her bruised face and went.
As most of the domestic violence victims, she thought no one could really understand what she was going through. But she was wrong, she was just not at the right place. At One Stop Center, she was well received and suitably taken care of.
"My life had no meaning but talking to Djelika Diallo, the then-Director of One Stop Center, and her agents gave me back hope I had lost long ago. The free medical treatment and psychological help I received helped me recover quickly. Thanks to help One Stop Center, she was able to get back her clothes, scooter, and other personal belongings her husband had refused to give her. "Most importantly, I received a great support with the divorce process I couldn't handle alone. They helped me bring the case to the court and even hired a lawyer. During the whole process, whenever I needed something Djelika was always there.", said Zeinab.
She hopes her story will help them seek assistance from homes like One Stop Center, as she would like women suffering domestic violence in silence to know that
"marriage is not slavery, if you suffer domestic abuse, speak it out, seek for help before it's too late, no one deserves to be abused."