Unleashing young women's entrepreneurial potential in Mozambique
Date:
This year's International Youth Day spotlights intergenerational solidarity and the need for collective efforts across all generations to achieve the SDGs and leave no one behind. This story is an example of the far-reaching impact of community networks, such as village saving and loans associations (VSLAs) established within safe spaces in Zambezia Province of Mozambique, wherein knowledge and experienced are transmitted from community role models to young adolescent girls to further their economic empowerment as a factor of enhanced sexual reproductive health and rights (SRHR).
Isalda Meque Gimo is a 20-year-old university student. She is an entrepreneur and community facilitator of saving groups of the Rapariga Biz programme in Quelimane, seaport in east-central Mozambique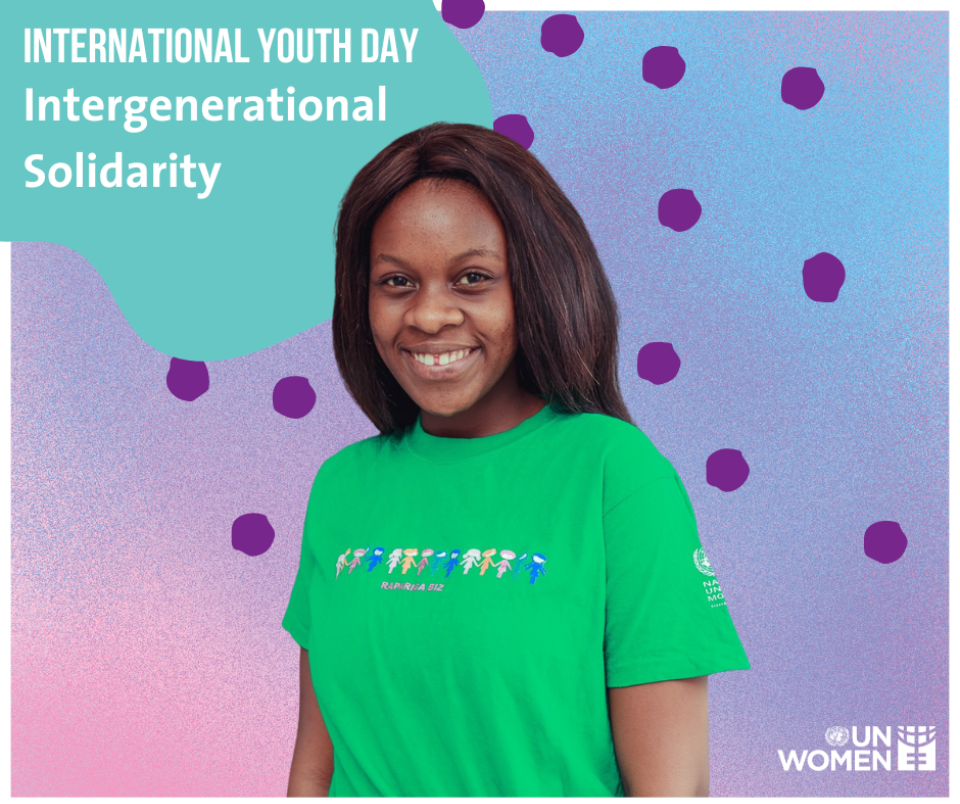 To pay for her school fees and help with household expenses, Isalda found herself doing micro businesses such as selling cookies and juice for 5 MZN (USD 7 cents) on the street because beyond the difficulties of life, it was always her goal to become a professional baker and financially independent.
Still, the business could not provide her with enough income to meet her needs, either it wasn't profitable to sustain itself, or she was obliged to take loans from people at high-interest rates (30% per month). This was unsustainable as she often found herself unable to pay back the loans and sustain her business.
It was through her mentor's encouragement that she decided to join the Rapariga Biz's sponsored financial literacy sessions in 2019, where she gained new skills in Personal Finance and Business Management. Immediately after, she joined a saving group together with 25 adolescent girls and young women and took out a 10% interest rate loan, with which she boosted her business by purchasing a new oven.
In 2022, she was among young women entrepreneurs who received additional support with productive assets to upscale their micro businesses. This included a complete pastry kit, including a baking mixer machine, a bigger oven with a stove, a table, chairs, a baking mixer machine, baking tins, and cake decoration utensils, as well as baking ingredients, among others.
Now, Isalda is financially independent and better able to make informed decisions about her sexual and reproductive health and rights (SRHR). As a result, she is now able to pay for her university tuition for her course, Educational Administration and Management. Through the increased demand for her products, including cakes for birthdays, baptisms, and weddings, Isalda has been generating an income of approximately 15,000 MZN (USD 240)[1] per month.
Recognizing the importance of economic empowerment initiatives directed at adolescent girls and young women, Isalda highlighted the role of community networks in strengthening her capacity.
''My journey has been a dream come true. All the support I received from the community facilitators and business coaches helped me grow and create an established micro business,'' says Isalda.
She is a reference in the confectionery business in her community, as well as a role model for younger girls who are ready to unleash their entrepreneurship potential.
"To younger girls, I say this: look to business as a solution to your needs and prioritize your sexual and reproduction health and rights. Don't make choices that jeopardize your future. No matter how small your business might be at first, trust that it will help you grow more and more."
Rapariga Biz Programme is a joint UN program that began in May 2016 with technical assistance from UNFPA, UNESCO, UNICEF, and UN Women, and receives generous support from the Swedish International Development Cooperation Agency (SIDA) and the Government of Canada. The program targets capacity building in sexual and reproductive health, leadership, citizenship, and human rights of 1 million vulnerable teenage girls to prevent child marriages and teenage pregnancy. UN Women is responsible for the economic empowerment component of the programme.
--------------------
[1] The minimum wage in Mozambique is 5,200 MZN (USD 80) in 2022.