From where I stand: "I want them to be independent and not rely on men to live"
For Elysse Tutakamuna (39), her children's future is her priority. She's been working as a vegetable and spice seller at Mont Ngafula market in Kinshasa for the past 8 years, and on October the 5th 2022, she received the official certificate of registration for her business. Elysse is one of 20 entrepreneurial women in the first cohort of UN Women's project in partnership with CAFCO (Permanent framework of dialogue of the Congolese woman), which aims to sensitize women entrepreneurs on the importance of formalizing their businesses and help them achieve so.
Date: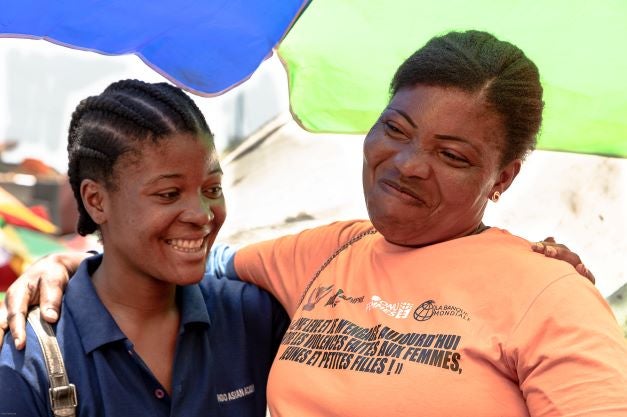 I wanted to add value to my work. I am a mother of 8, and my family's wellbeing depends on my food stand. My husband does not work and thanks to this business, I feed all my family. When I get pregnant, I don't work and it's a big loss of earnings. Luckily my teenage daughters help me out when they're not at school. Working in poor conditions under constant heat makes my job almost impossible sometimes: the fresh fruits and vegetables get spoilt and perish before the end of the day.  
My dream is to have a shop where I can increase my sales, store the food properly, continue to see my family grow healthily, and my daughters become self-sufficient. They are all in school now and I want to keep it this way because I wish for them to be independent and not rely on men to live".  
---
UN Women, in collaboration with CAFCO, is advocating and helping women across the DRC obtain the registration certificates for their businesses. By registering their business, women have access to otherwise unreachable market information and security. In the gender office of the town hall of Mont Ngafula in Kinshasa, twenty women who volunteered to formalize their economic activities received, on October 5th, 2022, their official registration documents in the commercial register.

These women's stories of entrepreneurship show the importance of Sustainable Development Goal N°5, which aims to achieve gender equality and empower all women and girls.