From where I stand: We realized that woman also belong in the water
Auma Evelyn a leading fisherwoman using Climate Smart Agriculture in Bugiri District in Uganda is one of 1,400 beneficiaries of a 4-year project funded by the Government of Sweden and Standard Bank SA, as part of the Climate Smart Agriculture Initiative in 9 countries in Africa
Date: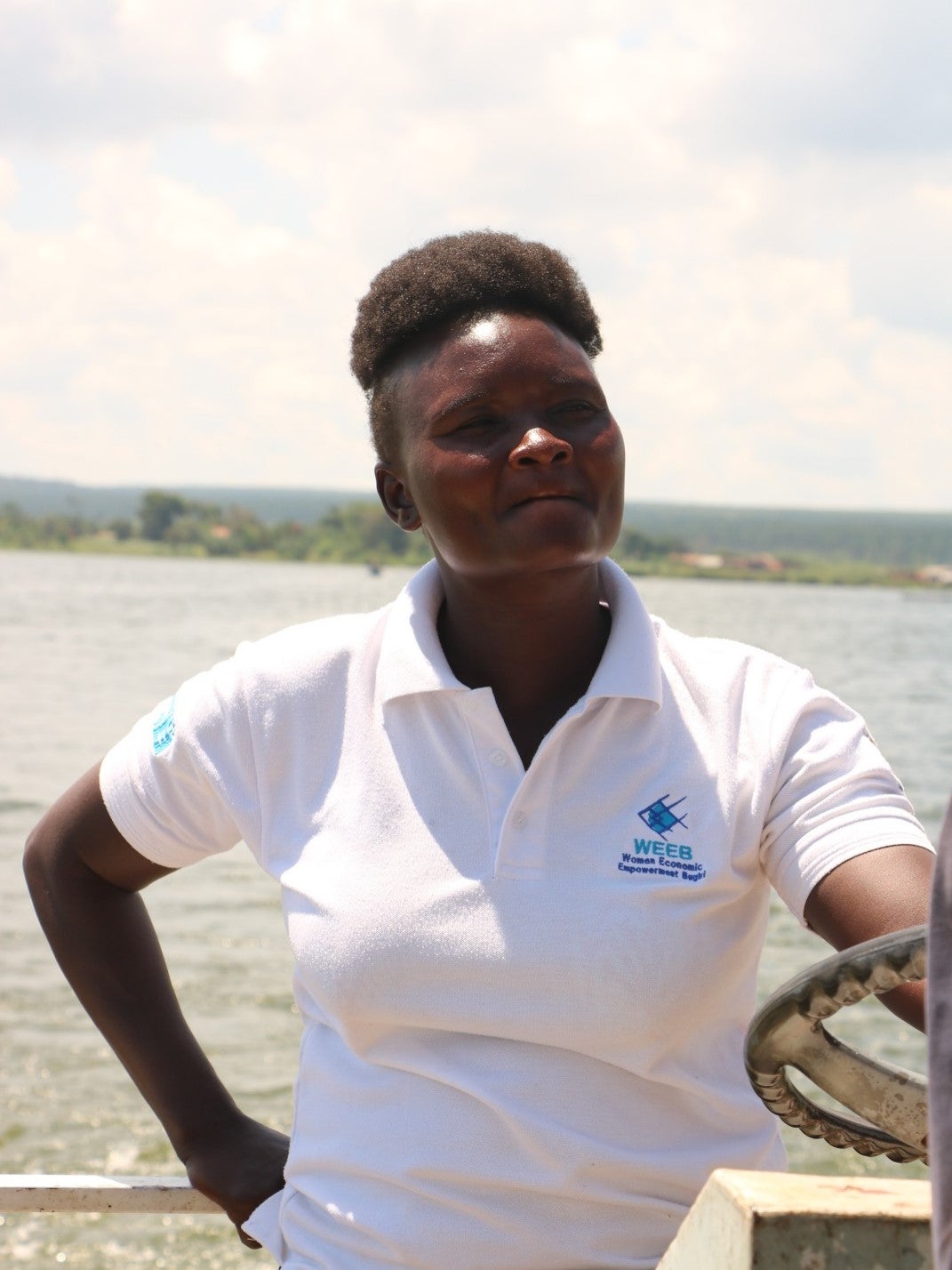 I am the Security Officer of the water. I bring the women, under the UN Women project to the water, so that they can feed the fish and harvest them. I also protect the aquaculture equipment, the fish cages.
Before the project, to feed my family, I had to beg the fishermen for leftovers of their harvest. With some leftovers, I would dry it, and sell in the village market, for UGX5,000. (less than $2). Our husbands, and the entire community did not believe that women belonged to the dangerous water, because they are weak and could not manage.
Through this project, we realized that woman also belong in the water. We have the power and the ability to do so. We were trained on how to collect and feed fish and how to harvest.
I am now a happy woman; my life has really changed. Today, I am an independent woman in the Waka Waka village, I own my own boat and employ people. Through the project, I trained in Financial Literacy and Savings and joined a savings group. In this savings group, I learnt how to save and re-invest my income. With time, I put enough together and was able to invest and buy my own boat and new engine. 
I work with fishermen and fisherwomen who supply me with silverfish. I own my own store. If you came right now, you would find it fully stocked with lots of silverfish!
I'm grateful to be a part of this UN Women project. And I hope that UN Women can continue to support, empower, and transform our community."
The Climate Smart Agriculture regional program in the East and Southern Africa region aims to empower rural women farmers by creating diverse economic opportunities. The primary objective is to enhance the resilience of women to climate change and ensure a gender-responsive adaptation process. This program is currently being implemented in nine countries within the region.
In Uganda, the initiative was launched in Bugiri district in 2019, with the support of UN Women. The focus of the program in this region is on empowering women in fish production and equipping them with the necessary knowledge, skills, and expertise to mitigate the climate impacts on their production cycles. By enhancing their capacity to respond effectively to climatic changes, the program aims to improve the overall productivity and sustainability of their fish farming activities.
Under the program, the Women Economic Empowerment Bugiri (WEEB) has been established, benefiting approximately 1,400 women. WEEB provides technical training, mentorship programs, access to inputs, and business management skills required for successful aquaculture operations. The program receives support from the Government of Sweden and Standard Bank, enabling women to thrive in the face of climate challenges while fostering economic empowerment.