Nigeria : UN Women, UNDP and Women Ambassadors Host Inaugural International Women's Day Awards Gala in Lagos
Date: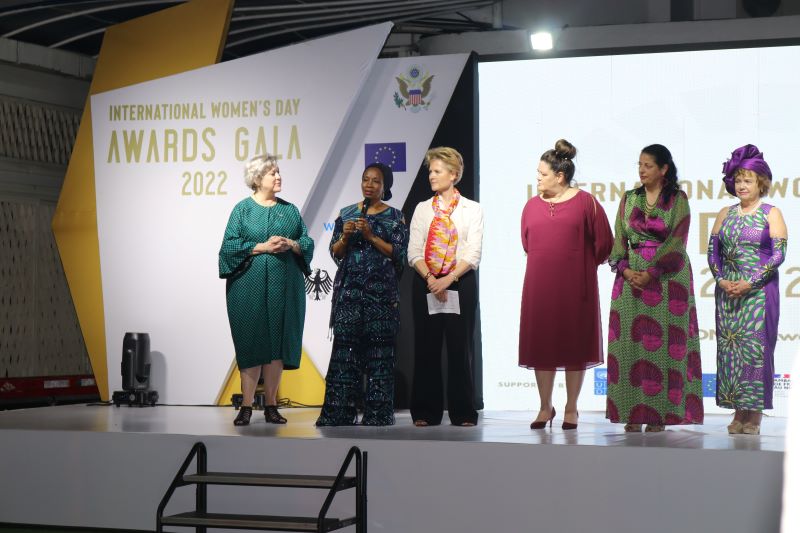 On March 5, 2022, the United Nations Entity for Gender Equality, and the Empowerment of Women (UN Women) in collaboration with the United Nations Development Programme (UNDP) hosted the inaugural International Women's Day Awards Gala in Lagos. The event was convened in partnership with Women Ambassadors of the British High Commission, the European Union Delegation and the Embassies of France, Germany and the United States of America and brought together high-level champions, thought leaders and partners working tirelessly to accelerate gender equality in Nigeria and globally. Amongst the stellar list of attendees was Chimamanda Ngozi Adichie who gave the keynote address on women's leadership.  
The International Women's Day Awards Gala set out to highlight ground-breaking achievements for women's leadership and social inclusion; to incentivise leaders to take further actions toward gender equality; and to advocate for women's increased representation in governance.  
Women's low representation and exclusion from governance and politics has been identified as a major hindrance to sustainable economic development. A nation's progress and its attainment of significant developmental growth is only possible when men and women are entitled to and able to access equal opportunities. According to the Global Gender Gap Report by the World Economic Forum (WEF), women's political leadership has positive societal benefits such as inequality reduction, increased prioritization of social issues like health and education and faster development. 
In recognition of the importance of women-inclusive governance, several African countries have made varied efforts including the use of gender quotas for elective and appointive positions, resulting in 65%- and 43%-women's representation in Rwanda and Senegal respectively, to cite two examples. Nigeria's representation of women in government women stands at 3.8% in elective offices across the state and national level, and only 16% in appointive positions. The upcoming 2023 elections presents an unmissable opportunity to turn the current situation around and include more women in positions of leadership in government.  
Awards were presented recipients across the categories of: Political Leadership & Governance; Private Sector; Civil Society; Arts & Culture; Media & Entertainment; Feature Award: Gender Equality Today for a Sustainable Tomorrow; Outstanding Woman Leader. With the display of exemplary women's leadership from the Women Ambassadors, captains of industry present at the Gala and, in view of ongoing developments at the National Assembly to introduce gender progressive legislation, the achievements celebrated at the IWD Awards Gala marks a hopeful start towards a more gender equal society.