NIGERIA : Using Football to Kickout Gender-Based Violence, Spotlight Initiative partners Fame Foundation on the IWD Generation Equality Tournament
Date: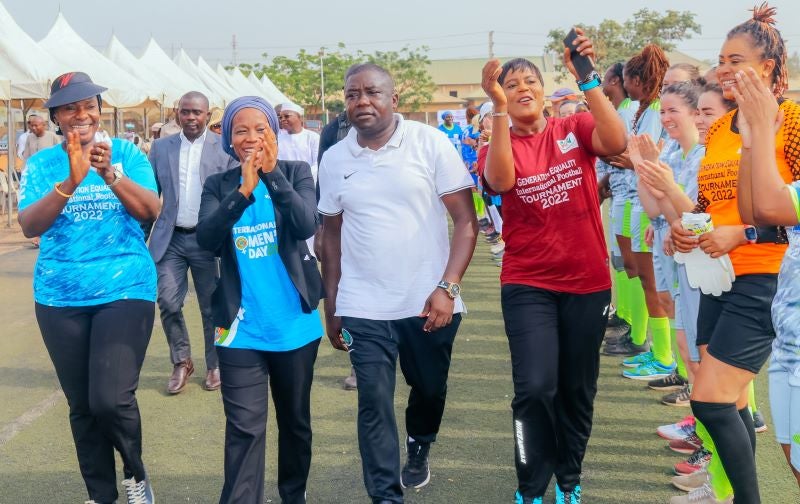 To commemorate International Women's Day, the Honourable Minister for Women Affairs, Dame Pauline Tallen kicked off the Generation Equality Football Tournament hosted by Fame Foundation in partnership with the Spotlight Initiative.  
10 teams participated in the 2022 edition of the football tournament: Team United Nations, National Council of Women Societies (NCWS), Team USA Embassy in Nigeria, Team UK in Nigeria and Iya Loja, National Association of Women Journalists/ Abuja Sports Writers Association of Nigeria, Fame Foundation/Abuja Municipal Area Council, Team Human Rights Radio and Team European Union.  
Dame Pauline Tallen used this opportunity to call on Nigerians to promote the empowerment of women and gender equality in our actions. The Minister emphasized the importance of women in decision-making processes.  
"God didn't create women to be trampled upon, he created women to be a partner in progress, I, therefore, use this opportunity to call on Nigeria men and everyone to join hands together and move issues of women forward." 
The minister accentuated why women must not relent but continue to strive for a gender-equal society.  
"I pray that this year's International Women's Day will be better than the previous years, regardless of the setback following the gender equality bill that was rejected by the National Assembly. Despite this setback, we are not giving up; we will constantly push until we change the mindset of people and improve the participation of Nigerian women in politics and beyond."  
UN Women Country Representative to Nigeria and ECOWAS, Ms Comfort Lamptey corroborated the statement from the Hon. Dame Pauline Tallen, as she said, sports and football, especially, are strong and important tools to advocate for gender equality.  
"The 8th of March globally is a day we celebrate women and today we are doing this through this football tournament, it is imperative to use football as a mechanism to show how women can come together and advocate for gender equality."  
Ms Lamptey added that "it is important we take stock of the work that needs to be done and we know that there is still a lot to be done in Nigeria. The message we are also trying to communicate through this tournament is that, for the young women participating, it is very important that we put in place measures so that all Nigerians can realise their full potential." 
The Executive Director of Fame Foundation, Aderonke Bello in her remarks said, "Nigeria is heterogeneous in nature. We have so much diversity in terms of religion, tribe, geopolitical zone and more. The only thing that brings us together is sports, especially football. Therefore, we are using this unifying factor as a tool for social change to preach against gender inequality."  
Team NCWS turned out to be the eventual winners of the tournament, the tournament held at the Artificial football pitch in Area 3, Abuja and featured over 100 women under the ages of 40. The Executive Chairman of AMAC, Hon. Abdullahi Adamu Candido, The Federal Minister for Women Affairs; Dame Pauline Tallen and UN Women Country Representative; Ms Comfort Lamptey were on the side-lines cheering their teams on.