UN Women Supports Women and Girls affected by conflict with a 2nd Empowerment Hub in Nigeria
Date: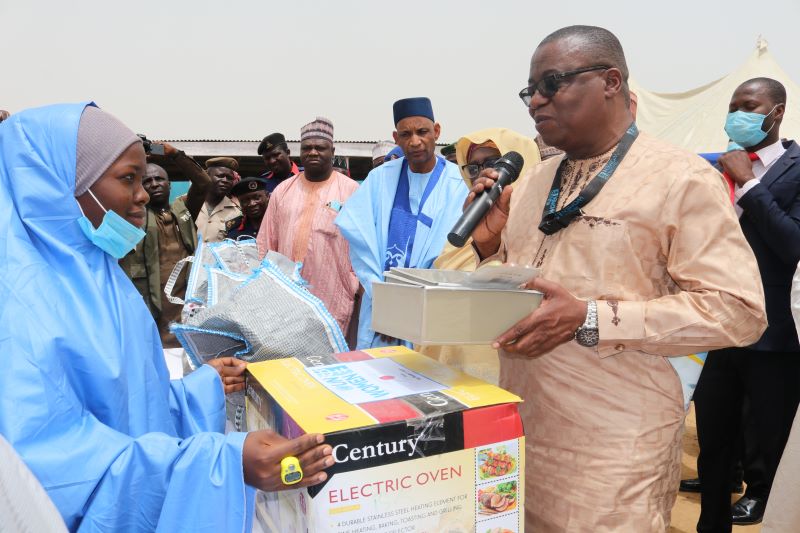 DAMATURU – As part of international Women's Month, on March 15, 2022, UN Women in collaboration with the Ministry of women Affairs and Yobe State Government commissioned a Women and Girls Entrepreneurship Development and Empowerment Hub in Damaturu, Yobe State. 
This Women and Girls Entrepreneurship Development and Empowerment Hub (WEDEH) is the second of its kind to be established since the insurgency in the northeast to support women and girls who have been affected by conflict with livelihood skills. 
Under the "Strengthening Resilience of Women and Girls in the Lake Chad Region" project, the empowerment hub was reconstructed and reactivated with skills acquisition equipment and materials to support women and girls recover from the impact of the northeast conflict while strengthening their resilience and enable them to participate in peacebuilding and recovery process. 
The empowerment will provide space for women and girls to learn livelihood skills in order to increase their economic security. About 900 women and girls had already received income generation skills such as tailoring, catering, knitting, soap and detergent making, interior decoration, handcrafts, food processing and were provided with business start-up kits.  
Also, the hub will serve as safe haven to support the prevention and response initiatives for sexual and gender-based violence and further promote "Second Chance Education" for women and girls through the provision of computer and literacy skills. Adding, an estimation of 500 women and girls will access the hub on a yearly basis to learn vocational skills for economic empowerment. 
In her welcome address, Hauwa Bah Abubakar, Commissioner Yobe State Ministry of Women Affairs emphasized the importance of investing in women's economic empowerment as a strategy towards gender equality, poverty eradication and inclusive economic growth. "This Empowerment Hub project is a worthy cause that will bring great benefits to our women. We are grateful to partner with UN Women to make this project a reality that will lead to substantial opportunities for all women and girls", she said. 
UN Women Deputy Country Representative to Nigeria, Lansana Wonneh noted that when disaster and crisis hit, it propagates inequalities and renders women and children regressive. He urged government and stakeholders to critically ensure all interventions in northeast seek to provide women with livelihood options that enhances their economic resilience and security and offers protection as well as safe coping mechanisms.  
"UN Women stands ready to engage and continue to work with relevant partners to support Government efforts to provide gender transformative humanitarian and recovery assistance to affected population, especially women and girls" he said. 
In addition, Japan's Ambassador to Nigeria, His Excellency Matsunaga Kazuyoshi, emphasized Japan's commitment to support the recovery process of displaced persons especially women and girls. "Japan will continue to continue to promote peace and stability in Nigeria by working with relevant partners." 
Commissioning the empowerment, Deputy Governor of Yobe State, His excellency Idi Barde Gubana commended UN Women and the Government of Japan for targeting women as the beneficiaries for such a laudable humanitarian gesture. "It is fulfilling that on this occasion as we distribute empowering materials such as sowing machines, knitting machines, pasta making machines, baking ware, handcraft materials, among others to the beneficiaries, I urge all to use them to safeguard their dignity and attainment of self-reliance" he said.