African Girls Can Code Initiative Second Phase Launched in Tanzania
Date: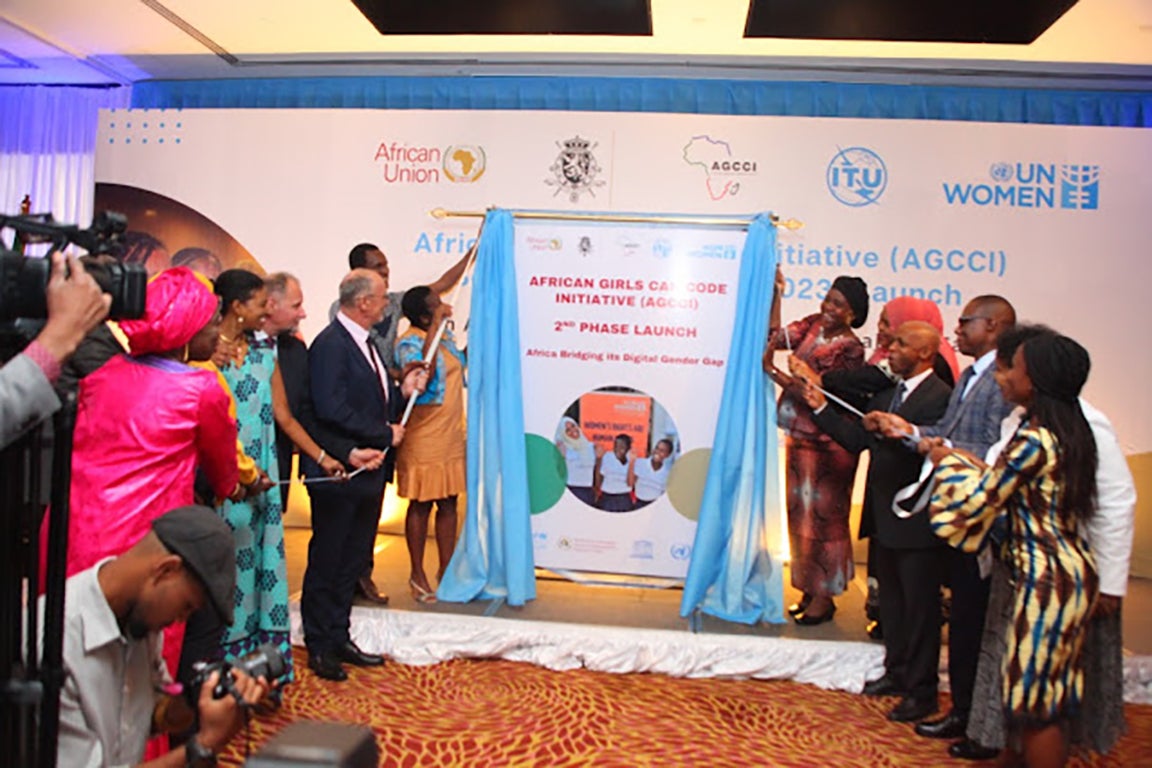 On International Girls in ICT Day, UN Women and the African Union Commission, in collaboration with the International Telecommunication Union, UNESCO, UNECA and UNICEF launched the second phase of the African Girls Can Code Initiative (AGCCI) in Dar es Salaam, Tanzania.
The programme aims to empower and equip 2,000 African women and girls between 17-25 with digital literacy skills over the course of four years, putting them on track for careers in the ICT sector.
In Africa reports show women account for only 28 per cent of science researchers, while male counterparts dominate with a total of 72 per cent engaged in STEM careers. This gender digital divide was highlighted by the COVID-19 crisis, which showed how women who are largely not connected to different forms of technology can be left behind.
About 90 per cent of future employment will require ICT skills, and as the continent continues to industrialize, the  African Union Commission Head of Division for Gender Policy and Development, Dr. Tapiwa Uchizi Nyasulu Rweyemamu said it is vital for Africa to be at the forefront, "A first step for such transformation is pushing for digital literacy for all."
The first phase of AGCCI implemented from 2018-2021 successfully built knowledge and skills of over 600 young girls from 32 Member States, empowering them to pursue education and innovation in ICT.
Fatou Ndiaye, 21, from Senegal, created an online platform where young girl entrepreneurs can sell their products. Reotshepile Mmutle and Maleroto Mphahlele, from South Africa, supported friends producing an emergency bracelet/alerting system to help combat human trafficking and curb GBV. Hanna Wasihun, from Ethiopia, built a mobile application with resources on women empowerment with support from friends.
In the second phase, funded by the Government of Belgium, the AGCCI aims to build on previous success to support two-week coding camps in 11 countries, including Burundi, DRC, Kenya, Mali, Mozambique, Niger, Rwanda, Senegal, South Africa, Tanzania and Uganda. Over 1,000 girls are expected to benefit.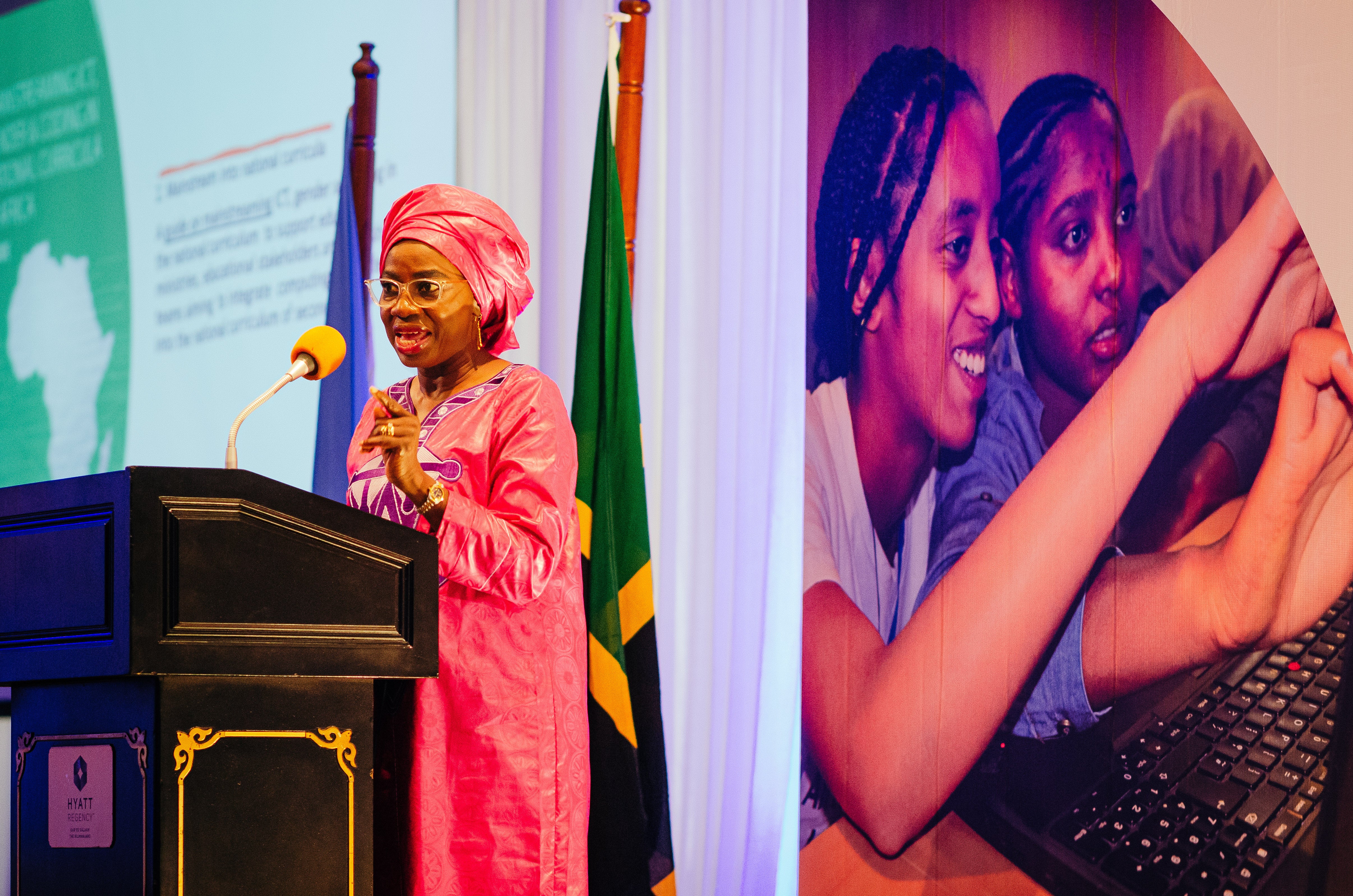 UN Women Deputy Regional Director for East and Southern Africa, Ms. Zebib Kavuma said the  programme will adopt continental level actions aiming to support the institutionalization of gender mainstreaming in ICT and STEM policies and education curricula in AU Member States to sustain the impact at national level.
"We also recognize the centrality of broad-based collaborations to accelerate the implementation of the objectives of the AGCCI, partnering with UN agencies such as UNECA, UNESCO and UNICEF; the Africa regional and international financial institutions, as well as the private sector to harness the wealth of expertise, experiences and networks to stir commitments and action," she said.
An online platform developed in the first phase will also be further developed so girl coders can continuously update skills and connect with a supportive online community.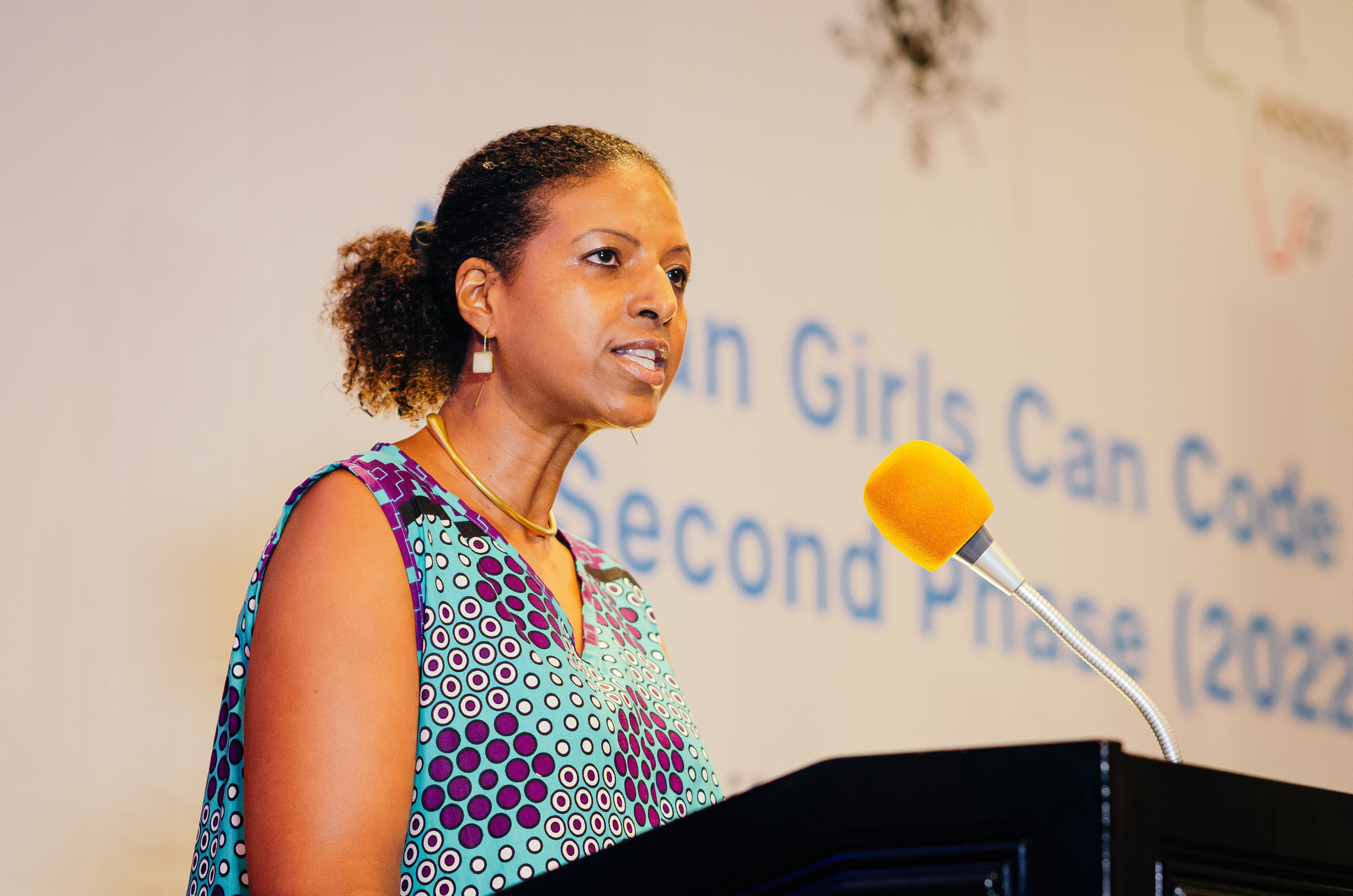 The ITU Regional Director for Africa, Anne-Rachel Inné said that the theme for the International Girls in ICT Day this year, "Access and Safety," recognizes the challenges young girls and women face in accessing the internet, which hinders their ability to develop necessary digital skills and pursue ICT careers. "We must therefore  continue to share knowledge and experience to equip women with the skills they need, to bridge the digital divide and ensure access to digital technologies," she said in a statement.
The guest of honour at the event, Tanzania Minister for Community Development, Gender, Women and Special Groups, Dr. Dorothy Gwajima reiterated the Government's commitment to ensuring that girls are digitally empowered and can safely access technology, stating that the Government intends to establish girls' science schools, technology hubs and vocational training centers in all 35 regions of the country.
"This will further reinforce the Government's Generation Equality Forum Commitments on Economic Justice and Rights by ensuring women and girls are able to engage in modern economic opportunities."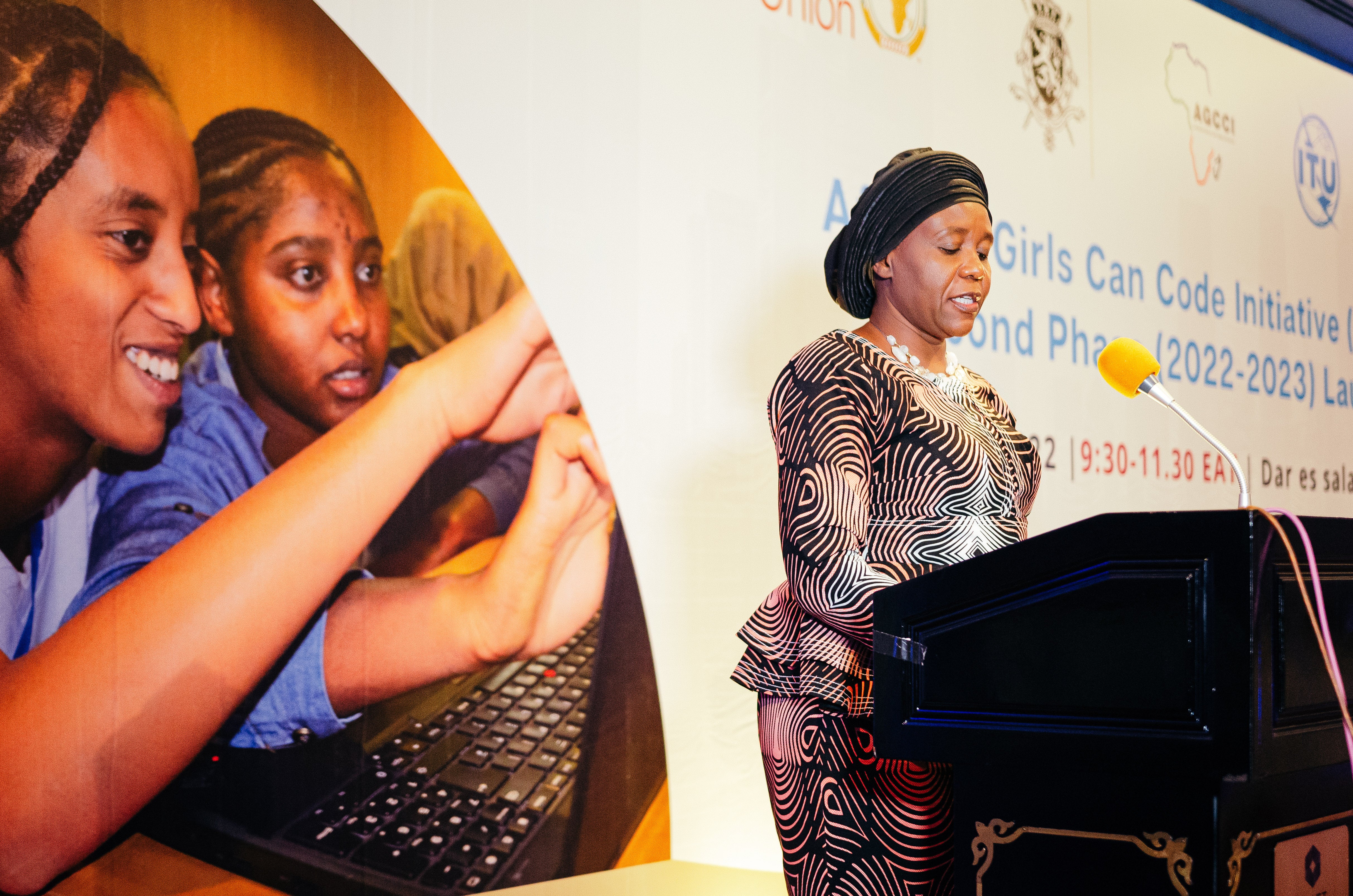 The Zanzibar Minister for Community Development, Gender, Elderly and Children, Riziki Pembe Juma, confirmed the commitment of the United Republic of Tanzania, stating the government will establish a technical committee covering both Zanzibar and Mainland Tanzania to put strategies in place advancing women's participation in STEM.
Ambassador François Dumont, Head of Mission and Permanent Representative to the African Union, IGAD and UNECA and Representative of Government of Belgium in Ethiopia, emphasized the importance of partnership as a prerequisite for success. "Achieving SDG 5 and Agenda 2063 is a global responsibility, only together can we overcome the obstacles and achieve gender equality," he said.
The hybrid launch of the second phase AGCCI gathered 150 stakeholders in person and over 70 participants virtually from the AUC Department of Humanitarian Affairs and Social Development, Department of Education, Science, Technology, and Innovation, Women, Gender and Youth Directorate, Government of Tanzania, UN agencies, private sector, AGCCI Alumni and members of media.
Watch the livestream of the event here
Read the report of the launch here