Ending SGBV in the DRC: "We carry them in our hearts, encourage them and move forward together"
Carine Kaku is an activist committed to the defense of human rights, particularly those of women and girls, and a partner of UN Women DRC. She is the director of DYNAFEC RDC, the National Dynamic of Women Candidates, a non-profit women's organization created to encourage women's political participation and fight for the promotion and protection of women's rights and the consolidation of peace. Carine joined UN Women DRC to talk about the importance of the 16 Days of Activism, ending SGBV and the role women's political participation plays in it.
Date: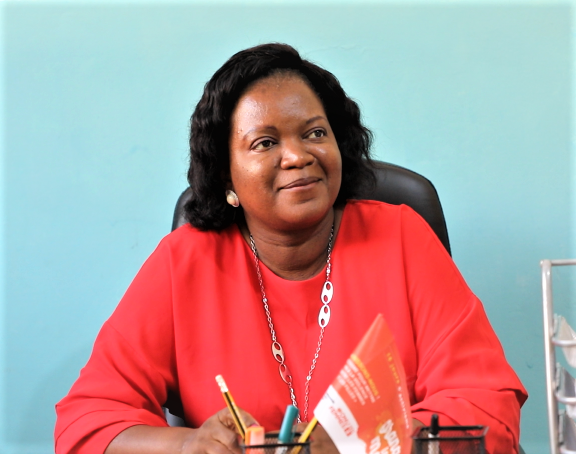 We always talk about the importance of women's political participation. Recently, many DYNAFEC women have been appointed mayors in different cities across the DRC. What do you think this achievement means for Congolese women?
In any case, a lot of joy, especially considering the history of DYNAFEC. We didn't take off right away, but we decided not to fear failure. When we launched the organization, during the 2018 elections, a lot of women ran for office and were unsuccessful. It was a huge disappointment after all we had done, but we decided to look ahead.
It made us see failure in a positive light. We continued to learn and build our capacities. At first it was just us women together. We were technically reinforced, by UN Women, and we started to prepare for the elections. We started to take an interest in the nominative positions of women politicians. We have learned to implement strategies and position ourselves within political parties.
The lesson is not to let failure cause us to lose hope. And we are really starting to see women in the DRC taking power in management.
As you know, the Head of State once said that he would even like to see that after him who is a woman Head of State, it is to say that the moment is favorable in the DRC for us to go. Let's bring female leadership higher, even to the top of the state. And I am very happy to see that we are counting with DYNAFEC in this renewal of the political class.
We are in the middle of the 16 Days of Activism to End Violence Against Women and Girls. What can you tell us about gender-based violence in the DRC?
We still have a long way to go to end it.
We stand in solidarity with the women of the East. Violence is often widespread, but women and girls are always doubly affected. Even in Kinshasa province, we hear of horrific cases in many communities. Fortunately, we have more and more mechanisms to reduce these types of violence in the country.
But there is a lot of work to be done in the communities to eliminate violence, a big step would be to have women in decision-making spheres. Female representation remains low, but we are moving towards positive masculinity. Slow progress, but still forward.
We have a great opportunity in 2023 to accelerate this, with the general elections. We fought, DYNAFEC, for an electoral law devoted to parity within political institutions. Now Article 13 encourages the representation of 50% women. Upholding gender equality in the law is the first step to ending violence against women and girls. We need to stop arguing, pretending women aren't ready.
We have the skills, the determination and we are ready to take the positions of power.
How important do you think advocacy campaigns like the 16 Days of Activism are to end sexual and gender-based violence?
This is an opportunity for us to draw attention to the lives of female politicians within these political institutions. To say that we must put an end to stereotypes. To say that we must put an end to cultural inertia. Women should not always be reduced to social roles, even within political parties. We welcome this campaign with joy, and we always impatiently await it so that we can express ourselves, denounce all this violence.
Early marriages are an epidemic in the DRC. How do you consider that early marriage prevents women from rising to decision-making positions and affects the country's inequalities?
We still allude to politics. It is truly a plague that must be denounced.
I still keep in touch with women from different regions in the interior of the Congo and this is the first form of violence that we always hear about. When you meet the girls, they seem to be in chains, because sometimes they don't realize that they are suffering from violence. It takes time to make them understand.
We have a law that prohibits girls from marrying before the age of 18. We don't just hear of young marriages, but of child marriages, of families who decide to marry their daughter or son under the age of 18. We need our community leaders to act in the deep Congo, because they are the ones who decide before the families.
I can give a little testimony. I was a candidate in the 2018 election, for education, before there was this free education system. I set up a small project aimed at providing schooling for ten young people. I wanted to have seven girls and three boys. My focal point said to me: Madam, you must do the opposite. And I said: why do I have to do the opposite? My project is seven girls, three boys. They told me it was not possible; the schools are too far from where the girls live and it is believed that if they have to go very far, they can get pregnant. There are people, not necessarily the biological parents, who have to take their dowry and do not want to take this risk. Thus, girls are excluded from education and married while they are minors.
A girl who becomes a mother while still young will be told to make the most of her time and have as many children as possible, as quickly as possible. She doesn't have time to work on her own development and ambitions.
We need to spread the message that allowing a girl to study is not the opposite of getting married. She can study and later decide to get married and yet remain independent. Some women are already against this practice, although they adhere to it with pain. We want to carry their voice.
These are things that sometimes even the intellectuals here encourage because they are part of our customs. We must evolve. Not everything is bad in our customs, but everything backward and negative must be pushed aside to allow girls to thrive. Because as long as we neglect the potential of girls and women, the DRC will not truly realize its own.
Do you have a message for girls and women who suffer from gender-based violence and sexual violence?
We share their suffering. We know how destabilized they feel, both physically and psychologically. They often become double victims. Many married women are raped. Then, when their husband returns to the community, traditional practices dictate that the wife cannot return to the marital home and must pay fines.
We demand that this ends now.
But I also want these women to know that this is not the end of their lives. They can move forward. It's certainly an incredibly difficult experience, but there's still a long way to go. They can move forward and get support; at DYNAFEC, we reach out to national and international partners to obtain the necessary psychosocial support for individuals and the community, as well as economic support so that these women can regain courage.
We will never stop admiring them. They are strong, they get up. They are our heroines, and they go above and beyond. We carry them in our hearts, encourage them and move forward together.