UN Women Ethiopia, Ethiopian Human Rights Commission, hold a conference on women's political participation
Date:
UN Women Ethiopia in collaboration with the Ethiopian Human Rights Commission has organized a National Conference under the theme "Women's Equal and Effective Participation in Political and Public Life: an imperative for inclusive democracy and sustainable development" that took place in Addis Ababa 27-28 December 2022.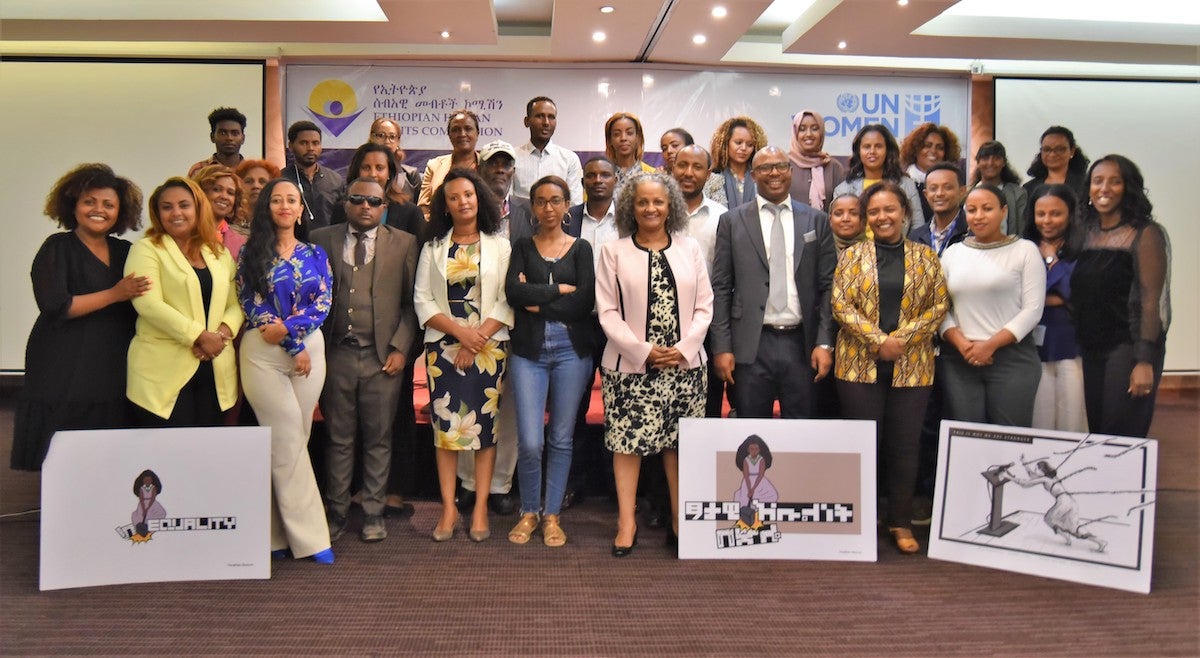 The conference brought together researchers and practitioners for an evidence based dialogue to ensure that that research findings are not shelved, and recommendations are used to fuel action on the ground with a view to promote the participation of women in politics and public life.
Delivering Welcoming remarks Shadrack Dusabe, UN Women Ethiopia's Head of Office a.i. said "Women's participation in Political Leadership is paramount for development and an absolute necessity for the achievement of Sustainable development. As the world cannot aspire to reach any development milestone without it"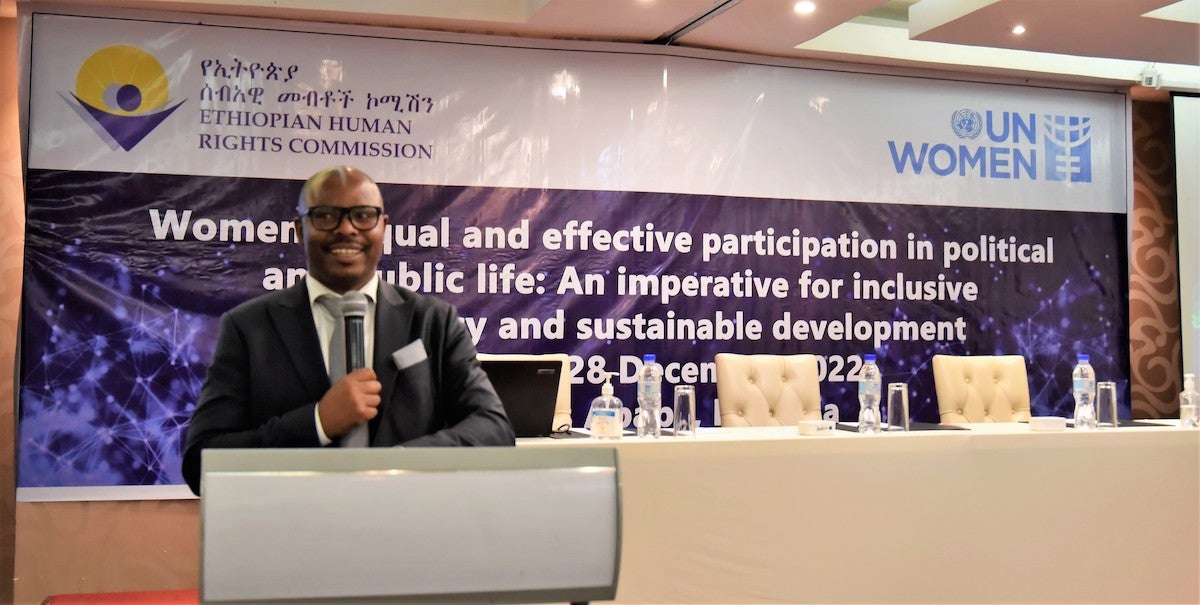 H.E. Meskerem Geset, Commissioner for Women's & Children's Rights at EHRC on her part emphasized "While it is commendable that women are represented in certain higher leadership positions, they are missing from recent critical institutions that deal with peace & democracy building. There are also alarming rollbacks on achieved gains in women's political representation. Aside from conducive normative framework, Ethiopia needs strong accountability mechanism to ensure all duty bearers are held accountable to uphold their women's right commitments."

H. E. Bizuwork Ketete, Board member of National Election Board of Ethiopia, stated that from promoting conducive normative framework to setting up a standalone structure within the Board to follow up on issues of inclusivity, NEBE has been working to enhance women's participation in the entire electoral process as well as in political parties, including by availing financial incentive for parties that bring more women to the forefront to run as candidates during elections. 
The two day's conference was comprised of sessions where research papers on women's participation in politics and public life in Ethiopia were presented and deliberated upon by participants while renowned guest speakers were part of a panel that discussed various contemporary issues related to the thematic area.
Among research papers discussed were: Political Culture and Women' Participation in Political Processes in Ethiopia; Democratization and Women's Political Representation in Ethiopia; Documentation of good practices and lessons learned from the Eastern and Southern Africa Region on Women's Leadership in Local Government,; The role of Political Parties in Promoting Women's Parliamentary Participation in Ethiopia and Assessment of Women's and Persons with Disabilities (PWDs) Political Participation in Political Parties of Ethiopia. Panel discussion topics included the implication of peace and security issues on women's participation in politics and public life; women's participation in local government in Ethiopia as well as organizational culture and unpaid care work: implications for women's participation in leadership and decision making.
H.E. Nabiha Mohammed, State Minister for Labor and Skills and Chairperson of Coalition of Ethiopian Women Political Party Members, in her closing remarks said " despite improvements and existing normative frameworks that ascertain women's rights for political participation, there are still gaps in fully utilizing those rights. We also need to work on holding the duty bearers accountable"  
As stated by Desset Abebe, UN Women's Women in Leadership and Governance Program Lead, the conference targeted representatives from gender machineries, democratic and political institutions, women rights organizations and CSOs, women and youth associations, civil societies, individual gender activists and partners from intergovernmental organizations.