UN Women Rwanda stirs hope among young women through the SheCanCODE software and web development training program.
Date: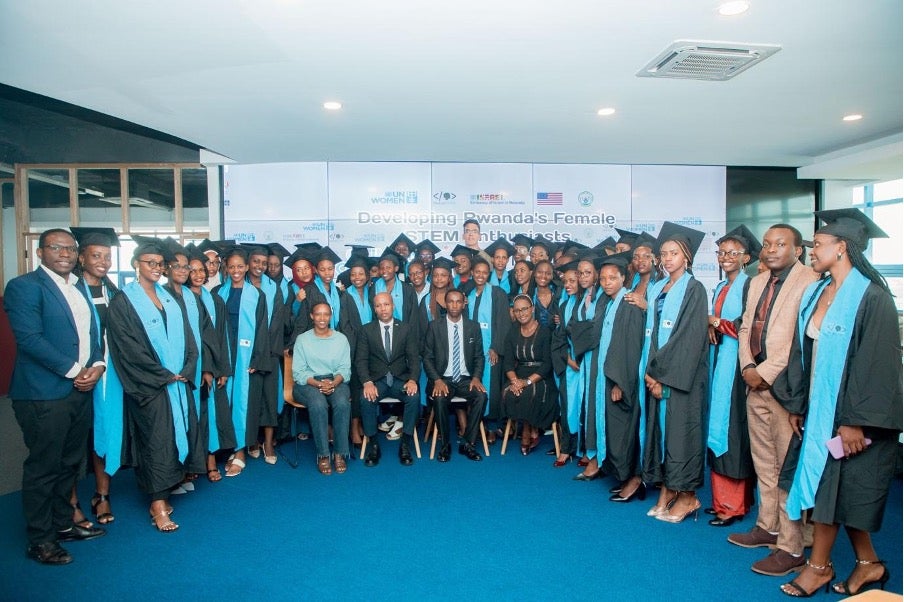 On 9 December 2022, the seventh cohort of 52 young women and girls graduated from an advanced 14-week computer programming program delivered by the SheCanCode academy with financial support from UN Women Rwanda under the Joint Youth Programme funded by Multi Partner Trust Fund (MPTF)/SIDA. Among them, the ten most vulnerable students were granted laptops so they can have a solid start to their lives in the tech industry.
SheCanCode Bootcamp is a leading full-stack coding bootcamp and career prep program founded in 2018 by Igire Rwanda Organization in collaboration with U.S. Embassy, with the aim to help women in Rwanda gain in-demand software and web development skills to start their careers in the tech industry.
The students were trained in advanced computer programming with concentration in Mobile or Web App development. They acquired leadership skills, entrepreneurship skills and got career coaching to better understand what their careers would look like. In groups, they created projects that solve community problems through a Problem Based Learning Model. They are all ready and prepared to serve ICT companies and use their competencies to solve community problems.
The curriculum is designed to train on real-life projects and support the participants to learn to focus on what the market demands. It is delivered through an in-person and online bootcamp.In addition to technical skills, students go through a four-week career readiness program that focuses on resume writing, interview preparation, and job searching. After graduation, the graduates receive support from tech company partners as they seek employment.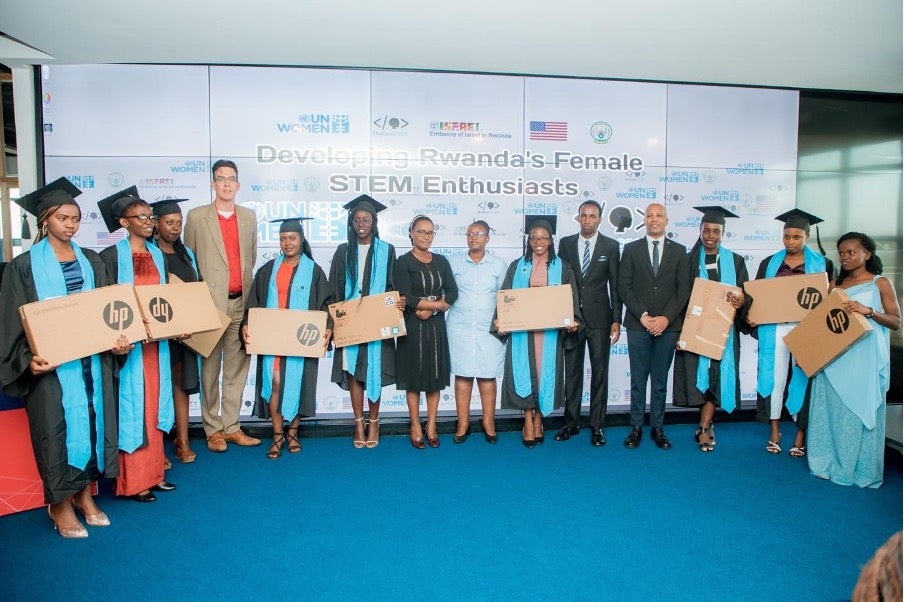 Since its inception in 2018, 220 young women have completed in-person training and more than 100 have participated online with more than 85% of graduates currently working in local and international tech companies in Rwanda including DMM Hehe, IREMBO, Bk Tech House, Andela, DMM Hehe, HView Tech Group and many other technology companies in Rwanda.
The graduation ceremony was attended by other partners including the US Embassy Rwanda, Israel Embassy, Ministry of Family and Gender Promotion, GIZ among others.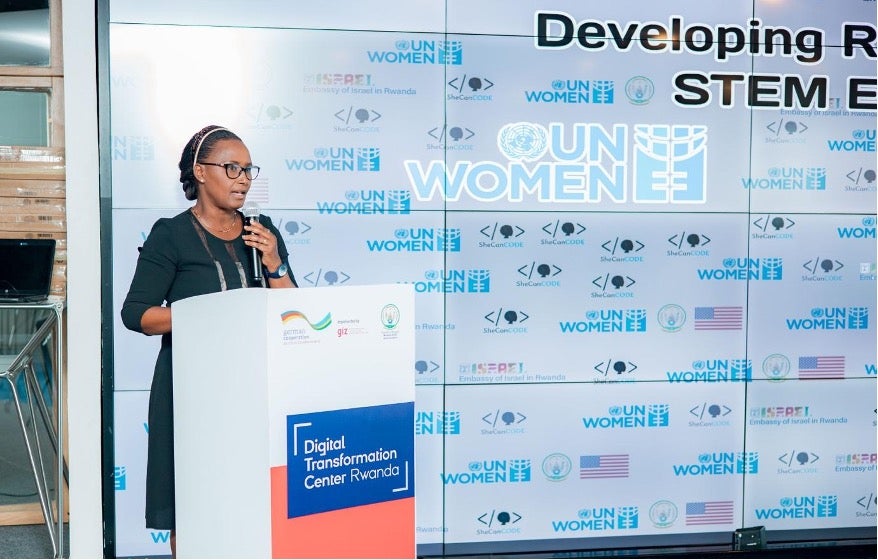 UN Women's Denise Umwali, Gender Joint Program Manager speaking on behalf of UN Women thanked Igire Rwanda Organization for having initiated this amazing initiative. She also thanked all the graduates who have invested their time and other resources to learn and look forward to hearing great success stories about their success as female technology engineers.
"We can see how impactful the SheCanCODE Program is. We appreciate all the efforts invested and thank all the stakeholders for availing resources needed for the success of the SheCanCODE Program. We will continue to support similar initiatives to keep bringing impact to the community" said Yossi Godamo, Deputy Ambassador, Israel Embassy in Rwanda.
Speaking on behalf of the government of Rwanda, Ms. Mireille Batamuliza, Permanent Secretary in the Ministry of Gender and Family Promotion committed to supporting programs like SheCanCODE that have proven to work if they are supported. "We congratulate all the graduates and expect them to change the stereotypes on Gender and Girls in STEM," she added.
Jean Jacques Iradukunda, Founder and CEO of Igire Rwanda applauded the government of Rwanda for creating an enabling environment and putting in place policies for women and girls to join digital careers.
He appreciated UN Women and all partners for working with Igire Rwanda Organization to transform lives of young Rwandan women.
To get the best out of it, Iradukunda urged students to take responsibility, set goals and remember that their success will benefit them, their families and communities. "Take chances and use all the opportunities available" he added.
Speaking on behalf of her cohort, Fabiola Imbabazi expressed her gratitude for the support received throughout the SheCanCODE Program. She commended her colleagues for their commitment throughout the program and encouraged them to use what they learned to solve community problems.
Fabiola is already an employee of Hence Technology, and she appreciated her employer for giving her the opportunity to practice her skillset with the company. She called on all the partners to keep supporting initiatives like SheCanCODE which have impacted many lives of girls and women through ICT, Leadership and Entrepreneurship Trainings in Rwanda.