African Women Leaders unite in solidarity with women in Sudan
Date: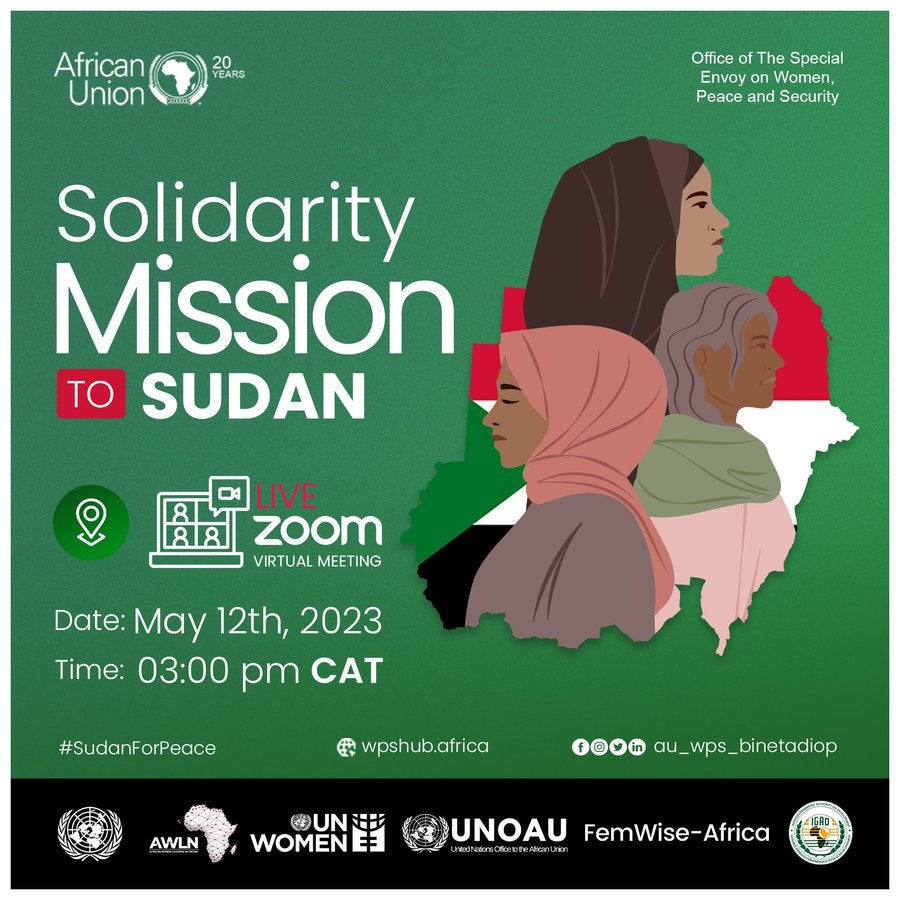 Sudanese women have always played a key role in shaping Sudan's political development, and in supporting national peace, security, and resilience. Today, with women and girls facing severe and disproportionate impacts of the ongoing crisis, their involvement in response and meditation efforts will be crucial to ensuring gender-equal aid, as well as to building lasting peace within the country.
Despite several attempts to reach a ceasefire, fighting continues in Khartoum, Darfur, and other parts of the country. Shortages of food, water, medicine, electricity, and fuel are becoming extremely acute, especially in Khartoum and surrounding areas. In a country where around 4 million children and pregnant and lactating women were already severely malnourished, food shortages—coupled with the temporary suspension of humanitarian aid—have heightened consequences for women and girls, who have been disproportionately dependent on international assistance. Reports of gender-based violence, including sexual violence, are surfacing, with access to prevention and response services severely limited in Khartoum and across the country due to the ongoing fighting and the destruction and looting of healthcare centers and hospitals. Of the seven hundred thousand people internally displaced and the nearly 200,000 who have fled to neighboring countries, women, girls, the elderly, and other vulnerable populations represent the majority.
In this context, the Office of the African Union Special Envoy on Women, Peace, and Security, with support from UN Women and the African Women Leaders Network (AWLN), held a virtual meeting on 12 May 2023 in coordination with the "Peace for Sudan Platform" to support and amplify their call to end the conflict, highlight the impact on women and girls, and mobilize support to women's peacebuilding and protection efforts in Sudan. The meeting was led by Mme. Bineta Diop - African Union Special Envoy for Women Peace and Security, the meeting was graced by H.E Ellen Johnson Sirleaf, Former President of the Republic of Liberia and Patron of AWLN, Ms. Phumzile Mlambo-Ngcuka, former UN Women Executive Director, Member of the Panel of the Wise of the AU and Co-Convener of the AWLN, and Ambassador Raychelle Omamo, Former Minister of Foreign Affairs, Kenya, among others.
Opening the event, Mr. Alex Ratebaye Tordeta, Deputy Chief of Staff of the African Union Commission, said: "This meeting will contribute to the advocacy efforts for the political and peace process. It is important to take into account women's needs and to protect them from gender-based violence. The African Union Commission is with you and will work hand in hand with you to end the suffering of our sisters in Sudan."
Speakers highlighted the gendered dimensions of the conflict, and the dire need to increase women's inclusion in decision-making processes. Magda Omar, former Senior Gender Advisor for the SRSG of the UN Mission in Libya speaking on behalf of the Sudanese women and the "Peace for Sudan Platform" presented the current security and humanitarian situation. Ms. Amina Shain, founder of the Gender Center for Research and Development and a member of the "Peace for Sudan Platform", noted that the impact of war is affecting women and girls disproportionately.
Ms. Phumzile Mlambo-Ngcuka, former UN Women Executive Director, said "We are exceptionally concerned about the situation in Sudan especially because we know that the women did so much to bring about change in the country, but it continues to be elusive. The lack of attention and underrepresentation of women continues to be an issue that we are pushing to resolve."
In a keynote message, H.E. Ellen Johnson Sirleaf said "Women of Sudan have shown us that there is no time to be disheartened and despondent. You have shown clear-sightedness about what needs to be done and what actions need to be taken both within Sudan and outside its borders. We must all continue to show the same unity and demonstrate a resolve to help end the conflict and put Sudan back on the path to peace and security, back to civilian rule."
Ms. Lina Marwan, feminist and human rights lawyer and a member of the "Peace for Sudan Platform", highlighted various initiatives started since the beginning of the conflict, from social media campaigns within Sudan and the diaspora advocating for peace, to frontline humanitarian responses by women's organizations that are providing shelter, food, and medical assistance to those fleeing the conflict.
Ms. Samar Abushama, young peacebuilder and gender equality advocate and a member of the "Peace for Sudan Platform", shared immediate and intermediate proposals to increase support for Sudanese women, including humanitarian assistance for refugees in hosting countries neighboring Sudan; counseling and psychological support for women victims of violence, the opening of safe passages for humanitarian aid to reach women, men, boys and girls, and prioritizing women's participation in the humanitarian response, peacebuilding efforts, and decision-making regarding the future of Sudan. On behalf of the platform, Ms. Samar also suggested a task force be established from the bodies and regional leaders who participated in the virtual meeting to follow up and sustain engagement on the way forward.
Other participants also highlighted the crucial work already being done by women in Sudan to respond to and mitigate the impacts of the crisis, drew attention to mechanisms for further supporting their efforts, and offered messages of support for the women of Sudan.
Ms. Zebib Kavuma, Deputy Regional Director, UN Women Eastern and Southern Africa, said, "As UN Women, we stand in full solidarity and support for the brave and strong women and girls of Sudan. I commend the young women uniting for peace and responding to the crisis through social media and digital technologies, creating an IT application that provides safe routes guidance and mapping locations with food, water, and medicines."
Ambassador Raychelle Omamo said, "It is essential that we as African women leaders stand in solidarity with our Sudanese sisters to demand the cessation of hostilities in Sudan and unequivocally call for the active inclusion and protection of women in constructing a new sustainable peace for Sudan."
Ms. Marema Toure, a peacebuilder, said "You're not alone. Many of us around the world follow your situation closely and we stand in solidarity with your struggle for peace and justice. We admire your courage and fighting spirit in face of the adversity."
Ms. Amina Farah, Head of the Gender Affairs Department, Intergovernmental Authority on Development (IGAD) Secretariat, said: "It is essential to involve women in the peace negotiations because they have different experiences and their position as solution givers and owners of the process in the country is very important."
Ms. Chido Mpemba, African Union youth envoy, said, "Today we join hands urging for an end to the turmoil and a renewed commitment to dialogue…we firmly believe in your unity and strength."
Hundreds of additional messages of solidarity were shared in the meeting by various leaders and participants from across Africa. A communique circulated by the African Union and partners sharing the proposals of the women of Sudan is available in English and Arabic. The women-led initiatives have done credible groundwork in their advocacy for peace, reaching out to regional women-led organizations and networks to further support their calls for peace.
Given the significant role that Sudanese women can play in peacebuilding, as well as the grave consequences of the conflict for women, girls, and the entire Sudanese population, it is crucial to continue engaging with the women of Sudan to show solidarity, amplify their voices and strategies, and mobilize for their participation in finding a lasting solution to the conflict.