Levelling the unequal burden of unpaid care work through social transformation in Rwanda
Date:
Across the globe, an unnerving stereotype and socially accepted belief prevails. Through no action or fault of their own, women and girls across all ages, upbringings and environments find themselves plagued with a discriminatory burden passed down across generations for the sole reason that they are born female. This is the burden of unpaid care work. While care work is foundational to well-functioning communities and society, there still prevails the lingering belief that women and girls are born to bear the majority, and in some settings, the sole responsibility of care work in their households and communities. The reality is that this unequal burden presents a significant barrier to women`s social and economic freedom and prosperity.
In the lush and hilly district of Nyaruguru, located in the south of Rwanda, you will find expansive tea plantations that along with coffee and spices contribute to the most significant portion of Rwanda`s exports. However, these highly productive plantations do not flourish naturally with limited human intervention, they require arduous manual and time-consuming care. With limited opportunities for income generation in the district, many women seek to join the tea industry as a means to provide for themselves and their families. This however comes with the condition of extensive working hours, limiting women`s availability to look after their households and children given the unequal burden of unpaid care work, which then places a conundrum of choosing between staying home or leaving their children uncatered for until their return from pursuing income generating activities. It is for this reason that UN Women partnered with the district of Nyaruguru to tackle the inequalities around unpaid care work, and advocate for strengthened men engagement in the pursuit of gender equality.
Taking place on 23 August 2023, UN Women in partnership with Nyaruguru District, ActionAid and the Rwanda Men's Resource Centre (RWAMREC) convened one hundred key district actors including community opinion leaders and representatives, district education officers, local security organs, and media influencers for a High Advocacy Meeting to raise awareness and find transformative solutions to influence social norms and behavior change for men engagement, and ultimately equality in unpaid care work.
Delivering welcoming remarks on behalf of the Mayor of Nyaruguru, the Vice Mayor of Socio-Economic Affairs Ms. Assoumpta Byukusenge spoke to the critical role of men in taking up responsibility for unpaid care work in their households and commended the evident impact of the partnership with UN Women that has led to a positive shift in mindsets and beliefs towards gender equality in the district.
"Today`s meeting speaks to the recognition of our common belief for equality in unpaid care work in the household and community. Before our partnership, men could not understand how taking up sole responsibility to household care work was a burden to women, but now, because of the trainings and women empowerment initiatives that we jointly initiated, men recognize the importance and value of gender equality. Together we are shifting social and cultural norms, and changing the perception of women and girls, showing that their empowerment benefits us all." said the Vice Mayor.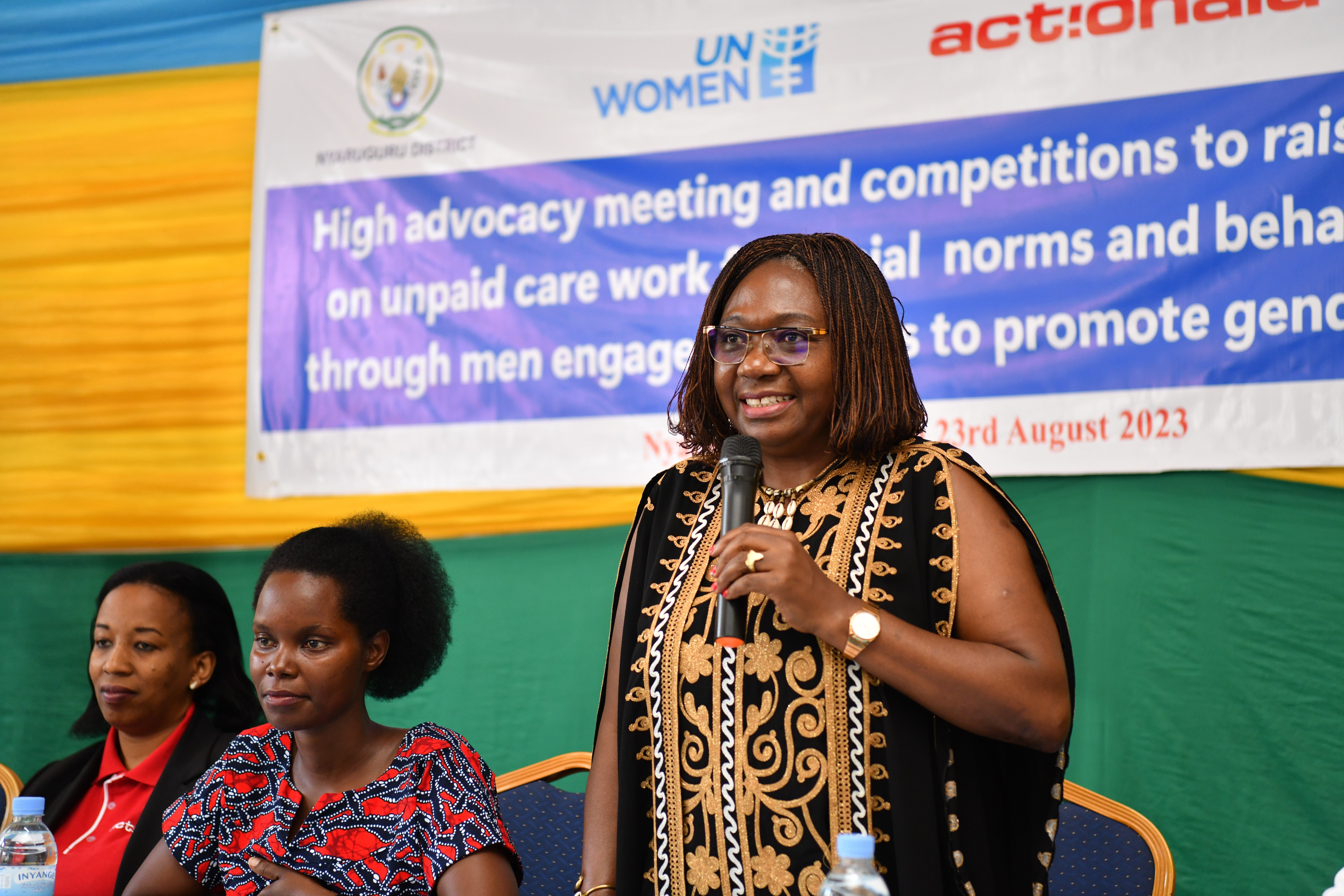 The welcoming remarks were then followed by opening remarks by the UN Women Country Representative Ms. Jennet Kem, where she spoke to the potential for positive social transformation when all are involved in the mission towards gender equality. She called for the rectification of discriminatory social and cultural norms and beliefs that infringe on the potential of women and girls, emphasizing that gender equality in the household and beyond is no longer negotiable.
"We can no longer ignore the issues related to unpaid care work. We have to collectively revisit and address the predated structures, stereotypes, and cultural beliefs that bear norms that exclude and discriminate against women and girls, ultimately limiting their potential. We need to aim towards positive social norms that can make all of us prosper. The power to change is in our hands, and we need all hands on deck, including men, boys, authorities, community leaders, and more. That is how we can do things differently and influence lasting change." emphasized Ms. Jennet Kem
The welcome and introductory remarks were then followed by presentations by Action Aid which provided an overarching representation of the burden of unpaid care work held by women, emphasizing the consequent risks of reinforcing discriminatory social norms that enable and expose women to multiple forms of gender-based violence.
This was then complemented by RWAMREC who gave an insightful presentation, highlighting the challenges and effective approaches to facilitate men engagement in unpaid care work. The presentations also shed light on the critical role of community and religious leaders in shaping cultural and social norms in their direct environments and communities.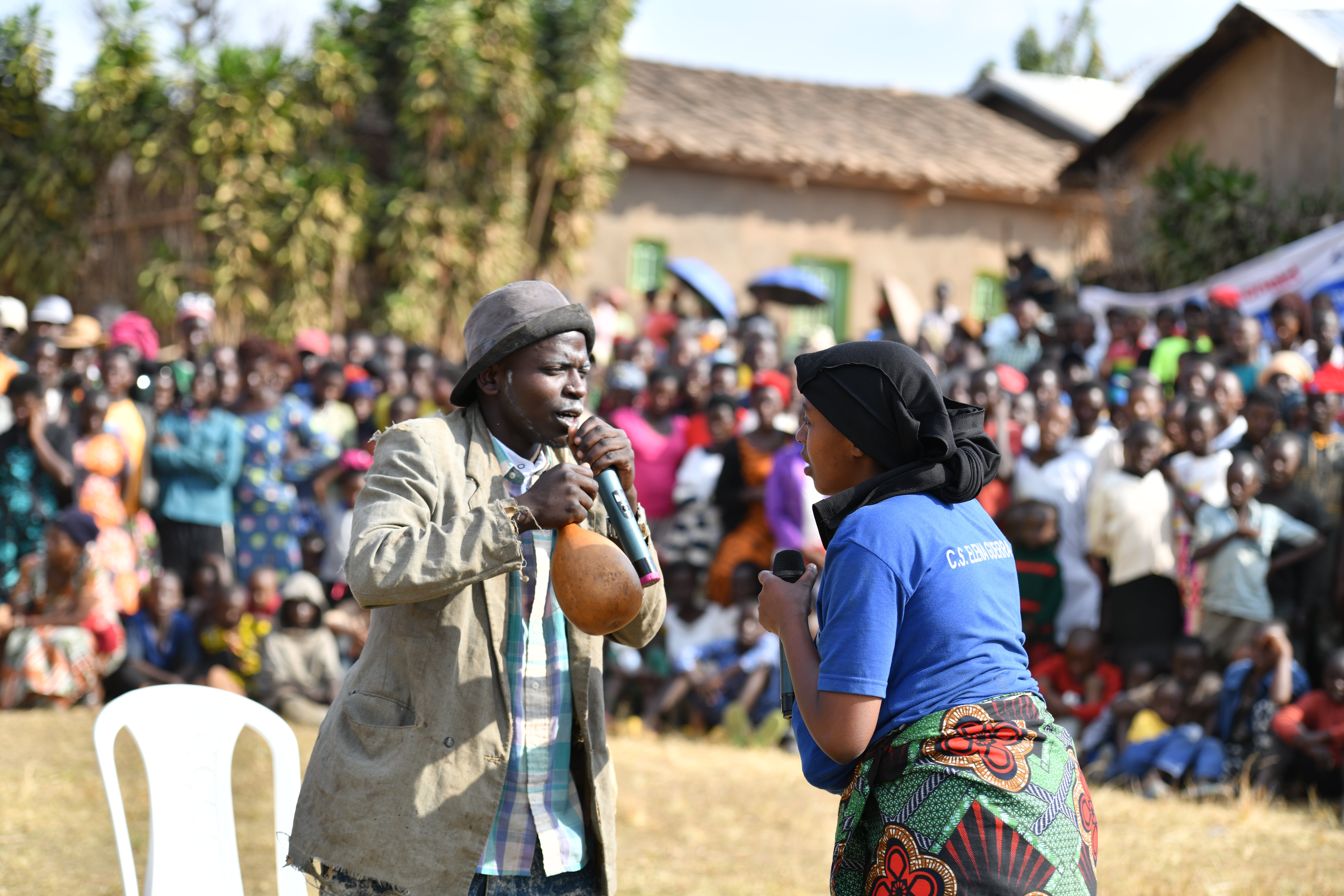 To accentuate the insights and messaging on unpaid care work and men engagement beyond the confines of the conference room, the high advocacy meeting was complemented by an interactive and eventful afternoon of community awareness raising through sports, drama, and music. Gathering close to two thousand people from across the district, each of the activities carried strong messages on the importance of gender equality within the household and community, and the need to eradicate discriminatory social norms that create a barrier to the empowerment of women and girls at all levels.
To give evidence to the positive change that comes with equality in the household, the event provided a platform for Ndiyunguye Stanislas and Dushimimana Judith, a married couple from the community to give a real-life account of how sensitization and training on gender equality principles transformed their lives as a household, resulting in prosperity and harmony that they were not previously accustomed to.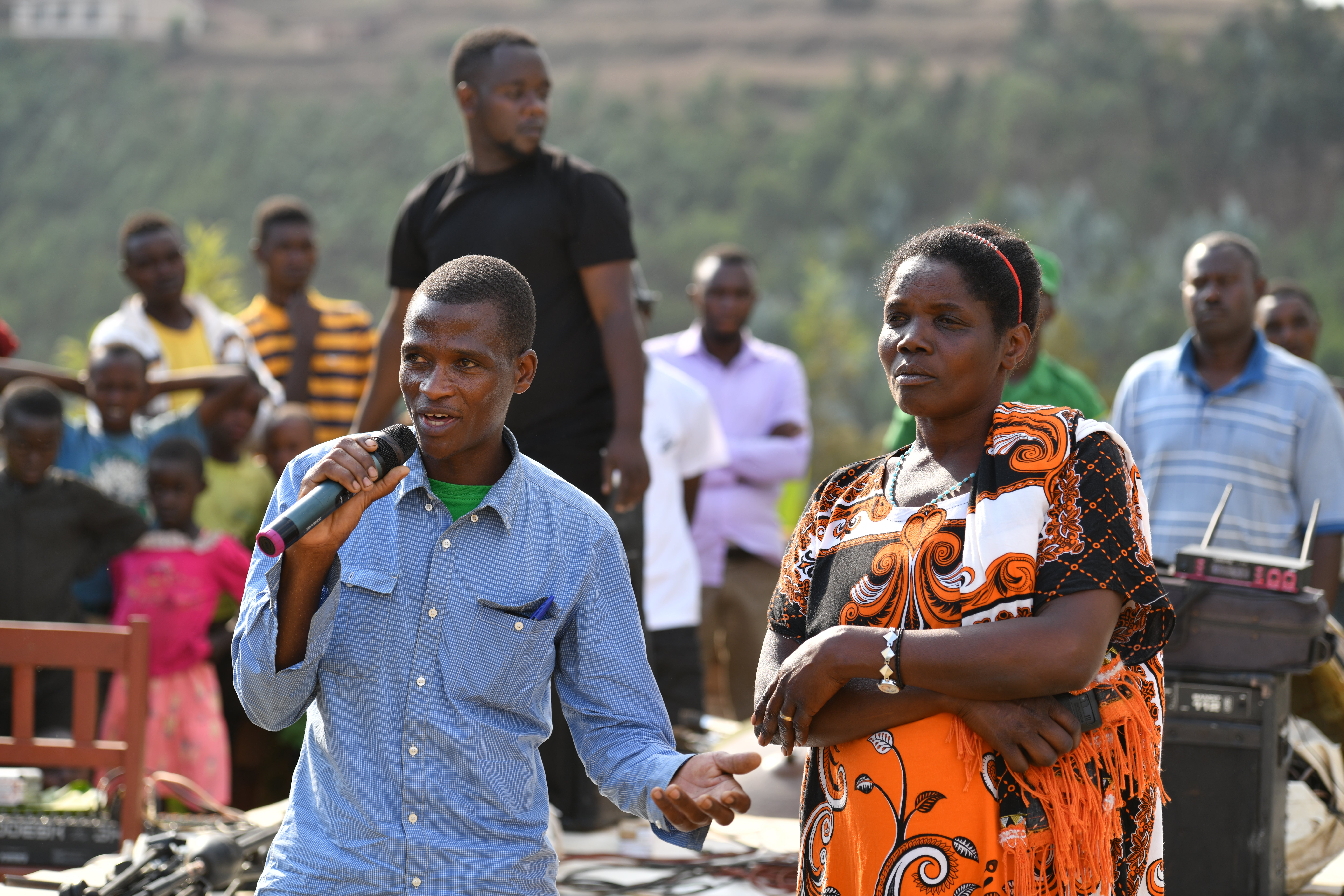 "Before I got the training on men engagement for gender equality, our family faced a lot of conflict. As a man, there were many chores that I thought only women were responsible for. I could not believe that a Rwandan man was supposed to cook. However, I have now learnt that I can do anything, and there is no man or woman`s job. I can freely cook, clean, and take care of my family without feeling awkward or emasculated. When my wife leaves early in the morning to work, she comes back finding that the entire house is in order, with the children fed and dropped at school, and the house in spotless condition. This allows me to go to my evening job feeling accomplished. We now even make more money, and our children perform much better at school, as we are now a team that supports each other." testified Stansilas.
Speaking at the awareness raising event, the UN Women Country Representative emphasized that the activities enjoyed throughout the afternoon should not only be limited to entertainment, but serve as a catalyst for positive transformation and gender equality in the household and community.
"Through the testimony and drama, we saw the benefits and fruits of a family that works together. When everyone was involved, we saw them happier, more prosperous, in unity, and in peace. It is our wish that everybody here goes back to their home as an ambassador and champion for gender equality. What we have done here today is not just drama and enjoyment. It is a pathway to influence our lives, and make us commit to positive change." emphasized Ms. Jennet Kem
These activities fall under the "Safe Public Spaces" project implemented in partnership with Nyaruguru District through generous funding from the Government of Korea.