INNOVATIVE SOLUTIONS TO RECOGNIZE, REDUCE, AND REDISTRIBUTE THE UNPAID CARE WORK OF RURAL WOMEN IN SENEGAL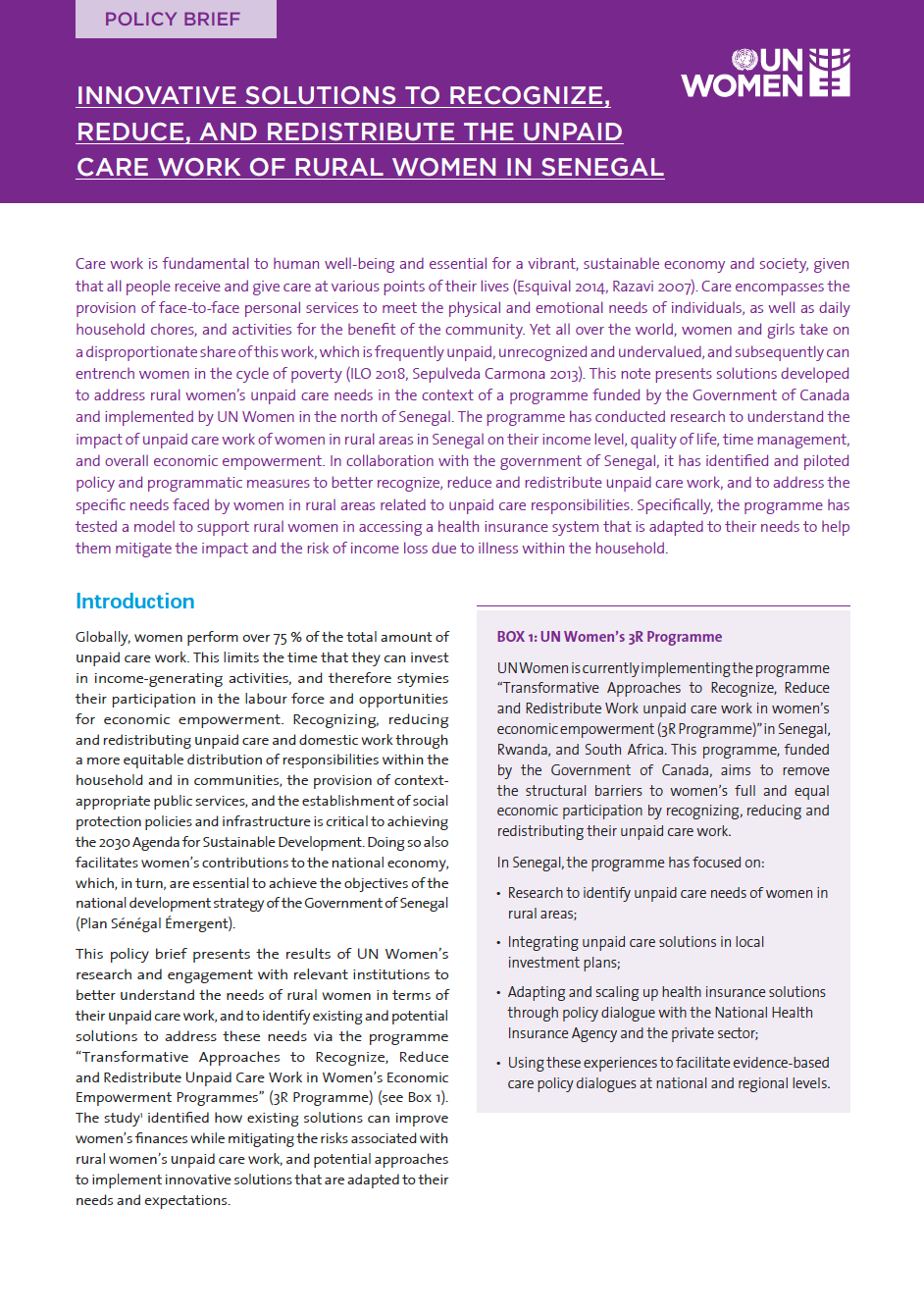 Globally, women perform over 75 % of unpaid care work. This limits the time that they can invest in income-generating activities, and therefore their opportunities for economic empowerment.
Recognizing, reducing and redistributing unpaid care and domestic work through a more equitable distribution of responsibilities within the household and in communities, the provision of appropriate public services, and the establishment of social protection policies and infrastructure is critical to facilitates women's contributions to the national economy and to achieve the 2030 Agenda.
This policy brief presents the results of the work of UN Women and its partners in Senegal through the programme "Transformative Approaches to Recognize, Reduce and Redistribute Unpaid Care Work in Women's Economic Empowerment Programmes" (3R Programme), which sought to identify innovative solutions to address the unpaid care work related needs of rural women.
This note presents in particular the substantial impact of health-related unpaid care on rural women in Senegal and their poor access to mechanisms to redistribute unpaid care work that could allow them to compensate the income losses due to the latter, such as financial and social protection services.
Among the various recommendations for innovative solutions and policy measures, it highlights the importance of access to health care for women and their families via an adapted and affordable health insurance model, which represents an effective mechanism to redistribute unpaid care work.
View online/download
Bibliographic information
UN Women office publishing: West and Central Africa Regional Office