The policy brief aims to serve as an synthesizes and presents key findings from UN Women-led research; regional online surveys and; advocacy on. making the AfCFTA work for (young) women and (young) women-led businesses, both in the design and implementation of gender-responsive AfCFTA policy reforms and complementary measures, as well as in the soon-to-be negotiated AfCFTA Protocol on Women and Youth in Trade.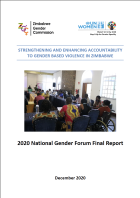 The Zimbabwe Gender Forum Report discusses topical gender issues emerging from the 2020 annual gender forum held towards the end of 2020. The report aims to inform policy engagements on issues discussed.
The working paper and accompanying policy brief provide an analysis of the progress and gaps across the continent in promoting young women's role in decision-making and political processes across Africa. The paper further proposes recommendations for consideration by AU and AU Member States including for gender-responsive COVID 19 response and recovery plans that guarantee the participation and integration of the voices of young women.